featured
Get Ready for Arch Manning vs. Quinn Ewers This Spring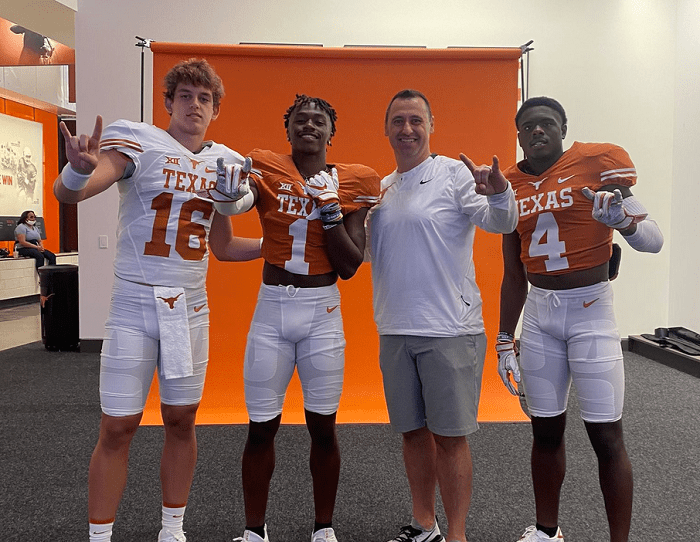 Arch Manning's signing with Texas on Wednesday held no drama. He committed. He signed.
Coach Steve Sarkisian's two-year project to lure the next Manning to Austin ended with success.
Sarkisian told reporters on Wednesday that Manning had an impact on the overall class, which is ranked by many recruiting services as a Top 5 class. He raved about his current quarterback room. He also talked about Manning's arm, one that Sarkisian said can make "every throw."
Oh, and by the way, Manning will enroll at Texas in January, unlike his famous uncles Peyton (at Tennessee) and Eli (at Ole Miss) did in their college experiences.
Many players enter a program early these days, whether from high school or college, thanks to the transfer portal. Last season's starter, Quinn Ewers — who will start in the Alamo Bowl next week — enrolled in January after his transfer from Ohio State.
He did so in order to get a head start on Sarkisian's voluminous playbook. Manning, theoretically, is out to do the same. This begs the question:
Is this a mentor-mentee kind of relationship or is this a competition in the making?
Sarkisian worked for two years to get Manning to buy into spurning the traditional SEC homes of his family (his grandfather, Archie, went to Ole Miss). Redshirts can be valuable tools to allow young players to develop. These days, a freshman can play up to four games and still be redshirted.
But, we're talking about a Manning here. Arch comes from the first family of quarterbacks. Archie had to redshirt back in the 1960s. But, back then EVERYONE redshirted. Freshmen were barred from playing.
Peyton was pressed into service as a true freshman after injuries to Jerry Colquitt and future Major League slugger Todd Helton. Eli went to Ole Miss and was a redshirt freshman in 2000 that barely played.
Both, of course, went on to impressive collegiate careers.
The rules are different now. Quarterbacks can get all kinds of specialized training year-round and go to camps like … the Manning Quarterback Camp. Many are ready to contribute sooner. There's the transfer portal in case things don't work out. There's also Name, Image, and Likeness.
Manning's father, Cooper (the one Manning who didn't get to play in the NFL due to injury) wanted an old-style recruitment for his son and got it. It was a throwback to. The only reason the pair finally created a Twitter account was because people started creating fake ones and passing off updates as news.
But there's no throwing it back to the old days when it comes to roster management. Manning will enroll in January. He'll practice in March. There will be buzz, just as there was with Ewers last spring. He won the job. He got it back after he was injured in the Alabama game. He was better than backup Hudson Card, who is transferring.
But is Ewers better than Manning? Is Manning better than Ewers?
If it's the former, do you ask Manning to redshirt, knowing that Ewers will be entering his third year of college football and can declare for the NFL after the season?
If it's the latter, how do you handle Ewers, the Texas fan growing up who left Carroll (Southlake, Texas) High School a year early to go to Ohio State and transferred back because he know there was no path behind C.J. Stroud?
I have to believe that the Manning family has talked with Arch about the merits of the redshirt, and how it helped Archie and Eli. I'm sure Peyton has also spoken with Arch about his experience at Tennessee, a trial-by-fire experience.
I also have to believe Ewers knows what is coming and is preparing as if his job is on the line.
If we're being honest, it is. Ewers fits Sarkisian's offense well. But Sarkisian pursued Arch Manning for two years because I think he thought the third-generation Manning would be the perfect fit.
Get ready. This is the quarterback competition in the Big 12 this spring. There's no doubt about it. Whoever wins will determine the path of this program as it heads to the SEC.
You can find Matthew Postins on Twitter @PostinsPostcard