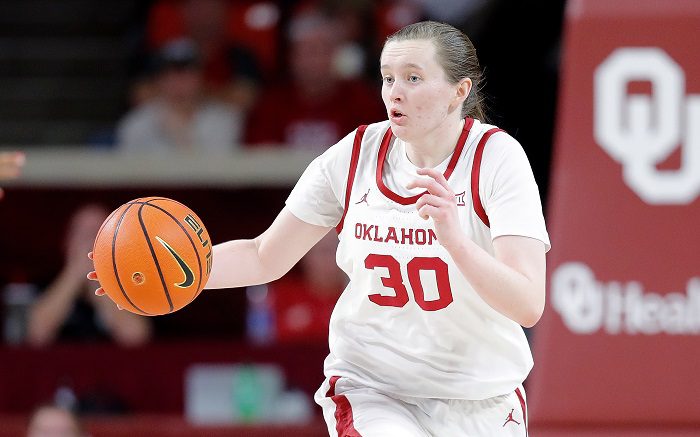 Oklahoma's victory Wednesday night over Florida was vintage Taylor Robertson. But getting closer to taking over an NCAA record doesn't happen by accident.
The Sooners (10-1) beat the Gators (11-2), 95-79. Forward Madi Williams had a double-double — 22 points and 11 rebounds. Guard Neveah Tot poured in 12 points. Skyler Vann came off the bench for 15 points. It was probably the Sooners' best game of the month.
Robertson, meanwhile, had her best shooting game of the season, draining six 3-pointers — a season-high — on seven shots.
So, Robertson took just seven shots on Wednesday night. Chances are Robertson took 230 shots before the game started.
Sports Illustrated did a piece on Robertson before the Jumpman Invitational detailing her practice routine and her rise to becoming one of the best shooters in the college game. Her pre-game routine is precise — she shoots 3's, shoots free throws, does ball-handling drills and other shots she expects to take in a game until she counts to 230 — as in shots. Then she stops — and that's before the actual pre-game warmup that most fans see.
Robertson took 230 shots on Wednesday night to make six of out of seven in one game. It's precisely why, likely sometime in January, she'll become the college game's most prolific 3-point shooter.
With her six 3-pointers on Wednesday, Robertson moved into second-place all-time with 475 3-pointers. She passed St. Francis' Jess Kovatch and Idaho's Taylor Piece, both of whom had 472.
The only player left to catch is Ohio State's Kelsey Mitchell, who made 497 3-pointer for her career.
Robertson needs just 22 3-pointers to pass Mitchell, and Robertson is now averaging 3.2 made 3-pointers per game. So, if we're being precise, Robertson will need 1,610 practice shots to get the 22 made 3-pointers she needs to pass Mitchell.
That's how HARD Robertson works.
You can find Matthew Postins on Twitter @PostinsPostcard