Big 12 News
Oklahoma Flips Peyton Bowen Just One Day After Committing to Oregon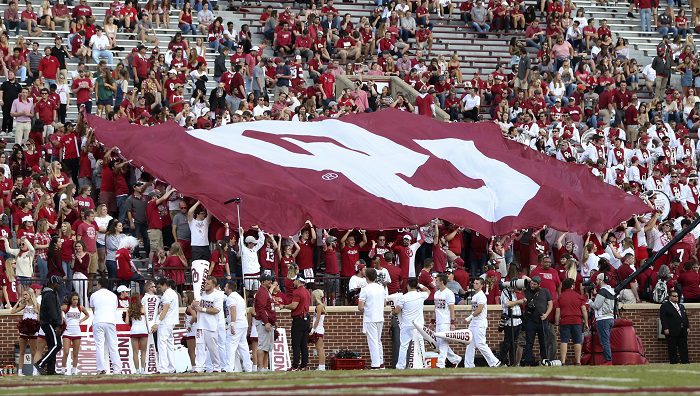 It appears that the crystal ball picks that flooded in for five-star safety Peyton Bowen are confirmed after all as the Sooners' top defensive target in the class of 2023 put pen to paper with OU on Thursday, one day after shocking the recruiting world by committing to Oregon.
Oklahoma didn't even have a hat on the table on the first day of the Early Signing Period, yet in the end, it was Norman, Oklahoma, and not Eugene, Oregon, that felt like home.
Bowen, 6-1, 185 pounds, is the No. 14 overall player in the class of 2023 according to 247Sports' composite rankings, and also comes in as the No. 2 safety in the country. With his commitment, the Sooners' 2023 class jumped to fifth nationally, jumping both Notre Dame and Oregon in the process.
Bowen was committed to the Irish for nearly a year, since New Year's Day of 2022, and flipped to Oregon on Wednesday. However, because never signed his letter of intent to play for the Ducks, his recruitment wasn't over.
In his commitment post, Bowen said that after committing to Oregon he quickly "came to the realization that the decision was not the best path for me." As for his reason not to end up in South Bend, Bowen said that his "heart was somewhere else."
In his post, Bowen apologized to Notre Dame and Oregon for how his commitment was handled and said he would learn from the experience.
"As I reflect on yesterday's whirlwind I recognize that I made some mistakes that I regret and will learn from. Navigating this process has been a rollercoaster," Bowen wrote.
"Oregon and Notre Dame faithful, I am sorry for how I handled this process. Changing my decision on signing day, the hat pump fake, all of it could have been handled better. I can't change what I did but this experience is something I will learn from."
In the end, it was Oklahoma that was the right landing spot for one of the nation's top defenders, just as many predicted it would go on Wednesday.
"Oklahoma has always felt like home to me. Reflecting, it seems as if I was looking for a reason to branch out and break away from home. But my relationships with Coach Venables, Coach Bates, Coach Valai, Coach Hall and Coach Chavis, along with my ties to friends and family locally ultimately led me back to where I always belonged," Bowen wrote.