Football
Sonny Dykes Wants Top Classes to Be Norm at TCU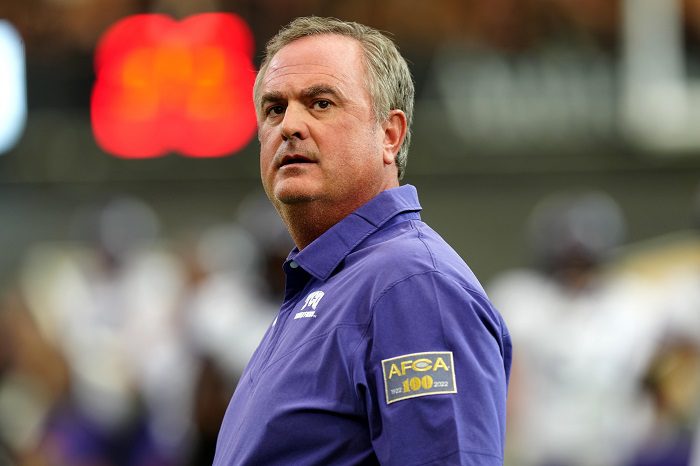 You want to know how well things are going for TCU and head coach Sonny Dykes? And, no, I'm not talking about the upcoming College Football Playoff game.
I'm talking about the future, which is what Dykes has to keep his eyes on no matter what happens out in the desert in a week.
The future, Dykes told reporters on Wednesday after TCU wrapped up the early part of the national signing period, actually started six weeks ago.
Back then, TCU was trying to hold on to an undefeated record and trying to squeeze into the CFP. Some recruits, some of the ones that Dykes wanted, weren't returning phone calls (or, I'm assuming texts, whatever way coaches communicate with 18-year-old football players these days).
With each win, the Horned Frogs started getting more recruits answering those contacts. The loss in the Big 12 Championship game didn't derail the momentum, either.
The warp speed of TCU's turnaround in Dykes' first season reached a thunderclap by the end of Wednesday — a recruiting class ranked No. 19 by 247Sports, ranked No. 18 through composite rankings, and No. 10 as a transfer class. Nine of the high school players were four-star prospects. All four transfers were four-star prospects in high school.
There is one last prospect on the board — four-star safety Warren Roberson from Red Oak, Texas, who is committed but didn't sign.
Whether he signs or not, it's a haul. It's also the expectation. Dykes told the media that he wants Top 10 or top 15 classes to be the norm, a quote conveyed by the Fort Worth Star-Telegram's Steven Johnson.
The Horned Frogs went heavy on defense in this class, both in the trenches and on the back end. The top-ranked player in the class is Naaman Forest (Garland, Texas) defensive lineman Markis Deal, who checks in at 290 pounds. Another defensive lineman, Tascosa High's (Amarillo, Texas) Avion Carter is in the Top 6. Three defensive backs are there too — Brazosport (Freeport, Texas) safety Randon Fontenette, Seguin (Arlington, Texas) safety Jamel Johnson, and Trinity Valley CC (Athens, Texas) cornerback Channing Canada.
The transfer class includes two Alabama transfers — offensive tackle Tommy Brockermeyer and wide receiver JoJo Earle.
TCU may not be done yet, either. With quarterback Max Duggan headed for the NFL, Dykes expressed confidence in Chandler Morris — who began the season as the starter before an injury. Dykes said the Horned Frogs could have tapped into the portal. In fact, he said they were getting inquiries. But they're not ready to bite. Yet.
The transfer portal window closes on Jan. 19. The Horned Frogs can afford to be just a bit patient. They have a game to prepare for, perhaps two.
If this is the new norm, the players will come to them, not the other way around. Just the way Dykes was hoping when he arrived.
Maybe not quite this soon.
You can find Matthew Postins on Twitter @PostinsPostcard