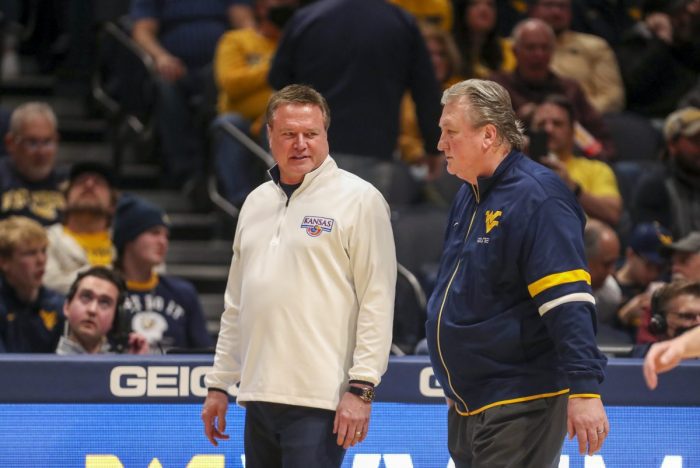 Just how good is the Big 12 Conference in terms of men's basketball entering the winter break? ESPN analyst Fran Fraschilla knows.
Fraschilla probably watches more Big 12 basketball than any analyst and does Big 12 basketball games consistently through the regular season and the Big 12 Tournament in Kansas City in March. The Big 12 passes the eye test for Fraschilla every time he watches a game.
But, sometimes it helps to have backup, and the NCAA NET ratings referenced by Fraschilla provided some backup on Friday.
The NCAA NET rating is the tool the NCAA Tournament committee uses to determine the 68-team field. They're updated every single day (here's a primer if you need the background).
The conference NET ranking is based on the NET rankings of the 10 Big 12 teams, which as of Friday are:
Kansas (5), Texas (9), West Virginia (11), Baylor (20), Iowa State (31), Kansas State (32), Oklahoma State (45), Oklahoma (47), Texas Tech (55) and TCU (62).
Ken Pomeroy's daily KenPom ratings back up Fraschilla's tweet and the NCAA NET ratings. All 10 Big 12 teams are in the Top 52 as of Friday.
Plus, there's ESPN's Joe Lunardi, who handles the site's Bracketology. For the last month, the Big 12 has had nine teams in his weekly Bracketology updates. But, if a certain team had played a certain game on a certain day …
Lundardi is right, of course. The Big 12 probably won't have nine teams in the NCAA Tournament. But, entering the five-day winter break, the Big 12 has won 22 of its last 23 games, dating back to Dec. 11, when Oklahoma State lost a road game to Virginia Tech.
Between the NET ratings, Ken Pom, Bracketology and even good old-fashioned wins and losses, there's no way around it — the Big 12 is college basketball's best conference going into the holidays.
You can find Matthew Postins on Twitter @PostinsPostcard