Baylor Bears
What I Would Get Each Big 12 Football Coach For Christmas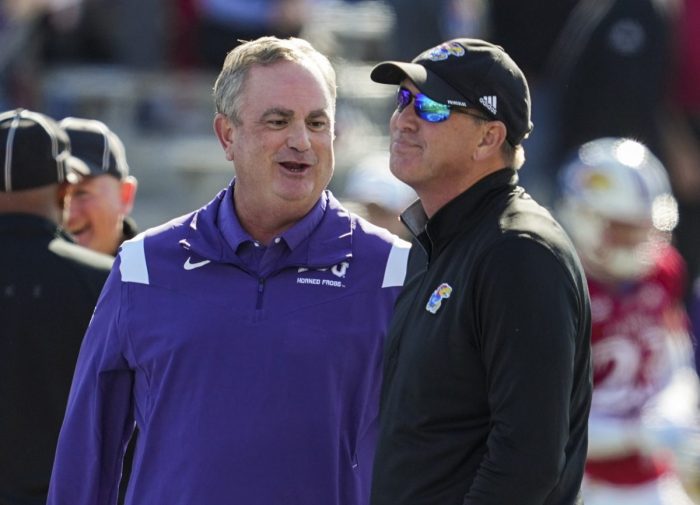 Merry Christmas everyone. The holidays have finally arrived as Santa has made his way into town. No matter if they have been good or bad this season, I thought I would give a gift to each Big 12 football coach this year. Get the trash bags ready because it's time to open some gifts!
Texas Head Coach Steve Sarkisian
Designer Sunglasses
I know Sark is a man of style and what better way to keep it than by getting him a new pair of shades? He can wear them as he walks his way into the stadium and even on the sidelines if he wants to. Also, I would recommend he wears them as often as possible. That way he never has to make direct eye contact with the Texas boosters.
Baylor Head Coach Dave Aranda
A Quarterback
After sticking with Blake Shapen this year, I feel like Dave may need someone else to step in. The decision to make Shapen the guy was costly as a few other quarterbacks left the program. It turned out that Blake may not be the quarterback of the future and after missing out on Austin Novosad on signing day, the Bears don't have any options right now. The good news is that the transfer portal is there for Baylor to pick up somebody. I figured it would be best to give Dave Aranda one of those transfer quarterbacks.
Texas Tech Head Coach Joey McGuire
A Cactus
Is there a better gift to the King of West Texas? The man loves him some cactus and instead of a Christmas tree, I thought it would be fun to swap it for a cactus. He can decorate it however he wants and put some lights on it as well. Is there anything more west Texas than a cactus as a gift? Ok, maybe I will throw in a gift card to Evie Mae's BBQ too because it is to die for.
TCU Head Coach Sonny Dykes
A Trophy Case
I know he didn't win a Big 12 title, but the man has done wonders in his first season at TCU. He helped turn Max Duggan into a Heisman finalist and he racked up plenty of awards. He has won numerous awards already for being the coach of the year and I thought it would be nice to give him a place to put all those trophies in. Now he just needs to make room for a National Championship.
Oklahoma Head Coach Brent Venables
A New Suit
After watching his signing day press conference, this man needs a new holiday suit as soon as possible. He looked like he was wearing a poncho up there for crying out loud. I am no man of style, but I know a bad suit when I see one and that was bad. Can we please get the man a new suit that doesn't look like a blanket?
Oklahoma State Head Coach Mike Gundy
A Weight Set
Remember back before the season started? This man was out there doing one-handed push ups on the field. I have no clue how many he can do but I thought a weight set could help him do even more. Plus, it could be a good stress reliever when a player transfers out of the program.
Kansas Head Coach Lance Leipold
Wisconsin Cheese
I don't know a ton about Lance, but I do know that he is from the state of Wisconsin. He was born not too far from the University of Wisconsin and played football at Division III power Wisconsin-Whitewater. He also got his coaching start there as well. Since he is in Kansas, maybe a good hunk of Wisconsin cheddar could help him feel right at home for the holidays.
Kansas State Head Coach Chris Klieman
A Championship Belt
The man is fresh off a Big 12 Championship so why not let him show it off? Growing up, I was a wrestling fan and always thought the championship belts were the coolest thing. I could even let Chris customize it himself to put his own personal touch on it. But he must wear it during the Sugar Bowl at all times.
Iowa State Head Coach Matt Campbell
Bourbon Eggnog
It was a long and dreadful season in Ames, Iowa. Outside of beating Iowa, there was not much to celebrate this past season. The Cyclones finished 4-8 after getting out to a 3-0 start. I don't know if Matt Campbell drinks, but I figured some eggnog with a hefty splash of bourbon could help cure the pain of this past season.
West Virginia Head Coach Neal Brown
A Money Counter
Many of us including myself thought that Neal Brown could be fired after this season. His record isn't very good, and the program hasn't shown much improvement during his four seasons there in Morgantown. But the reason West Virginia hasn't let him go is because they owe Neal Brown a ton of money still. In fact, even if he gets fired after next season, they still will owe him over 15 million dollars. No matter what happens, Neal Brown is going to have a big pay day and he will need a counter for all that money.