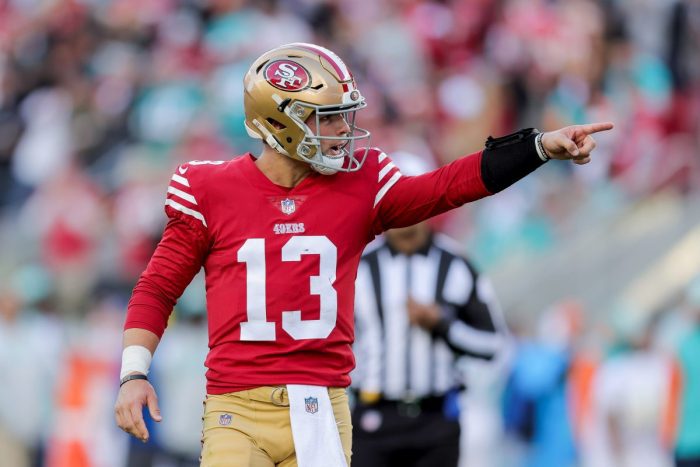 Brock Purdy, also known as Mr. Irrelevant from the 2022 NFL Draft, has been one of the best stories of the latter half of the 2022 NFL season.
The former Iowa State Cyclone has become a sensation as he has led the San Francisco 49ers to a 3-0 record in games that he has started, and has been more than a game manager in those contests.
On the year, Purdy has completed 67% of his passes for 912 yards and eight touchdowns with three interceptions.
In fact, Purdy has thrown multiple touchdowns in each of his first three starts, which puts him in rare company in the record books.
According to NFL Research, only two players have started their careers 3-0 with multiple passing touchdowns in each game since 1950. Those players are Brock Purdy (2022), and undrafted free agent, and Hall of Fame quarterback, Kurt Warner.
That is quite a stat, considering there have been 72 seasons since the numbers have been recorded, and only twice has this occurred.
To say that Purdy's career has gotten off to a good start is an understatement, and that is the benefit of having the right people around him. Purdy's left tackle, Trent Williams, is one of the best players at his position in NFL history and anchors an incredible offensive line.
His running back, Christian McCaffery, is one of the best players in the league (when healthy). Tight end George Kittle is one of the top tight ends in the league.
Add to that the league's best defense, and you have quite the situation to land in. However, playing quarterback in the NFL is one of the most challenging jobs out there, and Purdy has thrived during his time in the spotlight. For that, he deserves all the credit.