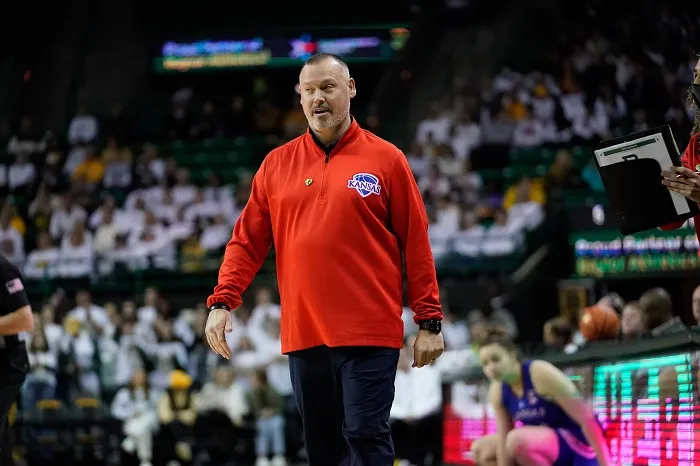 The Kansas Jayhawks are 10-1 after playing their pre-Big 12 schedule and are now preparing for their conference opener against Oklahoma State on Dec. 31.
With that, we have five thoughts about the Jayhawks at the break.
At the Moment
Kansas was one of those teams that were receiving votes to start the season, but it took time for the voters in the AP Top 25 to buy into the team's improvement. After a 6-0 start, the Jayhawks' coming-out party was on Dec. 8, when it went to Arizona and pummeled the No. 12 Wildcats, 77-50. Arizona is less than two seasons removed from making it to the national championship game. That win vaulted the Jayhawks into the Top 25. Even with a loss to Nebraska to end non-conference, a triple-overtime slugfest with the Cornhuskers that ended with an 85-79 loss, shouldn't dent the momentum. The only real issue is that Kansas' two best games of the season were hard to find on TV (Pac-12 Network for Arizona, Big Ten Network Plus for Nebraska).
The Roster
Kansas is incredibly balanced on offense, but the rise of center Taiyanna Jackson is the fuel for Kansas's rise into the Top 25. She's averaging 15.8 points, 11.5 rebounds, and 2.7 blocked shots per game. Her play has spiked and it hasn't taken points away from the rest of the team. Zakiyah Franklin (15.7 points per game) and Holly Kersgieter (13.6 points per game) are scoring the way they did a year ago. Chandler Prater (9.4 points per game) has been consistent, and Tulsa transfer Wyvette Mayberry (9.3 points per game) has fit right in. After missing time due to an injury, Ioanna Chatzileonti (8.0 points per game) has returned to the starting lineup.
The Recruiting Class
Thanks to last year's trip to the NCAA Tournament — and subsequent first-round win — the Jayhawks filled the pipeline for next season with a class worthy of Allen Fieldhouse. There were just two players, but snagging Overland Park, Kan., forward S'mya Nichols was quite the coup for coach Brandon Schneider and his staff. Nichols was ranked No. 34 in the country by ESPN before the early signing window. Barcelona, Spain, guard Laia Conesa was the other signee. The Jayhawks have four seniors on the roster (not accounting for COVID waivers), so there's room for more in April.
The Concern
Depth. Just six players are averaging more than 20 minutes per game, and that includes Chatzileonti, who has played just six games. The rest of Kansas' hasn't gotten much playing time, aside from Sanna Strom, who is averaging 3.7 points and 2.0 rebounds per game. Schneider will be coaching a tight rotation once Big 12 play starts, and he needs another player to give him a bit more off the bench so that his core six aren't worn down come March.
The Big Stretch
Kansas is going to find out quickly how good they are in the Big 12. Starting on Jan. 7, the Jayhawks have an eight-game stretch in which they play Baylor and Texas twice, Oklahoma and Iowa State once, along with West Virginia and Kansas State. After Feb. 4, we'll see whether Kansas is still a contender for the Big 12 regular-season title or not.
You can find Matthew Postins on Twitter @PostinsPostcard