Big 12 News
Marcus Carr Ties Texas Record for 3-Pointers In Game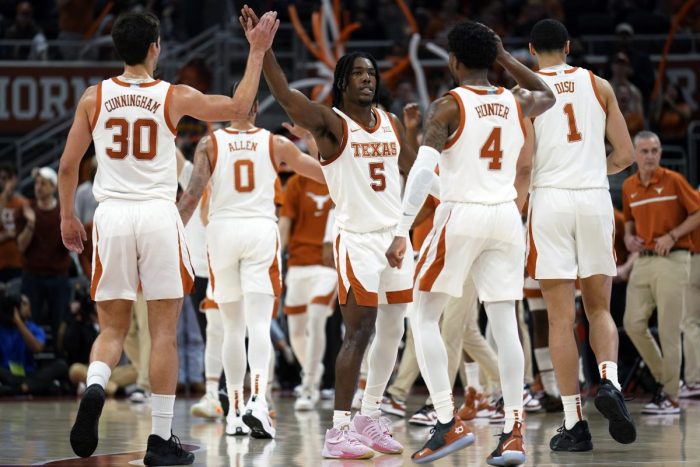 Texas guard Marcus Carr tied the Longhorns program record for most 3-pointers in a game when he hit 10 of them against Texas A&M-Commerce on Tuesday.
Texas won the game, 97-72, to improve to 11-1 on the season. Texas will now prepare for its Big 12 opener on the road at Oklahoma on Saturday. It will be Texas' first true road game of the season.
Carr ended up with 41 points for the game, the most by any Texas player since Reggie Freeman in 1996. Carr also tied the Texas record for most points in a half with 33 in the first 20 minutes.
The record-tying shot was captured by ESPN.
Carr went 10-of-15 from the 3-point line and 13-of-19 from the field against the Lions, who are transitioning to Division I this season. He also went 5-of-6 from the 3-point line.
Carr also had four assists and two steals. His teammate, guard Tyrese Hunter, had just just two points, but he ended up with eight assists as he fed Carr all evening at The Moody Center.
With his performance, Carr is now averaging 17.9 points per game this season, with his 41-point game being his season high. Tuesday was Carr's seventh straight game scoring in double figures. Before Tuesday his season-high was 28 points against Rice. He's failed to reach double digits in scoring twice this season — against Arkansas-Pine Bluff and Illinois.
Texas is one of three Big 12 teams with just one loss going into conference play. The other two are Kansas and Kansas State. The Jayhawks are ranked No. 4 in the most recent AP Top 25, while Texas is No. 6 and Kansas State is receiving votes.
You can find Matthew Postins on Twitter @PostinsPostcard