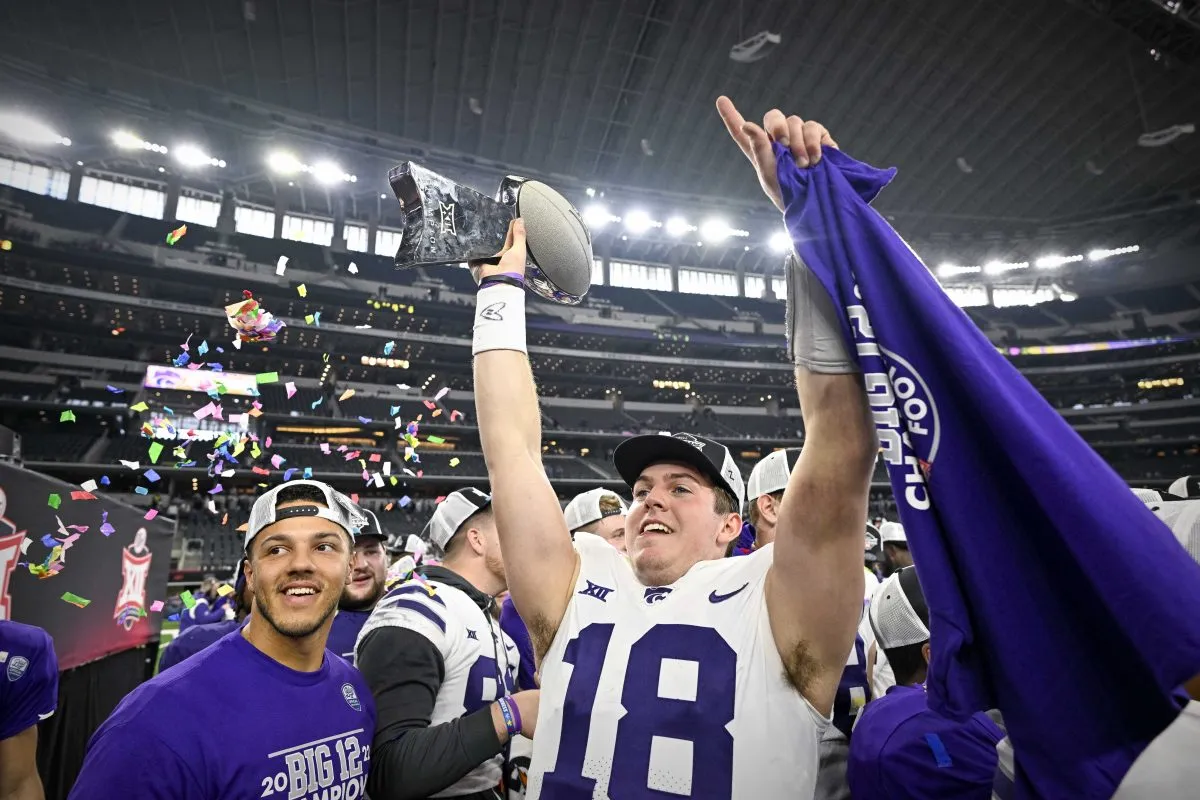 As it does every year, 2022 has come and gone before we realize it and now we are left to wonder what 2023 will bring to the Big 12 Conference. We already know that four new teams will officially join the ranks next summer, and that will certainly shake things up like we haven't seen in years.
The additions of BYU, Cincinnati, Houston, and UCF are monumental in the world of major college athletics, while the eventual subtraction of Oklahoma and Texas from the Big 12 will be yet another seismic shift in the landscape.
However, before we start to think forward about what is to come, let's take some time to reflect on the year that was in the Big 12 Conference. Here are the top five Big 12 stories from 2022.
Back in April, the Kansas Jayhawks put together a historic run to put themselves into the Final Four for the first time since 2018. Kansas made it through Texas Southern, and a tough Creighton team to get to the Sweet 16 where they would face a challenging Providence team. After a 66-61 win over the Friars, Kansas faces an upstart Miami squad that was red-hot after taking down two-seed Auburn 79-61 and Iowa State 70-56 in the Sweet Sixteen. Kansas thumped the Canes, 76-50, and then, after dispatching Villanova in an 81-65 contest, the Jayhawks found themselves in the national championship game against North Carolina. There, the Jayhawks would come back from a 15-point halftime deficit to defeat North Carolina by a score of 72-69, and secure the school's first national championship since 2008. Kansas's victory gave the Big 12 conference back to back national championships, plus a team from the Big 12 has now played in each of the last three tournament championship games (Kansas 2022, Baylor 2021, Texas Tech 2019).
Back in April, the Big 12 Conference received some somewhat surprising news as longtime commissioner Bob Bowlsby announced that he intended to step down from his position after 10 years at the helm. To replace him, Big 12 officials landed on Brett Yormark, the former COO of Jay-Z's Roc Nation and executive with the Brooklyn Nets. Yormark stepped into his new role and immediately changed the lens through which people view the Big 12. Yormark brought an aggressive and confident approach to conference expansion and secured a new media rights deal that will pay Big 12 members more than they were making with Oklahoma and Texas in the league. He still has plenty to prove with lots of challenges and obstacles ahead, but Yormark has been terrific in 2022 and has given a lot of folks reason to be optimistic about the future of the Big 12.
Coming into the 2022 season, the Big 12 had made four College Football Playoff appearances, all coming by way of Oklahoma (who went 0-4 in those games). The Sooners were one of the favorites to win the Big 12 this season, while teams like Kansas State and TCU were listed as "Dark Horses" to challenge for the title. Well, the Sooners went 6-6 this season, while the Wildcats and Horned Frogs found themselves at the top of the Big 12 standings. TCU, who entered the Big 12 Championship game at 12-0, had virtually locked itself into the playoff before ever arriving in Arlington. Then, despite a 31-28 loss to K-State in the Big 12 Championship, the Horned Frogs made history and earned a bid to the College Football Playoff. There, they will face the second-ranked and undefeated Michigan Wolverines. With Max Duggan, the Davey O'Brien Award winner and Heisman runner-up at quarterback, the Frogs have all the confidence in the world that their time is now.
When the Women's College World Series bracket was set, nearly half of the field was from the Big 12. Oklahoma, Oklahoma State, and Texas were three of the eight teams to make it to Oklahoma City, and they did very well once they got there. After half of the field was eliminated and only four teams remained, all three Big 12 teams were still in the hunt. After Oklahoma eliminated UCLA in a 15-0 rout to advance to the national championship, it was down to Texas and Oklahoma State to decide who would get their shot at the Sooners with the national title at stake. With either Bedlam or a Red River Rivalry on the line, it was Texas who eliminated Oklahoma State in dramatic fashion to advance to the Championship series. Oklahoma proved to be an unstoppable force in Oklahoma City once again, however, as the Sooners walloped Texas 16-1 and 10-5 to take home their second-consecutive national championship and sixth under Patty Gasso.
The Kansas State Wildcats hadn't won a Big 12 title outright since 2003 and hadn't had a share of it for a decade. That didn't matter to Chris Klieman's 2022 group though, as a tough-nosed and disciplined football team grew into a Big 12 champion as they progressed. After an early loss to Tulane (who went 11-2 and is in a NY6 bowl), people made the mistake of writing off the Wildcats. However, K-State would go 7-2 in Big 12 play, despite an injury to its starting quarterback, Adrian Martinez. When Will Howard stepped in, the offense became more potent, and combined with an aggressive and disciplined defense, K-State would end up beating TCU in the Big 12 Championship to end one of the most memorable Big 12 football seasons in years. Now, with the 2022 Big 12 season behind us, a new and exciting adventure is on the horizon as the conference prepares to welcome four new teams to its ranks. BYU, Cincinnati, Houston, and UCF will officially join the conference on July 1, 2023, and after that this conference will never look back as it chases a bright and promising future.