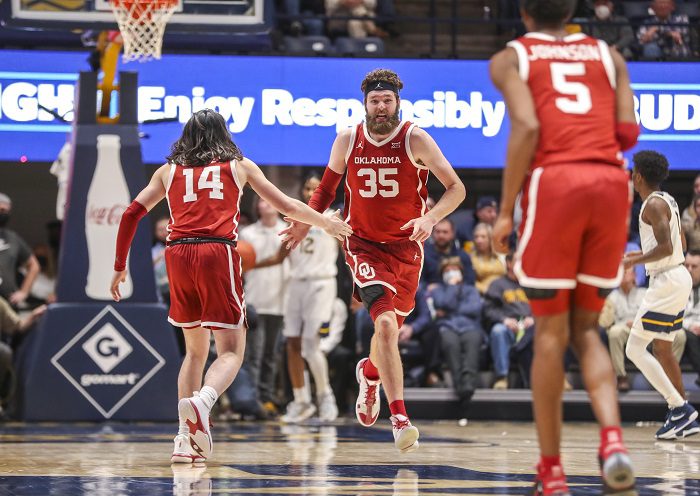 The Oklahoma Sooners are 9-3 after playing its pre-Big 12 schedule and are now preparing for their conference opener against Texas on Dec. 31.
With that, we have five thoughts about the Sooners at the break.
Don't forget about our new feature for men's basketball — Daily Fantasy Lineups. Every night a Big 12 team is part of the Draft Kings pool, I'll provide my picks for the game, along with my complete lineup. The hope is that by Big 12 play I'm able to put together a full Big 12 lineup during conference games.
At the Moment
Oklahoma ended up with one of those head-scratching losses to start the season when the Sooners fell to Sam Houston, 52-51, at home. Sam Houston is 10-2 and a favorite to win the Western Athletic Conference. From that loss, the Sooners rattled off six straight wins, including winning the ESPN Events Invitational in Orlando on Thanksgiving weekend.
The Sooners dropped games to Villanova and No. 9 Arkansas but wrapped up the pre-Big 12 slate with a neutral site win over Florida in the Jumpman Invitational last week. The Sooners may have played the most challenging non-conference schedule of any Big 12 team, facing six Power 6 teams and going 4-2 in the process.
The Roster
Transfer guard Grant Sherfield is off to an insane start, averaging 18 points per game and shooting a Big 12-best 56.5 percent from the 3-point line. He's one of seven players that have played in all 12 of the Sooners' games so far. After that, it's the Groves brothers. Tanner Groves is averaging 11.1 points and 6.9 rebounds per game, while Jacob Groves is averaging 9.7 points and 3.0 rebounds.
Holdover forward Jalen Hill is averaging 7.6 points per game, while forward Sam Godwin (6.1 points), Milos Uzan (5.0 points) and guard C.J. Noland (2.8 points) round out the players that have played in all 12 games. Guard Bijan Cortes (3.5 points), guard Joe Bamisile (3.4 points), and guard Otega Oweh (2.3 points) have played in 11 of the 12.
The Recruiting Class
Oklahoma head coach Porter Moser netted a nice class in the early signing period, grabbing a pair of Top 100 national recruits, as ranked by 247Sports.com. Forward Kaden Cooper out of The Skill Factory in Atlanta, Ga., was ranked No. 40 nationally at the time of his signing. Cooper is also the first Oklahoma signee in the top half of the ESPN100 since Trae Young was ranked No. 23 in the 2017 class.
Forward Jacolb Cole, who plays at Link Academy in Branson, Mo., was No. 99. With five seniors on the roster (not counting COVID waivers), Moser could bring in one or two more recruits in April.
The Concern
Rebounding. The Sooners lost a good portion of the height they were counting on this season to the transfer portal last offseason. Tanner Groves is a solid rebounder, but he's better away from the basket, especially on offense. The Sooners are only averaging 31.7 rebounds per game. Groves is the team's tallest player that gets consistent run, with his brother, Jacob, right behind him at 6-foot-9. But Jacob doesn't have Tanner's ability to grind it out inside.
The Sooners also don't have a great perimeter rebounder like Kansas does in Jalen Wilson. The Sooners are going to have to find a way to manufacture more rebounding in Big 12 action.
The Big Stretch
Starting on Jan. 10, the Sooners hit a six-game stretch that includes five Top 25 opponents. It starts with a road trip to Kansas, followed by a home game with West Virginia. Then it's a trip to Oklahoma State — the one unranked team — followed by hosting Baylor, traveling to TCU, and then hosting Alabama in the Big 12-SEC Challenge.
If that stretch hasn't kicked the Sooners in the butt by then, well, after getting Oklahoma State again, it's West Virginia, Baylor, and Kansas in succession. But that six-game stretch may determine their direction for the rest of the season.
You can find Matthew Postins on Twitter @PostinsPostcard