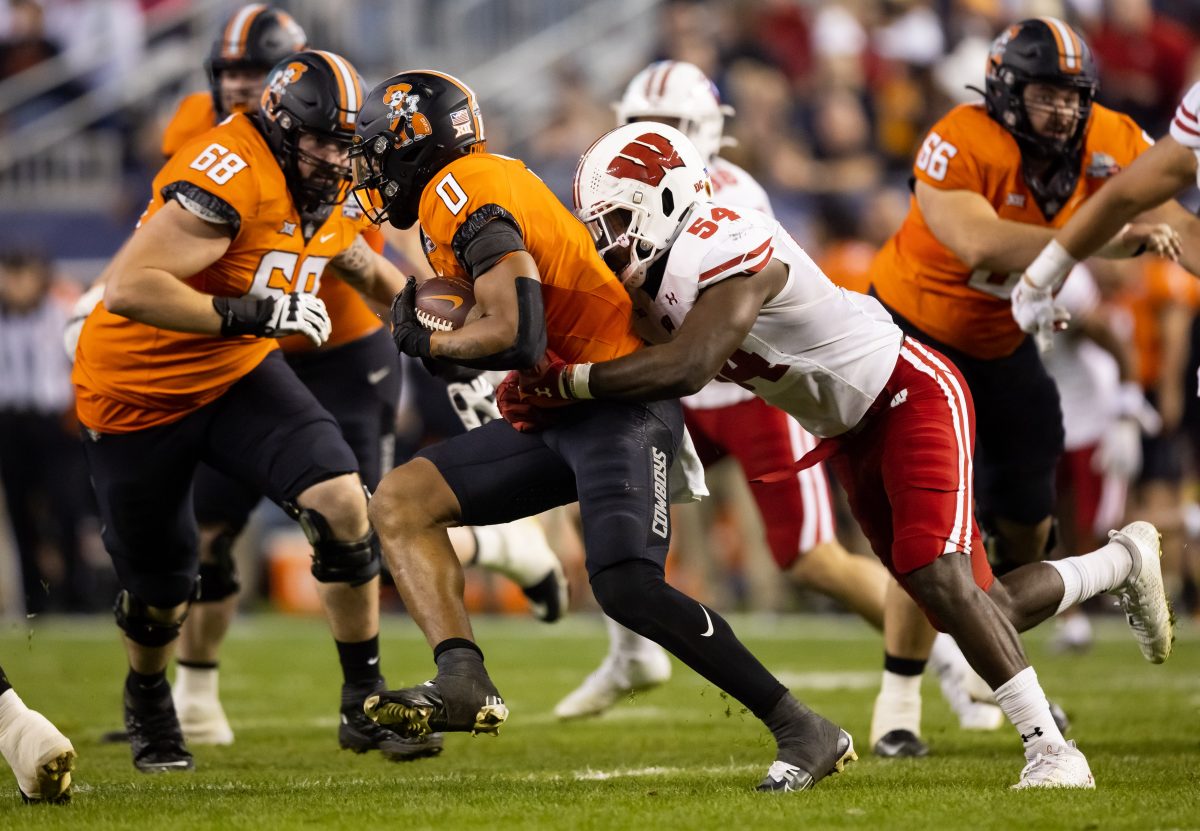 The regular season is in the books and now it is time for bowl season. Eight Big 12 teams will be playing over the next few days and Oklahoma State is up next. The Cowboys finished the regular season with a 7-5 record and earned themselves a trip to Phoenix where they faced Wisconsin in the Guaranteed Rate Bowl. While it was close in the end, the Cowboys ended up falling 24-17. Here are my four thoughts on the game.
1. Too Little Too Late
For three quarters, Oklahoma State was outplayed. Outside of a long 84-yard touchdown by Stephon Johnson Jr., this offense did nothing in the first 45 minutes of the game. While the offense was struggling, the defense was getting tired out there as they were on the field for what seemed like forever. Then finally in the fourth quarter, Oklahoma State's offense found some life. The Cowboys put together a ten-play drive that ended with a score as quarterback Garret Rangel made some magic happen on fourth and goal.
On the very next drive, the Cowboys once again marched down the field and even converted three third downs. That drive ended in a field goal to pull the Pokes within seven. The defense got the ball back, but Rangel ended up getting picked off with less than three minutes to play. From there, Wisconsin ran the clock out. After struggling for three quarters, Oklahoma State woke up, but it was just a little too late.
2. Who Will Be the Quarterback in 2023?
Spencer Sanders has been the starter for four seasons in Stillwater and while he has had his ups and downs, he was Oklahoma State's best option. This season we saw Spencer battle through injuries, and it eventually forced him to miss some time. In the games where Spencer didn't play, Oklahoma State was getting blown out. When Spencer announced his decision to leave, I didn't think they would have a chance to win this bowl game. While Garrett Rangel has struggled this season, he showed some flashes on Tuesday night. Was it enough to make him the starter for next season? I am not sure. The Cowboys did sign three-star quarterback Zane Flores for the 2023 class, but will he be ready as a true freshman? Only time will tell. I also don't think Gunnar Gundy is ready yet either so maybe it would be wise for Oklahoma State to pickup a quarterback in the transfer portal.
3. It's Time for a Change
I do not enjoy talking about getting rid of coaches on a staff, but I definitely think there needs to be some changes made on Oklahoma State's coaching staff. There has been plenty of blame thrown towards offensive coordinator Casey Dunn this season and rightfully so. He's been there two seasons and the offense hasn't really taken off at all.
While Dunn deserves some blame, I have an even bigger issue. The offensive line. That unit has been a problem for years in Stillwater and when Oklahoma State hired Charlie Dickey back in 2019, I thought it was a good hire. It turns out, I was wrong because the offensive line has been a revolving door even under Dickey. This staff needs a shake up and Mike Gundy should really sit down and think about what he wants to do because if nothing changes, they will be in trouble next season.
4. The Field Was Trash
I don't think I have ever complained about a playing surface enough to where I mention it in an article but my goodness, Tuesday night was a disaster. Before the game, this photo was taken.
For those who don't know about playing surfaces, this is not good. This is the kind of stuff that causes injuries. I understand that this bowl game is being played inside a baseball stadium, but can we get a better field please? Players from both sides were slipping and sliding everywhere all game long. In fact, players had trouble making simple cuts without falling down.
I am all for playing bowl games in unique places but not with a field like this. Honestly, the Guaranteed Rate Bowl should be embarrassed for letting these guys play on such a poor-quality field.