Football
Joe Gillespie Has a Big 12 Comparison For Michigan's Run Game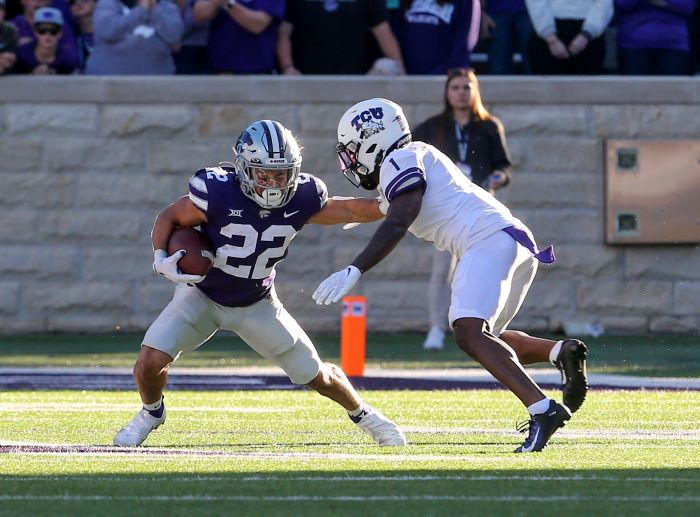 TCU defensive coordinator Joe Gillespie knows the Michigan Wolverines can run the football. But he believes the Horned Frogs have faced a team that compares well to Michigan.
In fact, TCU saw that team just a few weeks ago in Arlington, Texas, when the Horned Frogs squared off with the Kansas State Wildcats in the Big 12 Championship game.
Yes, TCU (12-1) lost that game in overtime, 31-28. But Gillespie sees some comparison between the Wildcats and the Wolverines (13-0) that he believes will help the Horned Frogs prepare for Saturday's College Football Playoff semifinal in the Fiesta Bowl.
"There's some aspects that are very similar to a K-State and some guys like that, because what Kansas State did to us — we, unfortunately, fell short to them in the Big 12 Championship game," Gillespie said Tuesday in Arizona. "But from the big personnel packages and running the ball and really controlling the clock and moving the sticks and stuff like that, there's a lot of resemblance from that aspect."
Kansas State was one of the Big 12's best rushing teams in 2022, built on the talent of running back Deuce Vaughn and quarterback Adrian Martinez (and later Will Howard, after Martinez was hurt).
Against TCU the Wildcats rushed for 205 yards, with Vaughn leading the way with 130 yards. Wide receiver Malik Knowles had 48 yards on two carries.
Michigan is without its top back, Blake Corum, due to injury. But, Donovan Edwards has filled in nicely in Corum's absence. He gained 216 yards and two touchdowns in the Big Ten East Division-clinching win over Ohio State and followed that with a 185-yard, one-touchdown performance against Purdue in the Big Ten Championship game.
The Wolverines not only have Mitchell, but they have an offensive line that claimed the Joe Moore award for the second straight season, which is given to college football's best offensive line. Behind that line, Corum rushed for 1,463 yards and Mitchell now has 872 yards. The pair combined for 25 touchdowns.
The Wolverines have the fifth-best rushing offense in the nation, which averages 243 yards per game.
Gillespie knows the personnel groupings are different, as are some of the formations the Wolverines employ as opposed to the Wildcats and some other Big 12 teams like Texas, which had an All-America running back in Bijan Robinson.
But Gillespie likes the matchup, and the month to prepare and dissect the film from the Kansas State game has him excited for the opportunity to match his defense with Michigan's offense.
"Well, I guess we're about to find out," Gillespie said. "We feel very confident with it. Obviously, the question was brought up earlier. This is a little bit different personnel package and from what we've seen through the course of the season. But we also feel like we've got some things within our defense that we can go into."
You can find Matthew Postins on Twitter @PostinsPostcard