Big 12 News
Mike Gundy to Reporter Asking About Staff Changes: 'Don't be an Ass'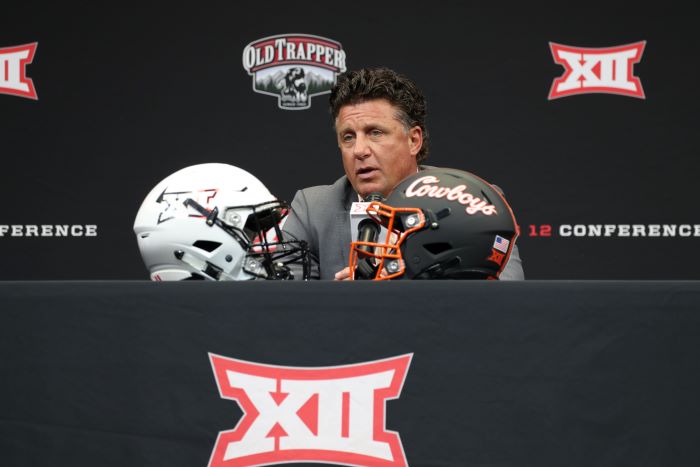 After losing the Guaranteed Rate Bowl to Wisconson on Tuesday night, Oklahoma State head coach Mike Gundy was in no mood to be asked entirely reasonable questions by the media.
Marshall Scott from Pistols Firing Blog asked Gundy about potentially making any staff changes to which Gundy said, "Do you think I would tell you if I'm making any staff changes?" The reporter responds, "No." Gundy then adds, "Then why would you ask?" Marshall responds, "Because it's my job."
Gundy then went off, saying, "OK. Well, I might have to cut you out. I mean, don't be an ass. Really? I mean, those are people's lives, those are people's families, right? OK, don't mess with people's families. Let's do this the right way."
Gundy then looked over at an Oklahoma State athletics representative and asked, "You with me on this?" Gundy then continued to address the reporter, saying, "It's not fair to people's families, man. And I'm not mad about the game, I just don't like ignorance."
Here's video of the exchange.
A Guarantteed Rate Bowl representative wrapped up the press conference after the question, which was indicated before the question was asked.
Obviously, the question by Scott is an incredibly reasonable one given Oklahoma State closed out the season losing six of their last seven games and finished with an offense that ranked near the bottom of the Big 12 in many major categories. The Cowboys finished the season ranked eighth in the Big 12 in points per game and yards per game, while ranking ninth in yards per game. If you just count conference play, Oklahoma State's offensive efficiency ranked last in the Big 12 Conference.
But apparently, despite all of this data, if you ask the head coach about the idea of staff changes (to which he can simply give the coaching cliche of, "As always, we will evaluate the program after the season."), it means you don't care about their families, are ignorant, and get threatened to have your press credentials revoked.
Remind me, who's being the ass here?
Update: Marshall Scott put out a statement on Wednesday morning where he contends it was a fair question, but adds that the time and place may not have been the best best. Here is his statement.