featured
The Liberty Bowl Means More to Kansas and Their Fans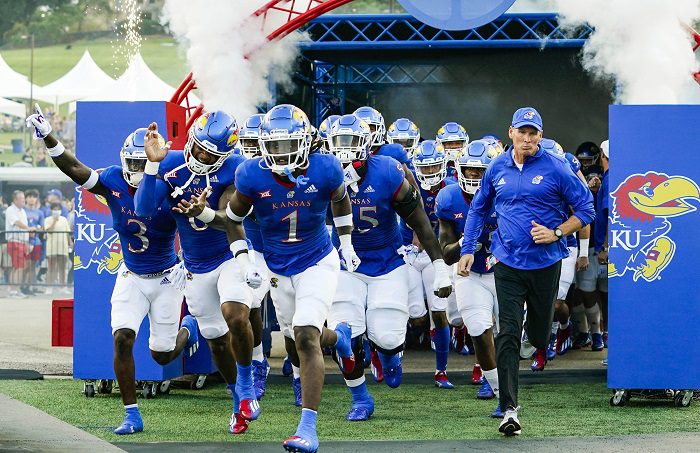 The Kansas Jayhawks are ready to take on the Arkansas Razorbacks in the AutoZone Liberty Bowl today at 4:30 on ESPN. Both teams finished the season with a 6-6 record and Arkansas is going into the game as a three-point favorite over the Jayhawks.
According to people on the ground in Memphis, Tennessee, home of the Liberty Bowl, the Kansas fans are outnumbering the Arkansas fans by a large margin. Looking around at all of the pre-game festivities, it makes some sense that this would be the case.
The Kansas athletic department announced it sold out of its original allotment of pre-sale tickets and was given more tickets to satiate the fan base's hunger for postseason football. There is a possibility 75% of the stadium is filled with crimson and blue when kickoff arrives.
There's also a chance Arkansas fans will decide to drive up the day of the game to save on costs. After all, Arkansas was hoping for better results this season and a .500 season was considered a letdown for their program. At the same time, that could also be why you see more Jayhawk fans in the stands today.
To put it simply, this game means more to Kansas and its fans. Kansas was not seen as a bowl contender going into the 2022 season. Most sports gambling sites had the Jayhawks over/under win total at 2.5 wins. For Kansas, it's their first time bowling since 2008. When the Jayhawks started their season 5-0, you could feel a shift in energy in Lawrence, Kansas. People truly care about KU's football program in a way they haven't been able to in a long time. Home games were sold out, College Gameday came to campus when KU hosted TCU in a battle of undefeated teams. It has been a fun time to be a KU football fan.
Not only has head coach Lance Leipold turned the Jayhawks from a laughing stock nationally into a bowl team in two years, but he has made waves in the transfer portal. The way college football is set up in 2022 and moving forward, teams like Kansas will have to be active in the transfer portal to keep up their winning ways. Yes, getting his own recruits out of high school will be key to building the foundation of the program moving into the future, but being able to go to back-to-back bowl games and building off this season will be critical to the next step in Leipold's movement.
Recruiting is a critical part of building the program, showing up and winning bowl games matters at schools like Kansas and can go a long way to sustaining success. That's why the Liberty Bowl means so much more to Kansas at this point than Arkansas. Of course, Arkansas wants to win this game, they aren't going to go out there and lay down for Kansas. However, they have been a program that has been built up in recent years and they slipped a little this year. They are playing to finish above .500.
Kansas is playing for so much more. Not only are they playing to finish above .500, they are playing to get their first bowl win in over a decade; they are playing to win for their fans who traveled thousands of miles by car when their flights got canceled; they are playing for recruiting battles; they are playing to build upon the foundation that Leipold has set in place; they are playing to use this as a launching point for their 2023 season.
The Jayhawks will have several key players that are returning next season. Quarterback Jalon Daniels and cornerback Cobee Bryant headline the list, but there are several starters on both sides of the ball that will be back. They've seen the growth of the program and don't want to see any falloff from 2022 to 2023. In fact, they want to improve upon what has been built and win even more games moving forward and it all starts with the Liberty Bowl.
The Kansas Jayhawks have everything to play for. The players and their fans want it more. Now all that's left to do is for the team to go out there and get the job done on the field.