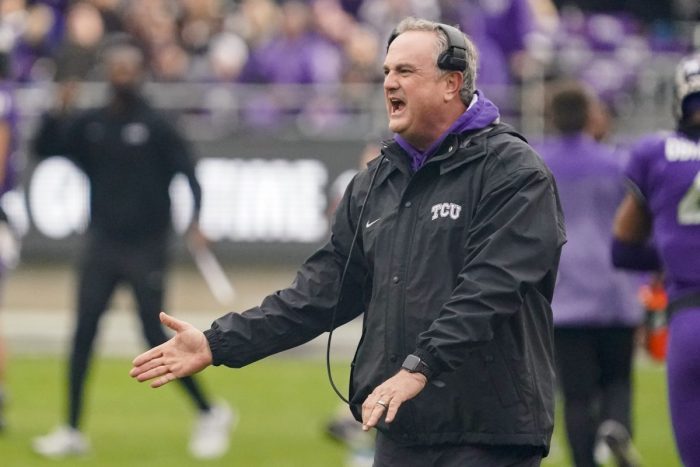 The TCU Horned Frogs have seen plenty of success under first-year head coach Sonny Dykes, as they are 12-1 and headed to the College Football Playoff.
While they're nonconference wasn't exactly daunting, their Big 12 slate was quite difficult and they didn't get any breaks along the way. In fact, the Horned Frogs haven't had a bye week since September 17, and he made sure to let the SEC hear about their de facto bye weeks against FCS opponents.
"We don't have the good fortune to play an out-of-conference game like the SEC does in Week 10 or Week 11," Dykes told media. "You're not going to catch The Citadel in Week 10. We caught Texas."
TCU's nonconference schedule started with Colorado, the only Power Five team of the three, the Buffaloes went a paltry 1-11 in 2022. From there, it played Tarleton State (an FCS school), and an SMU team that went 7-6.
However, once Big 12 play began, things got significantly more difficult. The Horned Frogs played, and defeated, five ranked teams along the way to a 12-0 regular season, and all without a week to rest up somewhere in the mix. That's a tough spot to be in, let alone to find success. Yet, TCU did just that and that is why they are playing Michigan in the Fiesta Bowl this weekend.