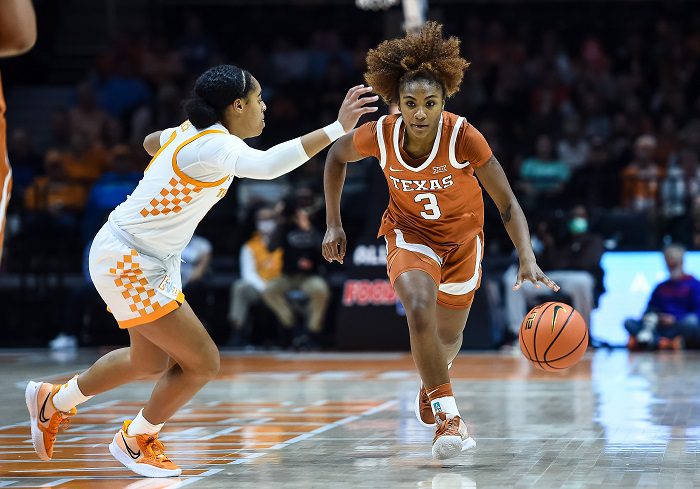 The Texas Longhorns are 9-4 after playing their pre-Big 12 schedule and are now preparing for their conference opener against Kansas State on Dec. 31.
With that, we have five thoughts about the Longhorns at the break.
At the Moment
The Longhorns have won their last six games, which surely leaves coach Vic Schaefer happy. But that stretch was also a feast on low- and mid-major teams, including one — Texas A&M-Commerce — which is transitioning to Division I. The one good win was over USC in Dallas.
Before that? Texas was a mess of injuries and inconsistent play. Guard Rori Harmon missed time to start the year, followed by transfer forward Taylor Jones. Then, Texas lost forward Aaliyah Moore in the middle of non-conference to a torn ACL. It all added up to a 3-4 start, with Texas losing to UConn, Marquette, and Louisville in a three-game stretch. The Longhorns also fell to USF at home.
It all adds up to a team that is not ranked and is barely hanging on in the latest ESPN Bracketology. Schaefer has work to do.
The Roster
The good news is that the Longhorns have plenty of materials to work with. Five active players averaged double-figures in non-conference, led by transfer Sonya Morris (11.6 points). Transfer guard Shaylee Gonzalez (11.0), Harmon (10.6), holdover forward DeYona Gaston (10.6), and Jones (10.3) have all found ways to carry the load. Jones hasn't played since November with a lower-body injury and it's not clear when she will return.
In the absence of Moore, Khadija Faye, a Texas Tech transfer, has stepped up. Averaging 7.1 points this season, she's hit double figures in four of her last five games. Guards Ndjakalenga Mwenentanda (6.5 points) and Shay Holle (5.0 points) give the Longhorns valuable depth. Texas has 10 players that have averaged at least 10 minutes, with Faye, Gaston, and freshman Amina Muhammad all averaging more than five rebounds per game.
Harmon is the fuel for this team. Since her return she's averaged 6.3 assists and 3.0 steals, taking some weight off of Gonzalez, who had to assume the point guard role in Harmon's absence. Moore's injury stings, but if Jones can return that would take some of the pain out of losing her.
The Recruiting Class
Texas took in three recruits, and, naturally, they're highly thought of in ESPN circles. Abbie Boutilier, a 6-foot-9 forward from Flower Mound, Texas; guard Gisella Maul from Cedar Park, Texas; and Madison Booker, a 6-foot-1 forward from Ridgeland, Miss., were all rated as Top 40 players by ESPN. Boutilier is the tallest player Texas has ever signed. Booker and Maul are both five-star players. This is the norm with Schaefer as the head coach. There are three seniors on the roster, so this may be the entire class, and it's a stout one.
The Concern
Texas seems to be doing what it did last year when it had chemistry issues as a team and found its footing halfway through Big 12 play when Schaefer committed to starting Gaston and Holle and brought guard Aliyah Matharu off the bench. Suddenly, everything clicked and the Longhorns were on their way to the Elite Eight for the second straight year.
Chemistry is the concern. Schaefer signed four highly-talented transfers, one of which is hurt. Harmon missed half of the non-conference. Moore is done for the year. He's using players in combinations he likely didn't plan for. Can Texas get the chemistry together by March? Because, if the Longhorns can, well, they should be able to the Elite Eight from there.
The Big Stretch
Texas better get the chemistry together quickly. Starting Jan. 10, Texas will play four out of five games against ranked teams (at least ranked right now). Texas hosts Kansas and Iowa State, travels to Texas Tech and Baylor, and then hosts Oklahoma. Don't overlook the Texas Tech game, either. The Lady Raiders beat the Longhorns early last season, too. And Texas Tech looks better this season.
You can find Matthew Postins on Twitter @PostinsPostcard