Oklahoma Sooners
Quentin Johnston's Dad Talked Son Out of Transferring to Oklahoma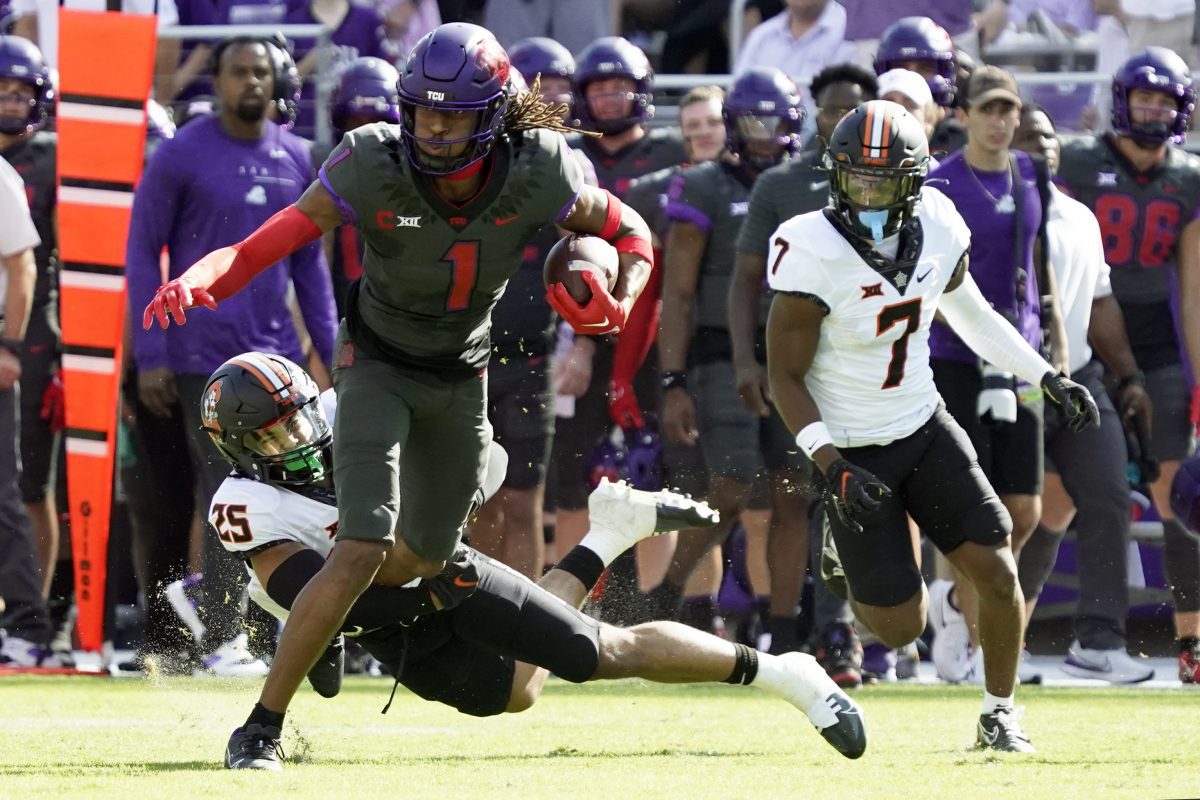 The Oklahoma Sooners (6-7) wrapped up their 2022 season with a heartbreaking loss to No. 13 Florida State (10-3) in the Cheez-It Bowl on Thursday night, falling 35-32.
Throughout the season, Oklahoma showed a lack of depth at many key positions and ultimately it was that lack of depth that saw them fall short in the fourth quarter of several games, losing by a field goal in three of the Sooners' final four losses.
One position of need for Oklahoma was wide receiver, as Marvin Mims, the Sooners leading pass catcher, could've used another deep threat that could stretch opponents vertically. Despite a couple of rough games, Mims was terrific, ranking second in the Big 12 in receiving with 1,083 yards and first in yard per reception (20.3 ypc).
Could you imagine if the Sooners had TCU wideout Quentin Johnston in the fold as well? It nearly happened, according to The Athletic's Max Olson.
In an excerpt from a recent article, Olson says that Quentin's father, Carl, had a discussion with his son about transferring to Oklahoma after the 2021 season.
"He called me and he asked me what did I think," Carl Johnston said. "I told him what I thought about transferring at this stage in his career. I said, 'Oklahoma, yeah, that's a powerhouse team. But this could possibly be your last year. You're already established. If you go up to Oklahoma, you have to get re-familiarized with all your surroundings, learn a whole new everything. Right now, you're established right where you're at, you've got your friends there, your schooling is going great. If you stay the course, I believe you'll be all right. Your name is out there already. They know what you can do. Just hang tough where you're at.'"
Thankfully for TCU fans, Carl's fatherly advice was enough to keep Quentin in Fort Worth, and it turns out that it was the right choice. TCU's leading receiver currently ranks third in the Big 12 with 903 receiving yard and collected 57 receptions and five touchdowns this season. Plus, with Johnston fully healthy, the Horned Frogs offense will get a chance to show the world that it's among the nation's best and most explosive units.
Johnston is viewed by many as the top wideout available in the 2023 draft class, and that is a position that is paid a premium in this day and age. If Johnston can cap off his final season in college with a big outing in the College Football Playoff, there's no reason to believe that his name won't be called on day one of the 2023 NFL Draft.