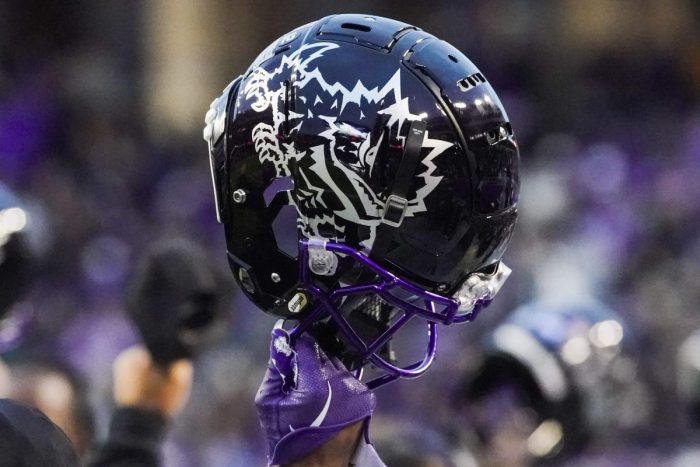 TCU is set to take on Michigan in the VRBO Fiesta Bowl on Saturday afternoon with a spot in the College Football Playoff National Championship Game on the line.
For TCU head coach Sonny Dykes, the semifinal game will be the first game he has coached since losing his mentor, and friend, Mike Leach. Leach passed away earlier this month at the age of 61, leaving the world of college football to mourn the loss of a legend.
In Leach's honor, the Horned Frogs will be wearing a helmet sticker, particularly a pirate flag, to remember the man that had such a profound impact on Dykes' life.
"Tomorrow will be a little bit of a reflection for me before kickoff," Dykes said of his preparation for tomorrow's game. "You know, thinking about my mentor Mike Leach passing. I think that's gonna be a big part of my feelings pregame tomorrow. Just the impact that Mike had on my life, and really college football in general.
"We're gonna wear a helmet sticker in remembrance of Coach Leach, with a pirate flag on it. You know, he was a big impact on me and really, as I said earlier, football in general. So, I'm sure there will be a little bit of a shoutout to Coach Leach before I take the field. Just what he meant to me, personally, in my life. I certainly wouldn't be here without his guidance and mentorship and the huge impact he had on my life. He was just an original guy that did things his way and an outside-the-box thinker. I was really blessed just to have a chance to work with him. So, I'm sure his memory will certainly cross my mind before we take the field tomorrow."
TCU and Michigan are scheduled to kick off at 3:00 p.m. CT on New Years' Eve, with the Horned Frogs currently a 7.5-point underdog in the contest.