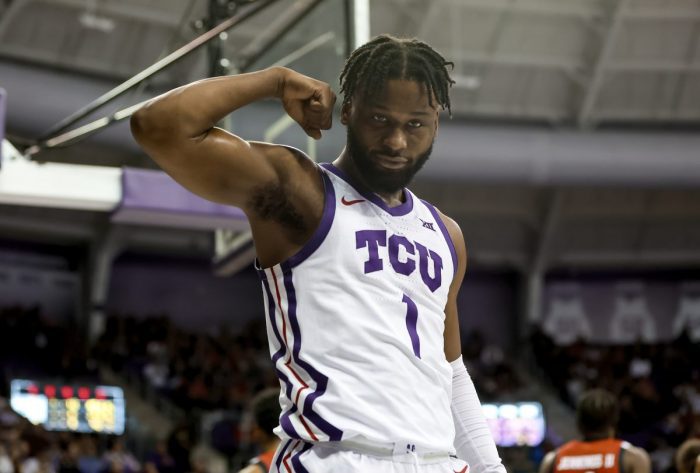 FORT WORTH, Texas — The TCU Horned Frogs beat the Texas Tech Red Raiders, 67-61, on Saturday at Schollmaier Arena. Here are three thoughts on this Big 12 Conference game.
How TCU Won
In two words, Mike Miles.
The Horned Frogs struggled in the first half but came out on fire defensively and cut an 11-point lead to one point right away. But it took the Horned Frogs until 7:07 left to tie the game on a breakaway layup by Damion Baugh. For the next four minutes the Horned Frogs just couldn't get over the hump— until Miles made a lay-up with 3:34 left to put TCU ahead, 59-58.
On the next play, Miles hit a tear-drop over Texas Tech's Daniel Batcho and drew a foul, giving TCU a 61-58 lead with 2:47 left. From there, TCU outscored the Red Raiders 6-3 to maintain the lead and notch their first Big 12 win.
Miles ended up with a great afternoon, scoring 23 points, going 8-for-10 at the free throw line, dishing out three assists and avoided fouling out after he got his fourth personal in the second half. TCU shot less than 35 percent in the first half but turned it on, thanks to forward Emanuel Miller (16 points, 6 rebounds) and Baugh (14 points, 5 assists, 4 steals).
The Horned Frogs had to gut this one out, but they did.
How Texas Tech Lost
At halftime, Texas Tech led, 37-26, after shooting 47 percent from the field and 31 percent from the 3-point line, while TCU shot 31/13. The Red Raiders also outscored TCU off turnovers, 10-3, and bench points, 12-5. The Red Raiders led for nearly 17 minutes of the half.
Frankly, the Red Raiders were in control, and then they lost it, in part because the Horned Frogs came out to trap defensively to start the game. As TCU chipped away at the lead, the Red Raiders found answers from guard Richard 'Pop' Issacs, who had 17 points (five 3-pointers). But, guard De'Vion Harmon — who had a great first half — ended up with just 13 total points after scoring 10 in the first 20 minutes.
TCU limited Kevin Obanor's effectiveness, as he had six points and four rebounds. The Red Raiders also ended up with 23 turnovers, including seven in a six-minute stretch late, that put the Red Raiders in a corner for good.
It was an opportunity lost for Texas Tech.
What's Next For TCU, Texas Tech?
Texas Tech doesn't get a respite from playing ranked opponents just yet. No matter what happens in the Oklahoma State-Kansas game, the Jayhawks figure to be ranked when the Red Raiders host them on Tuesday in Lubbock at 8 p.m. Texas Tech will also host Oklahoma next Saturday at 6 p.m.
TCU walks right into not only a Top 25 game, but a rivalry game on Wednesday when they drive down to Waco to face Baylor at 8 p.m. TCU then returns home to host Iowa State at 1 p.m. Saturday.
It's the Big 12, so the tough games never end.
You can find Matthew Postins on Twitter @PostinsPostcard