Kansas Jayhawks
Postscripts: The Big 12, CFB Playoff, Mike Gundy vs. Reporter, Sark's F-Bomb and Expansion Chatter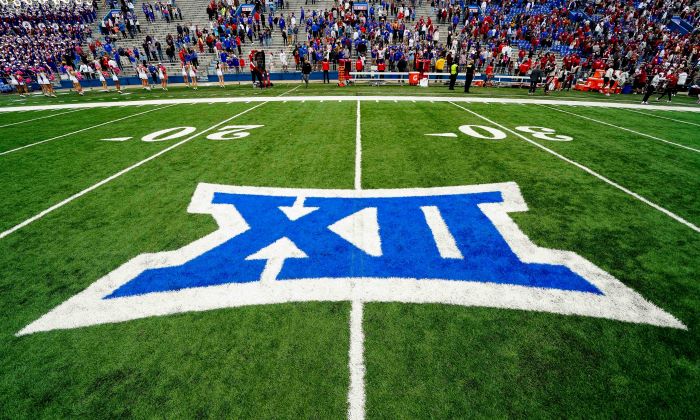 What's going on in the Big 12 and beyond? I expand and explain every Sunday in Postscripts (see what I did there?) at Heartland College Sports, your home for independent Big 12 coverage.
This week, it's the College Football Playoff (of course), Mike Gundy (also, of course), Sark dropping 'F' bombs, bowl games, voicemails and my trip to Hawaii next year on boss Pete Mundo's dime. Oh, and the Pac-12, too.
The Playoff Long Game
TCU's invitation to the College Football Playoff was hard-earned. You likely didn't have 'TCU is the second Big 12 team to go to the College Football Playoff' in your CFP predictive pool this year or any year. If any of you put a bet down on TCU winning it all on preseason odds while on a drunken jaunt to Vegas, well, you're a game away from a pay day after TCU beat Michigan, 51-45, on Saturday.
Naturally, this is going to happen more often — not necessarily TCU winning CFP games, but the Big 12 going to CFP games. The expanded playoff, which starts in 2024, means that a Big 12 invite is a virtual lock each season (it's the Top 6 rated conference champions and I can't see the Big 12 not being among them). Had the playoff expanded this season, Kansas State would have made it, too.
After last year's Big 12 Championship Game, won by Baylor, I wrote that the Oklahoma-Texas hangover was, well, over. The Hateful Eight (love that nickname) realized that it was time to forge their own collective identity (which they have) and that it was also time for each to stake their claim to being the league's 'alpha dog.'
Everywhere you look, those eight teams are doing everything possible to be ready. Three schools (Kansas, Kansas State and Iowa State) have launched massive mixed-use efforts to drive foot traffic for games and revenue for the school. Texas Tech is building the nation's largest football facility, even taking down its iconic 'Double T' scoreboard to make room (don't worry, they're making a new one). Of all of the Big 12 schools he visited, commissioner Brett Yormark said West Virginia had the best facilities, and they just hired a new athletic director in Wren Baker who knows how to raise funds. Everyone has an NIL collective working, and Texas Tech is leading the way there, too.
The incoming schools are at it, too. Cincinnati started a massive fund-raising and infrastructure effort after last year's College Football Playoff run. Houston is building its own massive football facility. BYU and UCF aren't far behind. BYU just created a school-approved NIL collective.
They're all jockeying for position for 2024 when, theoretically, OU and Texas will be in the SEC (we assume those parties are still talking through that). But it's not just about that season. It's about the next five to 10 years, when the Big 12 is guaranteed a seat at the playoff table and given a chance to prove its competitiveness yearly in the playoff.
Mike Gundy and the Media … a Winning Combination
Oklahoma State coach Mike Gundy told a reporter who asked him about staff changes for the 2023 season to "stop being an ass" after the Guaranteed Rate Bowl.
You first, coach.
The reporter, Marshall Scott of Pistols Firing Blog, asked Gundy about potential staff changes. It's a legitimate question after the Cowboys finished the season 7-6 and lost five of their last six games. It's also likely the last time reporters are going to get to ask Gundy questions for a while, so if you need to ask a question, that was the time, even if it was after a bowl game loss.
Gundy engaged in some back and forth before he told the reporter not to be an ass and said "OK. Well, I might have to cut you out." I assume that means his credential. The reporter later apologized on Twitter.
A few things.
The only thing the reporter did wrong was apologize. He asked a reasonable question.
If Gundy didn't want to answer it, that's his prerogative. I've seen coaches sidestep plenty of questions like that without the attitude that Gundy gave that reporter.
While Gundy is right that we're asking questions about assistant coaches and their livelihoods, and I get that he's sticking up for his coaches, all he had to say was "we'll address that at the appropriate time." Then, move on.
I'm a man. I'm 50 (see what I did there?). I've been chewed out by plenty of coaches for appropriate and inappropriate reasons. My skin is thick. So is that of most reporters.
I get that he was ticked about his team. Most of us thought they were legit Big 12 title contenders and they cratered after they lost to TCU in October. The program is leaking transfer talent (seeing Trace Ford commit to Oklahoma the same day must have hurt) and has just its second recruiting class outside the 247Sports.com Top 40 in the last seven years (thought that could certainly change in February).
Perhaps that's what Gundy should be focused on. Instead, at least on Tuesday night, he chose a fight he knew he could win and walk away from.
Or, perhaps he's just playing three-dimensional chess and the rest of us are playing checkers.
Meanwhile, JUST when the heat was percolating around Gundy, well, Texas coach Steve Sarkisian asked someone to hold his beer.
Is that worse than what Gundy did? Absolutely. But I don't see either coach offering up a mea culpa.
Bowl Game Reminder
I don't put any stock in a conference's overall quality by how they do in bowl games. I never have and I never will. Especially these days, with transfers, opt-outs and other variables, it's almost impossible to know what kind of game you're going to get.
So I'm happy to hear the bowl system is re-examining itself after this season. From the Sports Illustrated story:
"Executives are expected to examine a great number of bowl-related issues, including stiffening the criteria for bowl eligibility from a 6–6 record; providing more standard name, image and likeness (NIL) payments to all players participating in a bowl; further incorporating bowls in the expanded playoff; shifting bowl games up a week in December; establishing more flexibility in conference bowl affiliations; and, finally, incorporating more television partners within Bowl Season."
Frankly, the entities connected with bowl games should have done this a long time ago, as opposed to what Cincinnati is trying to do right now and create ANOTHER bowl game. Although, to be fair, the Cincinnati Chili Bowl does have a nice ring to it, and I miss food-related bowl game names like the Tangerine Bowl and the Salad Bowl (the latter is totally not made up. It's an actual bowl game from the 1940s and 1950s).
I enjoy bowl games, but while I don't put a ton of value in them, they have value to the host city (economic impact), fans (vacation), players (enjoyable pre-game activities) and coaches (15 extra practices). They should continue. But this re-evaluation, especially with the expanded playoff, needs to happen.
For what it's worth, I love the idea of flexibility in bowl affiliations. Let's do everything possible to create compelling matchups throughout the schedule and not just with the New Year's Six.
The Pac-12 and 2023
Most of the predictions that I've read when it comes to the Pac-12 and 2023 revolve around two things. First, that the Pac-12 will get a media rights deal with both ESPN and a streaming service that will approach, if not match, the Big 12's new deal. Second, that Gonzaga and San Diego State will join the league. I've linked Matt Brown's piece from Extra Points for his perspective. His newsletter is a great follow for sports-related business and realignment news, if you're into that.
Neither are far-fetched. Go back to the early 1990s when Fox bought the NFC package for NFL broadcasts. They overpaid to get into a space where they didn't have a foothold. It paid off handsomely. The Pac-12 is the only major rights package left in college sports that can even entertain a streaming option and it's also the only major package streamers can bid on for a while. Someone might well overpay for it, and the Pac-12 may be willing to give up some 'exposure' for the bag of cash.
As far as Gonzaga and SDSU (The Big 12 should be talking to both, and we know it's talking to the Zags), those make logical sense as expansion targets. Gonzaga would boost the Pac-12 basketball portfolio and SDSU gives them a Top 15 media market, something it sorely needs after completely losing the Los Angeles market.
Plus, there's the news that Big Ten Commissioner Kevin Warren is reportedly up for the job to lead the Chicago Bears (and the Big Ten offered perhaps the worst denial-non-denial statement in sports history). If Warren goes, that may put a halt to any effort for the Big Ten to expand further.
If those things happen, how does that impact the Big 12? Yormark isn't being stealthy about his desire to get a foothold in the Pacific time zone. That makes sense. He wants Big 12 football from coast to coast. He can accomplish that for half the season with BYU, which has never had an issue playing the late game. He needs another western partner to be able to offer ESPN and Fox late games every week. He could still find one. But for any Pac-12 team to be interested in jumping ship, they would have to be dissatisfied with the TV deal. If it's a difference of $2-3 million per team, they're probably staying. Beyond that, it's a toss-up. And Bob Thompson, who used to negotiate these deals for decades with Fox, has a prediction.
My guess is that if the Pac-12 holds, Yormark will look to other avenues to expand, but it likely becomes more of a back-burner item. It's not a loss for the league because it has stability either way. But it wouldn't be the clear win he might have been hoping for.
A 'Helpful' Voicemail
It's been said that many people don't like leaving voicemails anymore. I'm not a big fan of it. But one Texas volleyball fan decided to call Kevin Rodriguez, the Longhorns' volleyball and baseball sports information director, DURING the team's national championship match in Omaha to offer what I imagine he thought would be some encouraging words.
Texas' social media staff turned it into this master work.
I've seen a lot of things in covering sports. In-match voicemails is not one of them.
Holiday in Hawaii
Now is the time for TCU and Big 12 beat writers to start lobbying to cover more TCU road basketball games in non-conference. Why? The Horned Frogs are reportedly headed to the Diamondhead Classic in Hawaii over Christmas next year.
So … Pete … let's work on that, shall we?
You can find Matthew Postins on Twitter @PostinsPostcard