Baylor Bears
Big 12 Men's Basketball Week 9 Preview, Games to Watch, Schedule, TV Info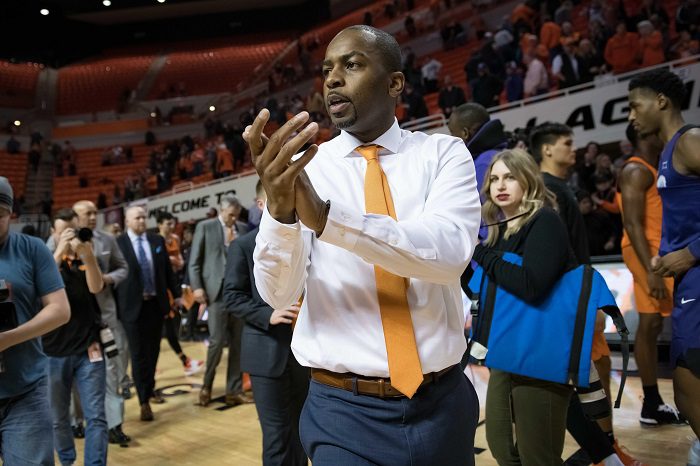 The ninth week of the 2022-23 Big 12 men's basketball season is here. Our Week 9 primer gets you ready for the week ahead in Big 12 basketball.
This is the first full week of Big 12 action, with games on Monday, Tuesday, Wednesday and Saturday.
Below you'll find our game of the week, our mid-major danger game of the week, notes to watch, the week's schedule with TV information and links to other useful college basketball information during the season. Plus, keep up with the site throughout the week for our Daily Fantasy Picks with Draft Kings on those nights when there's a Big 12 team — or teams — in the pool.
Catch up on our in-person coverage last week with our thoughts from Saturday's TCU-Texas Tech game in Fort Worth.
Top Three Games of the Week
TCU at Baylor, Wednesday. The schools don't particularly like each other. Both will be ranked. Baylor will be smarting after its loss to Iowa State. The Horned Frogs and Bears are anchoring a Big 12 doubleheader on ESPN2.
Kansas at West Virginia, Saturday. The Big 12 home opener for the Mountaineers. They welcome the Jayhawks. If Kansas loses, WVU coach Bob Huggins gets a $50,000 bonus, which he donates to the Norma Mae Huggins Endowment at the WVU Cancer Institute.
Kansas State at Baylor, Saturday. Former Baylor assistant and first-year Kansas State head coach Jerome Tang squares off which his mentor, Scott Drew, for the first time.
Sneaky Good Game of the Week
Iowa State at Oklahoma, Wednesday. Iowa State' defense takes a crack at slowing down Oklahoma guard Grant Sherfield. I see OU as a bubble NCAA Tournament team. A win like this would help the Sooners down the line.
Five Players to Watch
G Gabe Kalscheur, Iowa State: He has 23 points against Baylor and he could be the player that picks up the slack after the injury to Aljaz Kunc. His problem in Ames has been consistency. Can he string more good games together?
C Abayomi Iyiola, Kansas State: He busted out K-State highs of 14 points and eight rebounds against West Virginia. Can he do it again? Will he be given the chance to do it again?
G Bryce Thompson, Oklahoma State: Thompson shouldn't save a 23-point game just for Kansas. Spread it around. The Cowboys will be better for it.
F Dylan Disu, Texas: The Longhorns need all the front court help they can get. Those 10 points against Oklahoma on Saturday were big.
F Tre Mitchell, West Virginia: I know the Mountaineers lost, but if Mitchell double-doubles every night — and he's plenty capable — those Big 12 wins will come.
Team to Watch
Oklahoma State. As I wrote last week, the Cowboys have the most ground to make up when it comes to reaching the NCAA Tournament. The Cowboys catch WVU at home on 48 hours' rest (of course, the same holds for the Cowboys). Then, they host Texas on Saturday. The Cowboys need to claim at least one of these games. Holding serve at home is vital to success in the Big 12.
This Week's Schedule (all times central)
Monday
West Virginia at Oklahoma State, 6 p.m., ESPNU
Tuesday
Kansas at Texas Tech, 8 p.m., ESPN2
Kansas State at Texas, 8 p.m., LHN
Wednesday
Iowa State at Oklahoma, 6 p.m., ESPN2
TCU at Baylor, 8 p.m., ESPN2
Saturday
Texas at Oklahoma State, 11 a.m., ESPNU
Iowa State at TCU, 1 p.m., ESPNU
Kansas at West Virginia, 5 p.m., Big 12 Now/ESPN+
Kansas State at Baylor, 5 p.m., Big 12 Now/ESPN+
Oklahoma at Texas Tech, 6 p.m., Big 12 Now/ESPN+
Links to Use
Rankings
AP Top 25 | USA Today Top 25 | Ken Pomeroy
Team Schedules, Results
Baylor | Iowa State | Kansas | Kansas State | Oklahoma | Oklahoma State | TCU | Texas | Texas Tech | West Virginia
Signing Classes for 2023
Baylor | Iowa State | Kansas | Kansas State | Oklahoma | Oklahoma State | TCU | Texas | Texas Tech
Tournaments
Big 12 Men's Tournament | NCAA Tournament
Bracketology
You can find Matthew Postins on Twitter @PostinsPostcard