Big 12 News
Bob Huggins Says Erik Stevenson One 'Infraction Away' From Dismissal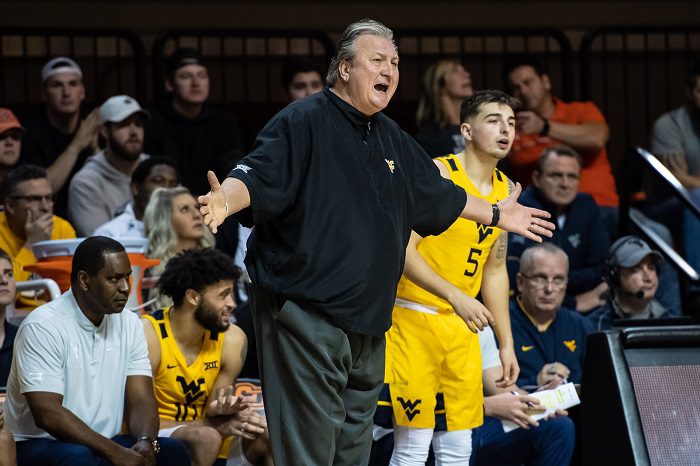 West Virginia head coach Bob Huggins has seen just about enough from guard Erik Stevenson, saying one more infraction will get him dismissed from the team.
This came after Stevenson received a technical foul for taunting with 7:17 left in the second half after he scored a basket for the Mountaineers, who lost 67-60 to the Oklahoma State Cowboys in Stillwater, Okla.
Two minutes later, Stephenson — who received his fourth personal foul along with the technical foul, by rule — took his fifth personal foul and had to leave the game with a team-high 17 points. He missed the final critical minutes as the Mountaineers lost a three-point lead and ended up losing by seven.
That moment, Huggins told West Virginia radio, "basically cost us the game," per a quote collected by WVSportsNow's Ethan Bock.
"Erik gets incredibly stupid again, basically costs us the game," Huggins said on the radio. "Can't happen again. Just cannot happen again."
Stevenson tweeted shortly after the game.
Stevenson's gesture was made as he was walking back down the court after the basket. It wasn't immediately apparent by replay what he had done. But, after the game resumed, ESPN's Mark Neely noted that he was told by game official John Higgins that Stevenson's technical was the result of him gesturing toward his groin area. ESPN showed a replay of the moment.
Huggins said after the game that officials told him that Stevenson was gesturing toward former Oklahoma State star Marcus Smart, who was courtside during the game.
This isn't the first time that Stevenson has run afoul of Huggins. Huggins made it clear during his post-game radio show that he's had enough, per Blue Gold News.
Stevenson, who transferred to West Virginia before this season, was averaging 13.9 points and 2.4 assists per game entering Monday's game.
You can find Matthew Postins on Twitter @PostinsPostcard