Oklahoma Sooners
Former USC Running Back LenDale White Calls Out Lincoln Riley After Cotton Bowl Loss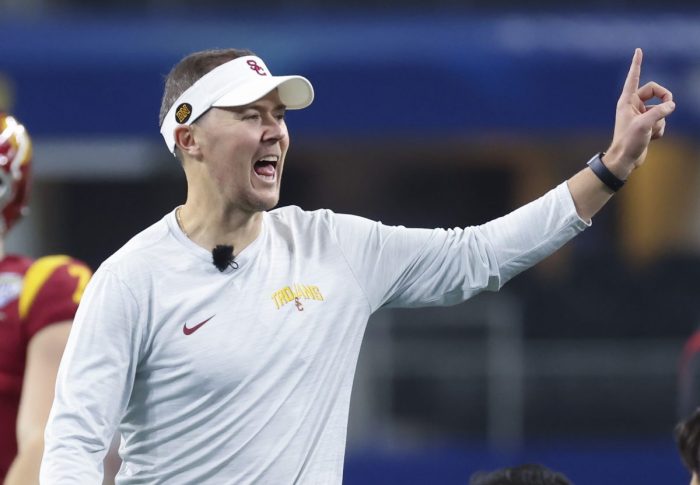 USC lost a heartbreaker in the Cotton Bowl to Tulane on Monday afternoon.
After trailing the entire game, the Tulane Green Wave stayed within striking distance until senior quarterback Michael Pratt could lead them on a 12-play, 66-yard drive to win the game. On the drive, Pratt converted two fourth downs, and eventually scored on this miraculous six-yard pass to Alex Bauman, which was first ruled as an incomplete pass. After review, the call on the field was overturned and Tulane tacked on a field goal for its first and only lead of the game, 46-45.
After the game, the reaction from the USC faithful was unkind, but that included former USC running back LenDale White, who called out Lincoln Riley's defense, which has been his Achilles Heel dating back to his time with the Sooners.
During his five-year stint at Oklahoma, Lincoln Riley lost a total of 10 games. In those losses, Oklahoma scored 30+ points eight times and 40+ on three occasions. That means that only two losses of the 10 occurred with the Sooners scoring less than 30 points.
According to ESPN Stats and Info, Lincoln Riley has now lost six games when holding a lead of at least 14 points since becoming a head coach in 2017, the most in the FBS in that span.
Now, its probably too quick to know if changes will be made just yet, but USC defensive coordinator Alex Grinch followed Riley to LA from Norman, and has been Riley's DC since 2019.
However, at least if one former prominent player has his way, Riley might be lookin