Big 12 News
Lincoln Riley Loses Another Game Where His Team Scored 40+ Points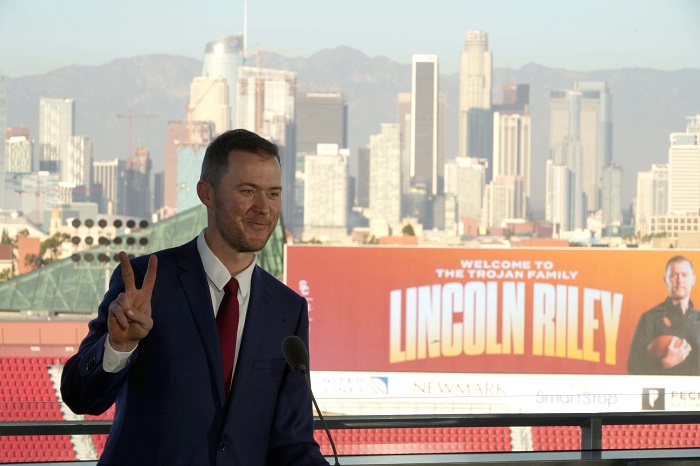 Lincoln Riley is one of the best young coaches in all of college football, and his 66-13 career record and three Heisman-winning quarterbacks prove that to be the case.
However, during his time in Norman and his first season in Los Angeles, there has been one thing that has kept the offensive prodigy from capitalizing on his unit's prowess: a competent defense.
During his five-year stint at Oklahoma, Lincoln Riley lost a total of 10 games. In those losses, Oklahoma scored 30+ points eight times and 40+ on three occasions. That means that only two losses of the 10 occurred with the Sooners scoring less than 30 points.
Now, after an 11-3 season in Los Angeles in 2022, the trend continues. In two of the three losses for USC, the Trojans scored 40 or more points, the latest of which came on Monday afternoon in the Cotton Bowl to Tulane.
After trailing the entire game, the Tulane Green Wave stayed within striking distance until senior quarterback Michael Pratt could lead them on a 12-play, 66-yard drive to win the game. On the drive, Pratt converted two fourth downs, and eventually scored on this miraculous six-yard pass to Alex Bauman, which was first ruled as an incomplete pass. After review, the call on the field was overturned and Tulane tacked on a field goal for its first and only lead of the game, 46-45.
According to ESPN Stats and Info, Lincoln Riley has now lost six games when holding a lead of at least 14 points since becoming a head coach in 2017, the most in the FBS in that span.
Now, its probably too quick to know if changes will be made just yet, but USC defensive coordinator Alex Grinch followed Riley to LA from Norman, and has been Riley's DC since 2019.
It's not too hard to see that Riley's tenure at USC will be much like his years in Oklahoma.
His offensive firepower will win him games through the regular season and allow him to pile up wins in bunches. However, when he gets to bowl season, balanced teams are able to get the better of the 39-year-old coach. Of course, the story will always be "we're close," just like it was in Norman.
The fact of the matter is, Riley is now 1-4 in bowl games and until he changes his defensive philosophy, that won't change.