featured
TCU Shuts Down National Naysayers in College Football Playoff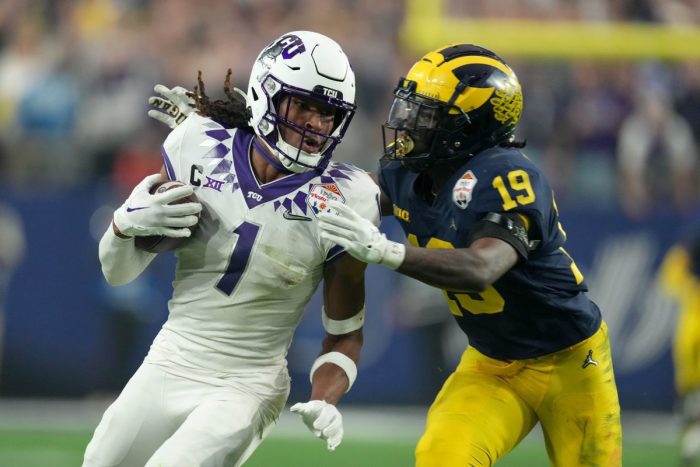 What a ride it has been so far for the TCU Horned Frogs. From finishing the regular season undefeated to making it to the national championship game.
As fun as this journey has been for TCU, there have been plenty of doubters along the way. Each and every week, the Horned Frogs found ways to win close games. Another week turned into another win as they started to make noise on the national level.
The more they won, the more attention they drew. However, not all attention is good attention as national media folks had their fair share of takes on the school from Fort Worth.
Back in November, when the College Football Playoff rankings came out, ESPN's Stephen A. Smith and Paul Finebaum had plenty to say about TCU's ranking. Remember when this embarrassing moment happened on national television?
At the time, we all knew it was a lazy take. Stephen A. Smith took a shot at TCU's schedule which was odd because TCU had one of the toughest schedules in all of college football. Then you had Mr. SEC Paul Finebaum say that "This isn't the old Big 12. This is the TCU Big 12." He also added that TCU would get blown off the field by teams such as Alabama, Georgia, Ohio State, Tennessee, LSU, and Michigan.
Even after the College Football Playoff was announced, some people still weren't sold.
"Hell no they didn't get it right," Smith said. "Where's Alabama? Where's Alabama? Nick Saban did one thing wrong: the argument that he was making should've been made weeks earlier. I felt that it was delayed, that was it. Outside of that, Paul Finebaum, I don't understand this!
"TCU, you know you ain't those dudes, okay? And you know everybody is looking at you, undefeated, and questioning your schedule, questioning whether or not you're those guys. You've got a conference championship against Kansas State, and you can't get it done… You ain't the SEC, you ain't the Pac-12, you ain't the Big Ten. The bottom line is, as a result, you understood the pressure that came with being in that moment, you were supposed to respond, but you didn't do it."
ESPN employees weren't the only ones throwing shade at TCU either. Here's what former Texas Longhorns' quarterback and now NBC Sports NFL analyst Chris Simms had to say about the Horned Frogs last month.
Of course, now his tweet has resurfaced as TCU is heading to the national championship game after beating Michigan in the College Football Playoff.
And speaking of Michigan I remember before the game last week we saw Michigan players not even know what conference TCU was in. Here is what Michigan linebacker Junior Colson had to say about TCU.
I think it's safe to say that he knows exactly what conference TCU plays in after the Fiesta Bowl on Saturday.
When I sit back and think about it, Stephen A Smith was right. TCU isn't in the SEC, Pac-12 or the Big Ten. They are in the Big 12. A conference that just sent a team into the national championship game. The Horned Frogs already beat the best the Big Ten had to offer. Now it's time to shock the world once again and knock the top dog of the SEC.