Baylor Bears
Three Thoughts for Big 12 in AP Men's Top 25 Poll for Jan. 2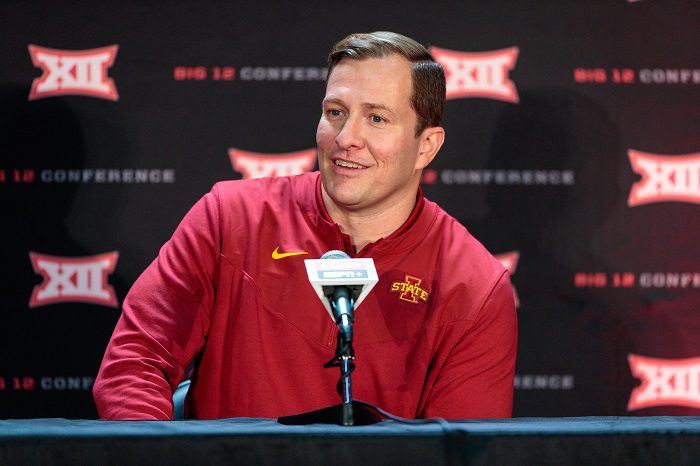 Five Big 12 teams are among the nation's best as the Associated Press Men's Basketball Top 25 was released after the season's eighth week of games.
Here are our three thoughts on the poll from a Big 12 perspective
Welcome Back, Iowa State
Iowa State returns to the Top 25 after losing its No. 20 ranking in the poll after it fell to Iowa on Dec. 8. The Cyclones return after beating Baylor by 15 points on Saturday. The Cyclones have a interesting week ahead to show it's worthy of staying another week. The Cyclones host Oklahoma on Wednesday, which is coming off its one-point loss to Texas and trying to avoid an 0-2 start. After that, Iowa State heads to Fort Worth to take on No. 17 TCU. I'm not sure Iowa State has to win both to stay in the poll, especially if they beat OU convincingly and end up losing close to TCU. But winning both sends their stock back closer to that season high No. 20 ranking they enjoyed last month. Lose both and, naturally, Iowa State falls out.
Voters Weren't Sold on West Virginia
West Virginia was in the No. 24 spot last week and after falling to Kansas State in overtime, the Mountaineers fell out of the poll. Now, I understand dropping them out of the poll after a loss. But the Mountaineers fell back to receiving just five votes in this week's poll, which seems a steep drop given WVU is still 10-3 and received 126 votes last week. Were voters really that unimpressed with the Mountaineers losing on the road in overtime to a Kansas State team that had lost just one game? Seems like an overreaction to me. WVU tries to rebuild that image tonight against Oklahoma State. Here are my daily fantasy picks for the game.
Can Kansas State Rise Up?
While West Virginia took a big hit from the Kansas State loss, it absolutely helped the Wildcats. In the Dec. 26 poll the Wildcats received just five votes. In fact, the Wildcats were kind of stuck there for a few weeks. By beating the ranked Mountaineers at home on Saturday, the Wildcats didn't vault into the Top 25. But they went from five votes to 41 votes, making them the Big 12 team with the most votes outside of the poll. K-State had a huge week ahead of it, regardless of the votes. They travel to Texas on Tuesday and then to Baylor on Saturday. But, now, a win one of those games would put the Wildcats in position to, at worst, hold steady. Find a way to win both? Then there's no way the Wildcats aren't ranked next Monday.
This Week's AP Top 25 Poll
No. 1 Purdue, No. 2 Houston, No. 3 Kansas, No. 4 UConn, No. 5 Arizona, No. 6 Texas, No. 7 Alabama, No. 8 Tennessee, No. 9 Gonzaga, No. 10 UCLA, No. 11 Virginia, No. 12 Miami (FL), No. 13 Arkansas, No. 14 Wisconsin, No. 15 Indiana, No. 16 Duke, No. 17 TCU, No. 18 Xavier, No. 19 Baylor, No. 20 Missouri, No. 21 New Mexico, No. 22 Auburn, No. 23 Charleston, No. 24 Ohio State, No. 25 Iowa State.
You can find Matthew Postins on Twitter @PostinsPostcard.