Baylor Bears
Three Thoughts for Big 12 in AP Women's Top 25 Poll for Jan. 2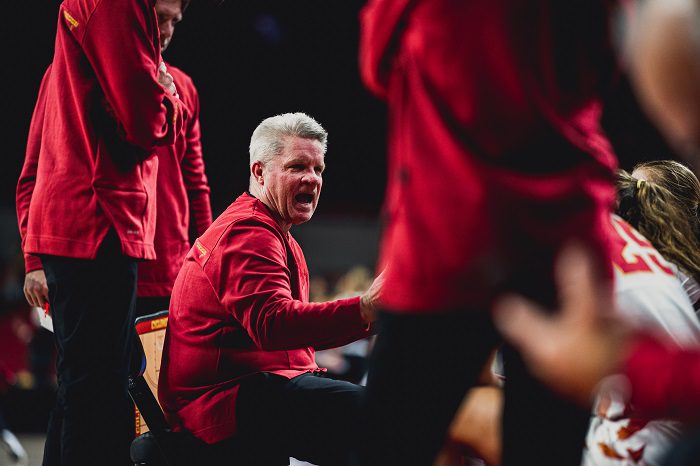 Four Big 12 teams are among the nation's best as the AP Top 25 Women's Basketball poll, released on Monday after Week 8 of the season.
Here are our three thoughts on the poll from a Big 12 perspective
Iowa State's Top 10 Bid
Earlier this season the Cyclones were in the nation's Top 10, peaking at No. 5 before dropping out of the Top 10. This week, the Cyclones are No. 11, precipitously close to reclaiming a Top 10 spot. This week's schedule offers them a chance to make a strong case. The Cyclones host West Virginia on Wednesday. The Mountaineers are motivated to try and avoid an 0-2 start. But the Cyclones will be favored. After that, it's a road trip to Oklahoma as the Cyclones take on the No. 17 Sooners. Win both and, depending upon what happens elsewhere, the Cyclones could slip back into that Top 10.
Texas Moving Slowly Back Up
Texas is on a hot streak and the Longhorns blew out Kansas State on Saturday. But it only got the Longhorns four more votes this week in the AP Top 25. So Texas received nine votes in this week's poll. There are five teams in front of Texas right now, and Creighton slipped down to No. 25 this week. St. John's, the lowest-rated undefeated team in the poll, moved up one spot to No. 24. Texas' schedule this week is unlikely to sway voters to give Texas the 39 votes it needs to catch Creighton. Texas is on the road this week at TCU, followed by a trip to Oklahoma State on Saturday. Neither opponent is ranked. Texas would need plenty of chaos to be in next Monday.
Poll Influencer of the Week
Without question, it's Oklahoma. The No. 17 Sooners have two games against ranked teams this week. Fortunately for the Sooners, both are at home. They take on No. 23 Baylor on Tuesday and No. 11 Iowa State on Sunday. Win both and the Sooners soar up the poll. Win one and the Sooners likely hold steady or drop a spot. Lose both? OU might drop out entirely, given that OU dropped out of the poll after its 124-78 loss to Utah in November. Oh, by the way, that loss doesn't look nearly as bad now. The Utes are No. 8 in the country this week.
This Week's AP Top 25 Poll
No. 1 South Carolina, No. 2 Stanford, No. 3 Ohio State, No. 4 Notre Dame, No. 5 UConn, No. 6 Indiana, No. 7 LSU, No. 8 Utah, No. 9 Virginia Tech, No. 10 NC State, No. 11 Iowa State, No. 12 UCLA, No. 13 Maryland, No. 14 Michigan, No. 15 Arizona, No. 16 Iowa, No. 17 Oklahoma, No. 18 Oregon, No. 19 Duke, No. 20 Gonzaga, No. 21 Kansas, No. 22 North Carolina, No. 23 Baylor, No. 24 St. John's, No. 25 Creighton.
You can find Matthew Postins on Twitter @PostinsPostcard.