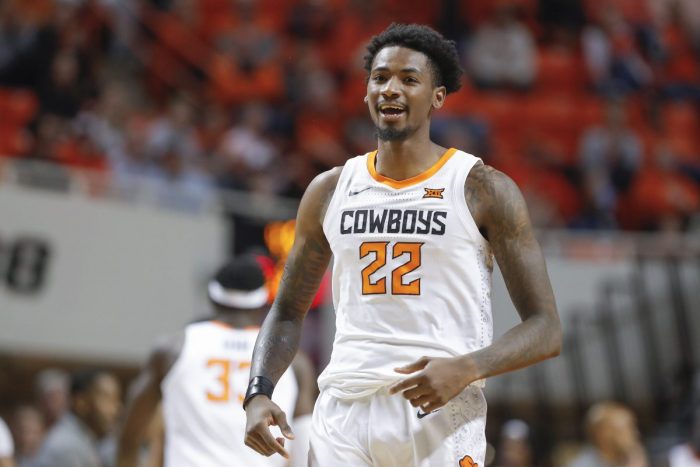 The Oklahoma State Cowboys beat the West Virginia Mountaineers, 67-60, on Monday at Gallagher-Iba Arena in Stillwater, Okla. Here are three thoughts on this Big 12 Conference game.
How Oklahoma State Won
Gutty shots down the stretch without guard Avery Anderson III, who fouled out.
The Cowboys (9-5, 1-1) were down three points, 57-54, with 5:25 left. From there, the Cowboys outscored the Mountaineers 13-3, starting with a layup by Kalib Boone, who took on a bigger role with Moussa Cisse out for the majority of the game with an ankle injury.
Guard Bryce Thompson gave the Cowboys the lead for good with 3:55 left with a pair of free throws, putting OSU up 58-57. From that point, OSU made nearly every shot it needed to secure the win.
Anderson left the game with 13 points, but he wasn't the leading scorer. That was Thompson, who had 15 points, including three 3-pointers. John-Michael Wright had 11 points and four assists, while Boone had 10 points and six rebounds. Cisse — who did return for a few minutes in the second half — put up most of his six points and three rebounds before the injury.
The Cowboys shot nearly 50 percent most of the game (finished at 48 percent) and shot 73 percent from the free-throw line.
Despite losing Cisse, the Cowboys outscored the Mountaineers in the paint, 34-14.
How West Virginia Lost
Unlike Saturday's loss to Kansas State, when West Virginia (10-4, 0-2) started on a 13-1 run, the Mountaineers shot poorly to start the game and never got to 40 percent shooting for the game. Even at that, the Mountaineers had a lead with five minutes left to play, thanks in part to 13-of-20 free throw shooting in the second half.
Why? The Mountaineers outrebounded the Cowboys by seven, 37-30. The Mountaineers scored 13 points off of OSU's 14 turnovers. The Mountaineers outrebounded the Cowboys on the offensive glass, 13-6. WVU had seven steals. Tre Mitchell put together a fine game, scoring 16 points and grabbing seven rebounds. Erik Stevenson poured in 17 points. With many of his players in foul trouble, coach Bob Huggins used nearly his entire roster and nearly every played scored or did something relevant.
But the slow shooting start proved too much to overcome against the Cowboys. Those 15 Mountaineer turnovers didn't help, either.
Taunting
After Erik Stevenson drained a 3-pointer to give West Virginia its first lead, 53-51, with 7:17 left, he was called for a technical foul for what I assumed was taunting. I watched the replay and I was at a loss. I saw nothing that would lead me to believe he was doing anything more than jogging to the other end of the court. I didn't see him speak to anyone, unless there was a replay that I couldn't see. Then the game went to commercial.
After the game resumed, ESPN's Mark Neely noted that he was told by game official John Higgins that Stevenson's technical was the result of him gesturing toward Oklahoma State fans by holding his hand below his waist. ESPN showed a replay of the moment.
Do I really need to further explain what it sounds like he did? If you've seen a Michael Jackson video, you get it. After hearing the explanation, I understand why the call was made.
It was unfortunate for WVU because Stevenson fouled out with 17 points and with 5:57 left in the game. Oklahoma State had just taken the lead, 55-54.
The moral here is that the refs appear more sensitive to it this season for some reason and players will have to adjust. I was two of these calls made in Saturday's Texas Tech-TCU game and didn't agree with either of those. Stevenson can't afford to put himself in that position. He's too important to West Virginia's hopes of getting to the NCAA Tournament. West Virginia sorely could have used him down the stretch.
You can find Matthew Postins on Twitter @PostinsPostcard