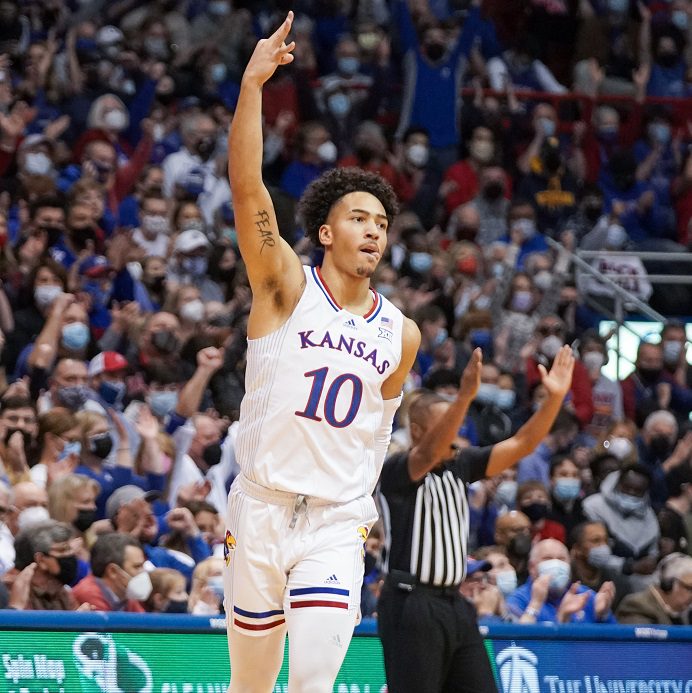 There are two Big 12 men's games in the Draft Kings Daily Fantasy Sports pool for men's college basketball as Big 12 play continues on Tuesday.
Kansas is at Texas Tech while Kansas State is at Texas in league play, along with three other games in the pool — Ole Miss at Alabama, Minnesota at Wisconsin, and Virginia at Pittsburgh.
This season, when Big 12 games are part of the pool at Draft Kings, I'll provide my recommendations based on the lineup I'm playing that day. In this case, the recommendations are for a Classic game, which features eight players — three guards, three forwards, and two guard/forwards (utility). The lineup must contain players from at least two different games. The salary cap is $50,000.
The goal is to fill out a complete Big 12 lineup. With two Big 12 games in the queue, I'm going to take two players from each of the four Big 12 teams playing on Tuesday night.   
Here is Tuesday's lineup/recommendations:
Guards: Kevin McCullar Jr., Kansas ($7,800); Jaylon Tyson, Texas Tech, ($5,800); Desi Sills, Kansas State ($4,900)
There's no bad blood between Texas Tech and McCullar, who played four seasons with the Red Raiders before transferring (at least there isn't between him and Tech head coach Mark Adams). But Texas Tech will be uniquely focused on Jalen Wilson, and McCullar will be motivated to have a big game in front of his old fans in Lubbock.
Tyson has enough height to go in and work for rebounds and a good enough shot to stretch defenses. If Kansas takes the TCU defensive playbook, they'll try and lock Kevin Obanor down. Tech guard Pop Isaacs benefitted from that, but I'm guessing he'll draw Kansas guard DaJuan Harris on defense, and that's a rough deal. Tyson gets a little more room to operate.
Sills is cheap fantasy points. He's averaging 18 fantasy points per game and he's under $5,000 in cap space. He'll play anywhere from 20 to 25 minutes against Texas.
Forwards: Daniel Batcho, Texas Tech ($7,500), Dylan Disu, Texas ($4,100), Abayomi Iyiola, Kansas State ($3,500)
I'm going to roll the dice on Batcho and see if he can take advantage of Kansas' smallish front line. He's going to present a real challenge to Kansas center KJ Adams.
Disu got some really good run against Oklahoma after he missed a game due to injury. He ended up with nearly 25 fantasy points in just 16 minutes. He's active and in line to get more playing time.
With David N'Guessan out, Iyiola stepped into the starting lineup and gave the Wildcats 14 points, eight rebounds, and one block, translating to 25.5 fantasy points, against West Virginia. I'll take the chance on more cheap points.
Utility: F Jalen Wilson, Kansas ($8,600); G Marcus Carr, Texas ($7,500)
I know I said that I thought Wilson would get extra attention from Texas Tech, and he will. But after locking down some cheap points at guard and forward, I had more than enough to grab the Big 12's leading scorer.
That also allowed me to grab Carr as my final player, the reigning Big 12 Player of the Week. I'm not expecting him to score 56 fantasy points as he did against Texas A&M-Commerce. But I'll gladly take the 25.75 fantasy points he scored against Oklahoma. Taking Carr left me $300 under the cap.
–
Scoring system: Point: +1 Pt; Made 3pt Shot: +0.5 Pts; Rebound: +1.25 Pts; Assist: +1.5 Pts; Steal: +2 Pts; Block: +2 Pts; Turnover: -0.5 Pts; Double-Double (Max 1 Per Player: Points, Rebounds, Assists, Blocks, Steals) +1.5 Pts; Triple-Double: Max 1 Per Player (Points, Rebounds, Assists, Blocks, Steals): +3 Pts
You can find Matthew Postins on Twitter @PostinsPostcard