featured
Sonny Dykes Knows TCU Will Hear 'Same Crap' This Week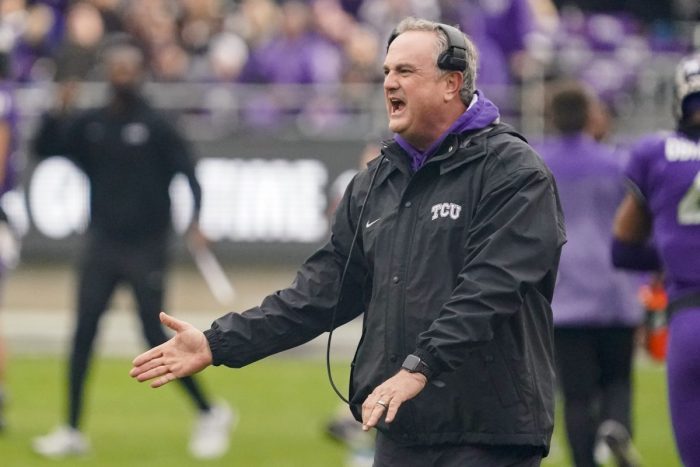 The No. 1 Georgia Bulldogs will likely learn a lot from watching tape of No. 3 TCU's 51-45 victory over the Michigan Wolverines in the Fiesta Bowl on Saturday.
The Bulldogs — who beat Ohio State in the Peach Bowl to move on to face TCU in the national championship game on Monday — might learn a bit from watching the Wolverines, too.
But not the game tape, mind you. The pre-game tape.
From a Michigan player who needed prompting to remember which conference TCU was in (the Big 12) to questions about Michigan being the more physical team because of its Big Ten pedigree, the Horned Frogs said they felt disrespected going into Saturday's game.
Michigan gave them more than enough bulletin board material, they said after the win, something Georgia might seek to avoid in the ramp-up to the national title game.
"I definitely think that it motivated us," TCU linebacker Dee Winters said. "We heard all week that they were going to out-physical us. I think, like you said, it just gave us a little bit of motivation. So I think the guys handled it well during practicing and were very physical, and it showcased tonight."
The Horned Frogs (13-1) became the first Big 12 team to win a College Football Playoff game. Oklahoma — the only other Big 12 team to reach the playoff — had lost its four previous tries. Dykes became just the ninth coach to win a College Football Playoff game.
TCU showed its muscle by outrushing Michigan by nearly 100 yards in the game. Quentin Johnston, the Horned Frogs' talented wide receiver, had a tremendous game, catching six passes for 163 yards and a touchdown.
He professed to hear none of the chatter going into the game, saying he tends to stay off social media before games.
But it's not like TCU hadn't heard these whispers before.
"I've been hearing stuff like that as long as I can remember," Johnston said.
Going back to November, the Horned Frogs have dealt with a national narrative that they didn't belong, even after an undefeated regular season.
Dykes said his players handled the Fiesta Bowl like a business trip. No one missed curfew. No one was late to a meeting or an event. Consistency has been this team's bellwether all season, with Dykes saying that no one's attitude changed as their record kept getting better.
But Dykes has ears, too.
"Look, I heard it. It frustrated me," Dykes said. "Again, I believe in our players. Look, I think we're a physical, tough-minded football team. It bothered me that we heard all week about how we were going to get lined up and run through and all that stuff. And I'm sure these guys were extra motivated."
Georgia was installed as a 13-point favorite shortly after the Peach Bowl. It's not absurd that Georgia is favored. The Bulldogs are the defending national champions. They are also undefeated (14-0).
They come from the conference — the SEC — with the championship pedigree since the CFP started nearly a decade ago. TCU, meanwhile, is trying to win its first national title since 1938, back when Davey O'Brien was quarterback and poll voters decided the recognized national champion.
Dykes and his team know what's coming, even if the Bulldogs are smart enough to avoid giving the Horned Frogs any bulletin board material.
"We know we're going to hear it again," Dykes said. "It's not going to stop now. You know what I'm saying? We're going to play again in ten days, and we're going to hear the same crap for ten days that we heard leading up to this ballgame."
You can find Matthew Postins on Twitter @PostinsPostcard