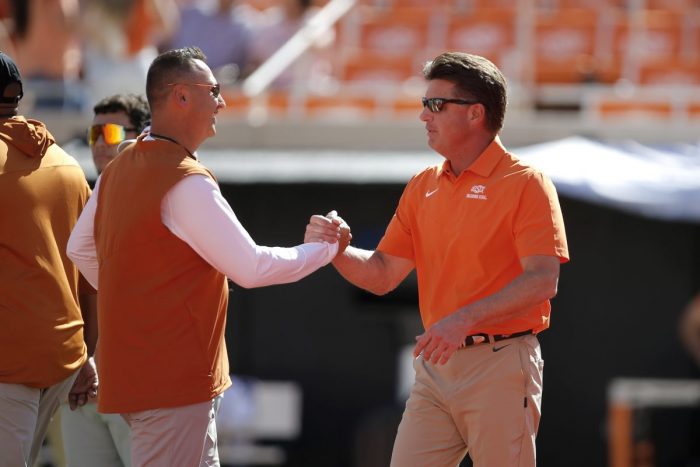 The college football bowl season has come to an end, other than of course the National Championship, which is TCU vs. Georgia coming up on Monday night. But with all the other bowl games in the books, it's time to hand out some awards in the wake of the Big 12 bowl season. Now, these are not all awards a person or team wants to win, but such is life.
So here are the awards we are handing out this college football bowl season.
Biggest Loser: Baylor
Baylor had the biggest dud in the Big 12 of the bowl season with a 30-15 loss to Air Force in the Armed Forces Bowl. Now, I guess you can say it was nice of the Bears to let the military school win the Armed Forces Bowl, but that's the most polite thing I can say about this team's performance. I thought the Bears had a chance to repeat as Big 12 Champions this season. Instead, they went 6-7 and look like a team that needs a shake up at quarterback and more. The season that was a complete disappointment for Baylor ended with complete disappointment.
Biggest Winner: TCU
I mean, obviously, right?
The Horned Frogs became the first Big 12 team to make the College Football Playoff National Championship Game after beating Michigan in the Fiesta Bowl on Saturday. Maybe all those times Oklahoma reached the Playoff, but couldn't win, it wasn't a Big 12 problem, as the national media made it out to be, instead it was a Lincoln Riley/Oklahoma problem (see that Cotton Bowl the other day?).
Biggest Surprise: Kansas' Comeback
The Jayhawks were down 31-7 to Arkansas in the Liberty Bowl. I admit, I turned the game off. In fairness, I had just landed from a flight back home from the Holidays, but I didn't turn the game on when I got home until I received a flurry of texts informing me that Kansas was in the midst of an epic comeback. Of course, they score 18 unanswered points in the fourth quarter to force overtime against Arkansas, which was an absolute shocker. They ultimately lost the Liberty Bowl 55-53, but that comeback was, by far, the biggest surprise of the Big 12 bowl season.
Worst Coaching Decision: Kansas' Two-Point Conversion Attempt
As Kansas was rolling through triple overtime against Arkansas, the Jayhawks scored the game-tying touchdown, but they needed to convert a two-point conversion to move into a fourth overtime.
Then, this play was drawn up. With the game on the line, Kansas decided instead of giving their star player, who put the team on his back, QB Jalon Daniels, a chance to make a play to tie the game, they would run whatever this is.
Bizarre. And I don't see this as Monday Morning Quarterbacking. You had the best player on the field who had lead the comeback and he didn't have the ball in his hands with the game on the line. That's a head-scratcher.
Best Performance: Texas Tech QB Tyler Shough
Shough put on the kind of performance that Texas Tech fans will be talking about all season as they think about how they can be the dark horse team in the Big 12 in 2023, just like TCU was this season. Shough went 24/39 for 242 yards, one passing touchdown, one interception, plus rushing 25 times for 111 yards and two scores as the Red Raiders beat Ole Miss 42-25 in the Texas Bowl.
Shough's problem has been his health. Let's not forget, he was receiving odds to be the No. 1 pick in the NFL Draft a couple of years ago. The guy has talent. Can he stay healthy? And if he can duplicate his performance against Ole Miss on a consistent basis, Tech can be a dark horse contender in the Big 12 in 2023.
Clown Award: Mike Gundy/Steve Sarkisian (TIE)
I made up this award this year, and why not? Both men are deserving.
Let's start with Mike Gundy following a loss in the Guaranteed Rate Bowl when a reporter asked an incredibly reasonable question about potential turnover on Gundy's staff given the team plummetted from the Top 10 in the country to losing six of their final seven games.
Marshall Scott from Pistols Firing Blog asked Gundy the question, and he responded, "Do you think I would tell you if I'm making any staff changes?" The reporter responds, "No." Gundy then adds, "Then why would you ask?" Marshall responds, "Because it's my job."
Gundy then went off, saying, "OK. Well, I might have to cut you out. I mean, don't be an ass. Really? I mean, those are people's lives, those are people's families, right? OK, don't mess with people's families. Let's do this the right way."
It was completely out of line and Gundy should have easily given the standard coach-speak answer of, "We always evaluate the program from top to bottom after the season and we will certainly do it again in the coming weeks. But it starts with me. I need to be better."
That's literally all Mike Guny had to say. But, nah. Below was the exchange.
Meantime, Steve Sarkisian just lost his mind on a poor Alamo Bowl employee who apparently got a little too familiar with Sark's left pectoral muscle. So, Sarkisian decided to get in the guy's face and scream at him, "Don't f***ing touch me again, motherf***er!"
A tough ending to the season for these two coaches, as each of their team's also lost their respective bowl games.