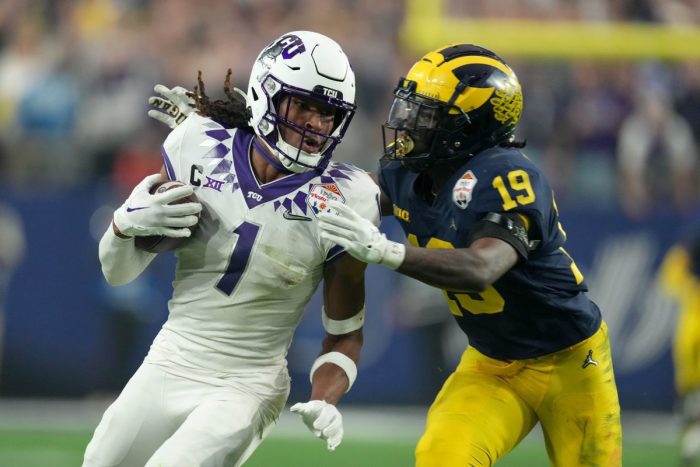 Welcome to the HCS Big 12 mailbag. This mailbag is for all you football junkies out there who root for a Big 12 school, who not only have questions about your team but other teams in the conference as well. I decided to a bonus mailbag for TCU making it to the national championship game and I want to thank each one of you who submitted a question this week.  As for tonight's drink of choice? Eagle Rare from Buffalo Trace. A special mailbag calls for a special pour of one of my favorite bourbons. Cheers!
What is Kansas State's ceiling after Deuce Vaughn's departure?
Duke: I think the ceiling is what you saw this season. The Wildcats won the Big 12 and played in a big-time bowl game. Do they have a chance to make it to a college football playoff one day? I don't see why not. Deuce is a great football player and led the offense but don't forget about Will Howard at quarterback. He really took Kansas State to a higher level despite having a rough game last Saturday. Is Kansas State going to win the Big 12 every year? Probably not but can they compete for a title every two or three years? Absolutely. Chris Klieman is a heck of a coach.
Will the TCU/Georgia game be a nail-biter?
Duke: Some people think Georgia is going to steamroll TCU. Those same people also thought that Michigan was going to as well. However, that didn't happen because TCU proved that they belong with the elite teams of college football. The Horned Frogs have a ton of speed and when you have a quarterback like Max Duggan with playmakers around him, Georgia better not take them lightly. So yes, this game will be closer than what some of the experts think.
Baylor was the surprise team last year and this year it was TCU. Who will be the team that surprises everyone next season?
Duke: This is a tough question to answer but I would like to stay in the lone star state for this one. And no, it's not the Longhorns. Give me the Texas Tech Red Raiders. They have Tyler Shough coming back at quarterback and a lot of other players as well are returning. The biggest question will be if Shough can stay healthy. Tech had a lot of their seniors announce their return as well before their bowl game. Plus, it will be year two under head coach Joey McGuire. I see this team improving and building on what they accomplished this season. Will they win the Big 12? Who knows but I do know that they should be a team who at the very least is fighting for a spot in the Big 12 title game late in the season in 2023.
What is going on with Oklahoma State?
Duke: Am I allowed to answer this or is Mike Gundy going to be calling me threatening to take away access? Last time I checked he doesn't like anyone covering his program that questions him. With that said, I could care less what Mike Gundy thinks because he is a big part of the problem going on at Oklahoma State right now. His staff is a complete mess and needs a major overhaul. Both offensive and defensive players are leaving left and right, and the crazy thing is a lot of those guys were supposed to be key players going into next season. Sometimes people get a little too complacent with where they are at, and I believe that is the case with Mike Gundy right now. If he had just won more games (which is his job), he wouldn't have to answer (or not answer) questions about keeping his staff in place.
How bad will TCU lose to Georgia?
Duke: Oh, come on people. Is this supposed to get me fired up? You must be one salty person to be talking like this. I would be curious to see which team you root for, but I already know that they won't be playing for a national championship next Monday night.