Big 12 News
Kansas State, Texas Smash Big 12 Basketball Record for Points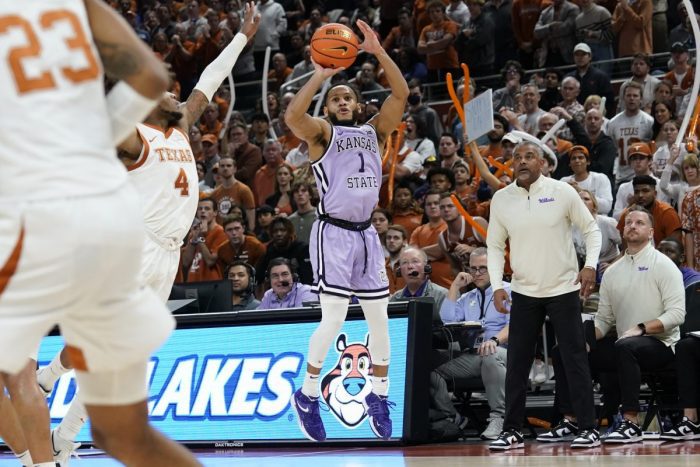 The Kansas State Wildcats didn't just beat Texas on Tuesday night in a college basketball surprise on Tuesday night, they did it in record-breaking fashion.
The Wildcats' 116-103 win at No. 6 Texas set a record for most points combined (219) in regulation of a Big 12 conference game, blowing out the previous record of 199 points, set on February 9, 2002, when Texas beat Colorado 104-95.
The 219 total points are the third-most ever scored in a Big 12 conference game, the only games outranking it involving multiple overtime periods.
It was also the most points an unranked team has scored over a top-10 opponent since Loyola Marymount lost to No. 10 LSU 122-114 in 1990.
Additionally, Kansas State set the mark for most points ever scored by an unranked team in a road win over a top-10 team in the Associated Press poll era, which began in the 1948-49 season.
The Wildcats were on fire all evening long, and never trailed in the game. K-State connected on 54% of their 3-point attempts and recorded a 31-for-33 mark from the free throw line. Markquis Nowell led all scorers with 36 points. Florida transfer Keyontae Johnson finished with 28 points, nine rebounds and five assists. For Texas, Tyrese Hunter and Marcus Carr combined to finish with 56 points in the loss.
The Wildcats handed Texas their first loss since head coach Chris Beard was suspended indefinitely without pay following his arrest on a felony family violence charge.
Yet, despite the great win, K-State head coach Jerome Tang took the classic coach approach after the game, telling ESPN, "We gave up 103 points. That's what I'm concerned about."
Texas looks to bounce back on Saturday at Oklahoma State, while Kansas State looks to move to 3-0 in conference play at Baylor.