TCU Horned Frogs
Gary Patterson on Attending National Championship Game: 'It is the Right Thing to Do'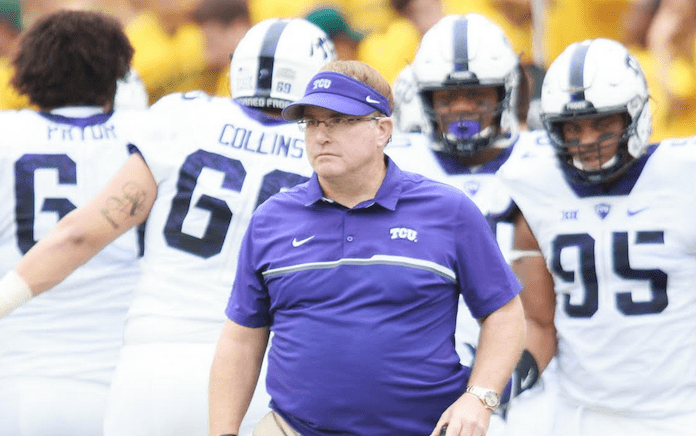 Gary Patterson was the face of TCU football from 2000 to 2021 and the former Frogs head coach helped lay the foundation for what Horned Frogs' football is today.
Over his 21 seasons, Patterson led TCU to a 181-79 record, including an 11-6 record in bowl games and six conference championships across three conferences, including a Big 12 Championship in 2014.
Now, just over a year after Patterson and TCU parted way eight games into the 2021 season, the Horned Frogs are headed to the National Championship while Patterson just spent a season as the Special Assistant to the Head Coach at Texas.
14 months ago, when Patterson and his wife Kelsey met with school officials after a 3-5 start, TCU asked the longtime head coach to step down after the 2021 season came to an end. However, Patterson insisted that the move be made immediately, and thus resigned then and there.
"If it had come at the end of the season, maybe I would have made a different decision, but after 25 years, how do you … you've got to look at that," Patterson told Sports Illustrated.
Now, as he watches one of his former analysts, Sonny Dykes, lead TCU to a 13-1 record and a spot in the national title game, Patterson says there is no ill-will toward the Frogs, that's just part of the game.
"No hard feelings on that kind of stuff with Sonny and [Kelsey]," Patterson says. "This is part of college football. At the end of the day, I'm excited for them."
Although his paychecks are cut in Austin now, Patterson's heart still resides in Fort Worth and that is a byproduct of pouring his life's work into the brand and program that is TCU.
That's why Patterson will be in attendance Monday when the Horned Frogs take on top-ranked Georgia for the right to hoist the College Football Playoff National Championship Trophy.
"I think it's the right thing to do," Patterson said.
TCU and Georgia will kick off at 6:30 p.m. CT on Monday, January 9, with Coach Patterson in attendance, at SoFi Stadium in Los Angeles, California.