Big 12 News
Kirk Herbstreit Calls TCU Great 'New Face' For CFP Title Game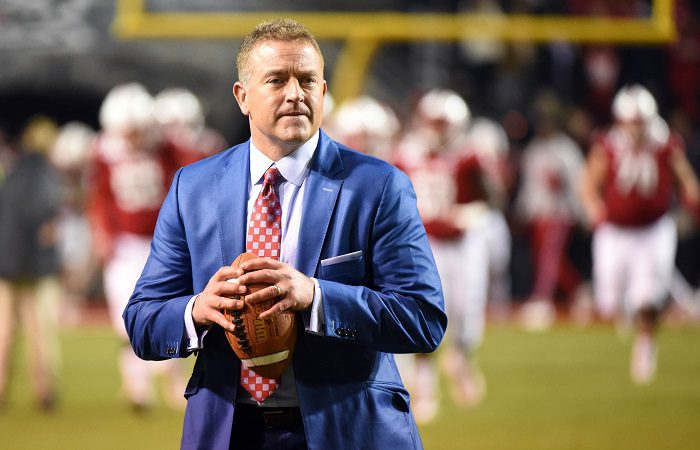 ESPN's Kirk Herbstreit told reporters earlier this week that TCU's run to the College Football Playoff should be a sign of things to come with a 12-team playoff in 2024.
Herbstreit will be on the mic to call the College Football Playoff National Championship Game when the Horned Frogs face the Georgia Bulldogs at SoFi Stadium in Inglewood, Calif.
He also said that it's great to have a "new face" in the title game, especially one with TCU's journey to the title game.
"They were 5-7 (last season) their coach (Gary Patterson) stepped down, and they brought in a new coach (Sonny Dykes) really across town from SMU," Herbstreit said during a teleconference. "And here he is in his first year. I'm sure you've looked at it, there's five or six different games that a lot of people thought, 'Okay, that's a fun story. They're gone.' And they just kept finding a way to win games and coming back. And of course, the grand fashion was the game against Baylor, last second walk-off field goal. That's kind of symbolic of their season, really. And even against Michigan, a back-and-forth game. So not only just a new face, but their story and what they had to do to get here."
TCU is the first Big 12 team to advance to the College Football Playoff since it was implemented. Oklahoma previously made four semifinal appearances but lost all four games. Dykes is the first-year coach to lead a team to a national championship game. And, the Horned Frogs are seeking to win their first national championship since 1938, when quarterback Davey O'Brien led the Horned Frogs to an undefeated season, a Sugar Bowl victory over Carnegie Tech and a No. 1 ranking in the final Associated Press poll.
Herbstreit also reflected on TCU's journey, not just to the playoff, but to the Big 12. The Horned Frogs were members of the Southwest Conference until 1995, when the league broke up. TCU was not one of the SWC teams that joined with the Big Eight Conference to form the Big 12, so it ended up in the Western Athletic Conference. The Horned Frogs also played in Conference USA and in the Mountain West Conference before finally being invited to the Big 12 for the 2012 season, in part a response to the league losing four teams to two different conferences.
While in the Mountain West, the Horned Frogs went undefeated and won the Rose Bowl with quarterback Andy Dalton.
"It just doesn't seem that long ago TCU was in the Mountain West and trying to get respect from people around the country, and they had an opportunity to play against Wisconsin and the Rose Bowl and obviously took full advantage of that," Herbstreit said. "And I think that really helped their brand that day and then eventually to join the Big 12. And a lot of people still don't respect them. And then to have this year, I think a lot of people, if you're really taking a poll with Georgia fans, they don't know a whole lot about TCU. To me that's fun. Because they're not going to back down, I assure you, and they're incredibly confident, and I think it's going to be a great game."
You can find Matthew Postins on Twitter @PostinsPostcard