Baylor Bears
Three Thoughts On Baylor's 75-62 Win Over Kansas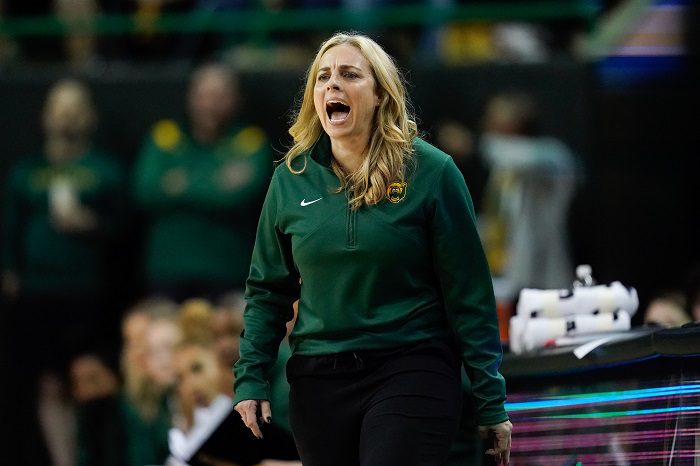 The No. 23 Baylor Bears beat the No. 21 Kansas Jayhawks, 75-62, in a Top 25 Big 12 women's basketball matchup at Allen Fieldhouse in Lawrence, Kan. Here are three thoughts on the game.
Baylor (12-3, 3-0 in Big 12) wrapped up a week in which the Bears beat two ranked teams on the road. Baylor beat No. 17 Oklahoma on Tuesday.
Kansas (12-2, 2-1) was hosting its first Top 25 game at Allen Fieldhouse in nearly a decade. But, Kansas was unable to snap its losing streak to the Bears. The Jayhawks have now lost 18 straight.
How Baylor Won
The Bears put an emphasis on controlling three Kansas players — guards Holly Kersgieter and Zakiyah Franklin, along with center Taiyanna Jackson. Kersgieter and Franklin were coming off a game against Texas Tech in which the pair combined for 52 points (Franklin had a career-high 26). Jackson is the current Big 12 Player of the Week and had double-doubles in each of her first two Big 12 games.
The trio combined to score 28 points and grab 17 rebounds.
Baylor limited and frustrated Jackson with a steady diet of forward Caitlin Bickle, who delivered a clinic on how to front a player five inches taller than her (Bickle is 6-foot-1 while Jackson is 6-foot-6). Bickle also got back-side help on lob and entry passes. Meanwhile, Baylor's perimeter defense dogged Kersgieter and Franklin all night, to the point where Franklin didn't score her first points until 27 minutes into the game.
While Kansas did cut the lead to two points at one point and to four points with 2:28 left in the game, Baylor held the Jayhawks off. That was because of guard Sarah Andrews, who had another incredible game and might just be the Big 12 Player of the Week come Monday. After dropping 30 points on Oklahoma on Tuesday, she scored 27 points against Kansas. Freshman Darianna Littlepage-Buggs scored 17 points and Bickle added 12 points and 12 rebounds as she battled foul trouble all night. Ja'Mee Asberry finished with 11 points.
How Kansas Lost
When your 'Big Three' were as limited as they were on Saturday, you need a couple of players to step up. One did — Wyvette Mayberry. The Tulsa transfer had a great game, scoring 19 points and delivering baskets throughout the game. And while Kersgieter eventually snuck into double figures with 11 points, the only other Jayhawks with more than 10 points was Chandler Prater (11 points). Like the others, she struggled to find consistent chances.
Franklin finished with nine points while Jackson had eight points and eight rebounds.
Kansas found themselves behind in several key categories in the game. That included points off turnovers (15 to Baylor's 19), rebounds (30 to Baylor's 44), offensive rebounds (seven to Baylor's 14), points in the paint (32 to Baylor's 36) and shooting percentage (40 to Baylor's 44 percent).
The only clear win for Kansas was its xx percentage from the 3-point line. But Baylor made more for the game (seven to five).
But what really got Kansas was how well Baylor limited Kersgieter, Franklin and Jackson throughout the game. It's a template for other teams to use.
Baylor's Budding Star
Littlepage-Buggs was one of the top incoming recruits in the Big 12 this season. From the start, she's been getting significant playing time for the Bears, even if she wasn't averaging double figures in scoring like five other Baylor players were going into Saturday's game.
By season's end, she could be averaging a double-double, like Jackson is right now. Entering Saturday's game Littlepage-Buggs was averaging 8.7 points and 8.2 rebounds. Along with the 17 points she poured in as Baylor's leading scorer, she also had 13 rebounds for her own double-double.
But it was one play in the first quarter that caught my eye, one little move she made that tells me her adjustment to the college game is accelerating.
Early in the game, Littlepage-Buggs had the ball near the basket and the 6-foot-1 forward went straight up against the 6-6 Jackson and found her shot rejected.
A few plays later, Littlepage-Buggs found herself with the ball again down low, with Jackson on defense. This time, Littlepage-Buggs went up-and-under with a shot fake and made the basket.
Young players can be stubborn and take their time to learn how to adjust in the game. She showed, just in that one moment, that her feel for the college game is picking up speed.
You can find Matthew Postins on Twitter @PostinsPostcard