Kansas State Wildcats
Postscripts: Chris Beard Rightly Fired, TCU is National Championship Ready, Big 12 Football Schedules Coming Soon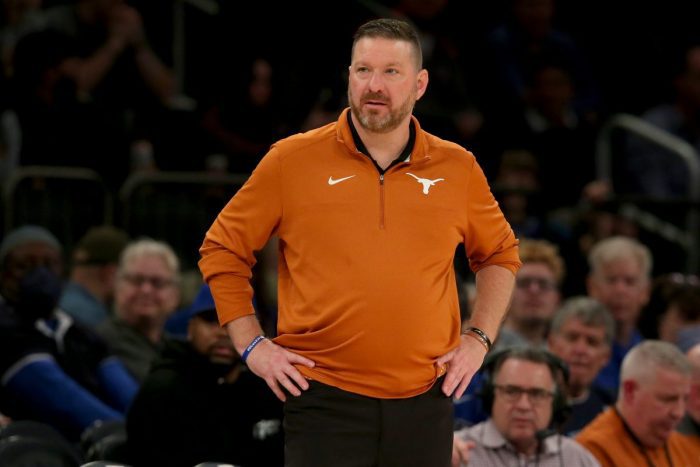 What's going on in the Big 12 and beyond? I expand and explain every Sunday in Postscripts at Heartland College Sports, your home for independent Big 12 coverage.
This week, it's Chris Beard, the College Football Playoff, The Big 12 football schedule (or lack thereof), college baseball's coming and more.
Texas Gets it Right With Chris Beard
That's the overwhelming sentiment, and I have to agree. For those that wanted Beard gone immediately after the allegations of domestic abuse, I think we can appreciate that, unlike many past situations like this, Texas acted at the equivalent of warp speed. It took less than a month.
What was unique here was the window we got into the final exchange between Texas and Beard's lawyers.
Beard's attorney, Perry Minton, started his letter to Texas regarding Beard's impending firing by calling Beard's situation "patently unfair and unjust." He spent the next paragraph stating that his accuser recanted her statement, that charges would eventually be dropped and stated that Beard "has not done anything to violate any provision of his contract with the University of Texas."
One other statement stood out. Minton wrote that "I have been very grateful that Chris Del Conte (Texas' athletic director) has repeatedly reported to our team that he is certain that Chris Beard did nothing wrong — and is innocent."
Media also secured what Jim Davis, Texas' vice president for legal affairs, sent in reply to Minton. In the second paragraph, Davis wrote in response to Minton's assertion about Del Conte:
"… Mr. Del Conte supported Mr. Beard and the program by supporting this pause before action and by presuming his innocence while the facts unfolded. But that support was not a determination regarding Mr. Beard's conduct — such a decision would have been premature. It is a mistake to view a manager's support for an employee as a statement of belief in criminal guilt or innocence. We understand that some but not all of the reports of Mr. Beard's behavior were retracted. It is his actual behavior that we consider, not whether some acts also constitute a crime. Whether or not the District Attorney ultimately charges Mr. Beard is not determinative of whether he engaged in conduct unbecoming a head coach at our university."
As an employee of corporate America for the past 14 years, I can tell you Davis' words rang quite true. I've sat through enough seminars to know that what happens in a court of law may have nothing to do with what a company does with a person's employment in a number of situation that involves harassment or assault.
Did Texas make the right choice? Yes. Was it also a business decision? Yes.
Both things can be true.
It's 'T-C-U'
Seen on the streets of Los Angeles during the ramp-up to the College Football Playoff.
Is Texas back? Did we miss it?
'Real Soon'
That's what Big 12 Commissioner Brett Yormark said about the Big 12 football schedule. In other words, we'll see it "real soon." He also said he's "open" to Oklahoma and Texas to leave early for the SEC. Here's our story.
The desire to leave early is not necessarily new. What is new is that the contractual deadline for a school to leave the Big 12 for 2024 passed on Dec. 31. Now, obviously, they're talking behind the scenes and any deal is possible. But I think there's a desire for everyone to get a clean break for 2024, when the new expanded College Football Playoff deal begins.
What I find odd — and what is frustrating our Derek Duke — is the lack of a football schedule. If Oklahoma and Texas are trying to leave in 2024, then why is it important to hold the 2023 schedule back, when one should theoretically have nothing to do with the other? Can't the 2024 schedule be re-made if the pair stay?
That would be the question I would be asking Yormark if I were in L.A. this weekend. Unfortunately, I'm not. It just leads me to believe that something more is up.
Come to Texas for Baseball
If you're looking for college baseball in February and early March, you need to come to Texas, because that's where much of the Big 12 will be.
Oklahoma State, Texas and TCU will face off with Missouri, Arkansas and Vanderbilt in the College Baseball Showdown at Globe Life Field in Arlington from Feb. 17-19.
Kansas State will be at the Round Rock Classic in Round Rock Feb. 24-26 with LSU, Iowa and Sam Houston.
Oklahoma will be at the Frisco Classic from March 3-5, where it will face Mississippi State, Cal and Ohio State. The same weekend Texas Tech and TCU will be at the Shriners Children's College Classic at Minute Maid Park in Houston with Louisville, Michigan, Rice and Texas A&M.
Did I miss anyone? Probably. But if you're baseball-starved and can't get to Spring Training, those are some great suggestions.
Wanna Run the Ball?
May I suggest Kansas State?
Wildcats head coach Chris Klieman told reporters earlier this week that he expects his top eight offensive linemen from their Big 12 Championship team to return in 2023.
Do you realize how rare that is these days, with the transfer portal and the NFL? I mean, wow.
The only thing that would make it better is if running back Deuce Vaughn would come back. But, alas, he's headed to the NFL (which, to me, is the right call for him. I'm just gonna miss watching him play at K-State).
So, DJ Giddens would be the beneficiary here. He rushed 89 times for 518 yards and 6 touchdowns in spelling Vaughn.
But, K-State just became an attractive location for a transfer running back. Don't be surprised.
Bold Prediction?
Let's circle back around to Texas for a second. I'm probably the crazy one, but I think interim coach Rodney Terry is going to do enough to get the full-time job at Texas next season. Naturally, we'll have to wait until late March to find out for sure.
You can find Matthew Postins on Twitter @PostinsPostcard