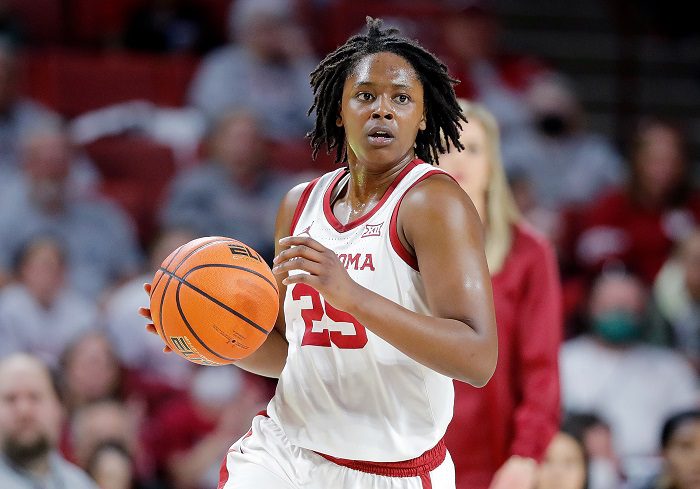 The No. 17 Oklahoma Sooners beat the No. 11 Iowa State Cyclones, 82-79, in a Top 25 Big 12 women's basketball matchup at the Lloyd Noble Center in Norman, Okla., on Sunday. Here are three thoughts on the game.
Oklahoma (12-2, 2-1) bounced back from its loss to Baylor at mid-week to find a way to grit out a victory over the Cyclones after being swept by them last season.
Iowa State (10-3, 2-1) dropped its first Big 12 game of the season despite hard work from forward Ashley Joens and bench contributions that were necessary after the loss of center Stephanie Soares to injury.
How Oklahoma Won
A healthy dose of guard Ana Llanusa and a big defensive player from Madi Williams.
Llanusa had her third straight game with at least 20 points when she finished with 23 points, including four 3-pointers. It seemed every time the Sooners needed a big basket from distance in the second half, Llanusa was the one who shot it. At this time last year the fifth-year senior was rehabbing a torn ACL. She's long past the need for a minutes restriction. She's playing great basketball.
As for Williams, she struggled offensively. She only had six points, four of which came from the free-throw line. She was 1-of-10 from the floor and she had to defend Joens for much of the game.
But, Williams is one of those players that can overcome a bad offensive game and make an impact. She had nine rebounds and three assists. She also made the crucial defensive play of the game, defending Joens on a baseline drive in the final seconds and the Sooners up one. Williams contested the shot without drawing a foul. She ended up blocking the shot — her third of the game — and called a timeout to set up two Sooners free throws from Taylor Robertson.
Nevaeh Tot added 13 points for the Sooners while Robertson had 10 points.
OU needed that late stop. Just about every category in this game was even, except for the Sooners' 36-24 edge on points in the paint, which can certainly be explained by the loss of Soares for the majority of the game.
How Iowa State Lost
It's hard not to ignore the loss of Soares and the 16-point disparity on points in the paint, especially since both teams game-planned for her to play a full game. Iowa State adjusted capably, though. Nyamer Diew had 14 points and six rebounds off the bench, including a key 3-pointer late. Forward Morgan Kane gave ISU four points in 11 minutes.
But ISU leaned on Jones, especially in the first half, and she finished with 27 points and nine rebounds, including a 12-for-13 clip at the free-throw line. OU held her without a field goal in the third quarter, but they weren't as lucky in the fourth. A player as talented as Joens can cover up a lot of issues when you lose your leading rebounder.
Guard Lexi Donarski had a great game, too, scoring 20 points and knocking down three 3-pointers. Emily Ryan had nine points, eight rebounds and eight assists, further helping the Cyclones inside.
The Cyclones lost this game by the slimmest of margins, on the stat sheet and on the floor.
The Stephanie Soares Question
If you were watching the game, you saw Iowa State center Stephanie Soares go down early in the game with what looked like a left knee injury. She landed awkwardly on it trying to make a turnaround shot through the lane.
To be honest, it looked scary, especially her reaction. She was in obvious pain. She needed two trainers to help her off the floor. She returned in the second quarter with the knee iced and then remained on the bench the rest of the game.
So, now the question immediately is what is her condition moving forward? The fact that she was questionable and not out, as reported by ESPN, I see as encouraging. Bill Fennelly told Cyclone Radio after the game that she'll be evaluated Monday and that "it doesn't look good."
Clearly, she's made such a quick transition to Iowa State that she matters a great deal to their chances of winning the Big 12 and making a Final Four run.
You can find Matthew Postins on Twitter @PostinsPostcard