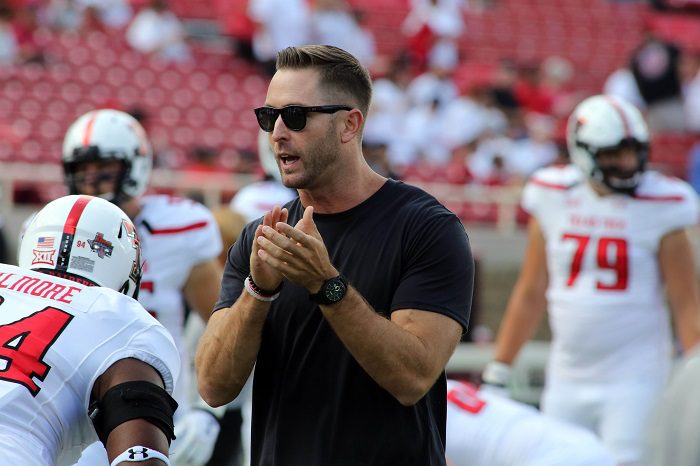 Arizona Cardinals head coach Kliff Kingsbury was fired on Monday after a disappointing 4-13 campaign in 2022.
Coming off an 11-6 campaign with the Arizona Cardinals in 2021, it appeared that Kliff Kingsbury would be the guy in Glendale for some time.
After leading Arizona to its first playoff appearance in six years, Kingsbury earned a contract extension that was supposed to keep him with the Cardinals through the 2027 season, all of which was guaranteed.
Then, in 2022, the Cardinals floundered in Kingsbury's fourth season, going 4-13 overall, 1-5 in the NFC West, and ending the year on a seven-game losing streak. That was enough for owner Michael Bidwell, as the Cardinals parted ways with Kingsbury on Monday.
"As a coach you learn along the way," Kingsbury said after a 38-13 loss in San Francisco on Sunday. "Each and every step I think there's things that I'll take from this and be a better coach moving forward. But you have to go through a season like this to try and make those changes moving forward."
With his dismissal, Kingsbury will finish his tenure in Glendale with a 28-37-1 record over four seasons, with one playoff appearance. While he may not be high on head coaching lists, Kingsbury will certainly draw interest as an offensive coordinator from teams around the league.
The former Texas Tech head coach (2013-18) will certainly land on his feet with a boatload of guaranteed cash softening his fall out of the head coaching gig at Arizona.