Baylor Bears
Big 12 Men's Basketball Power Rankings: Kansas, K-State Lead the Way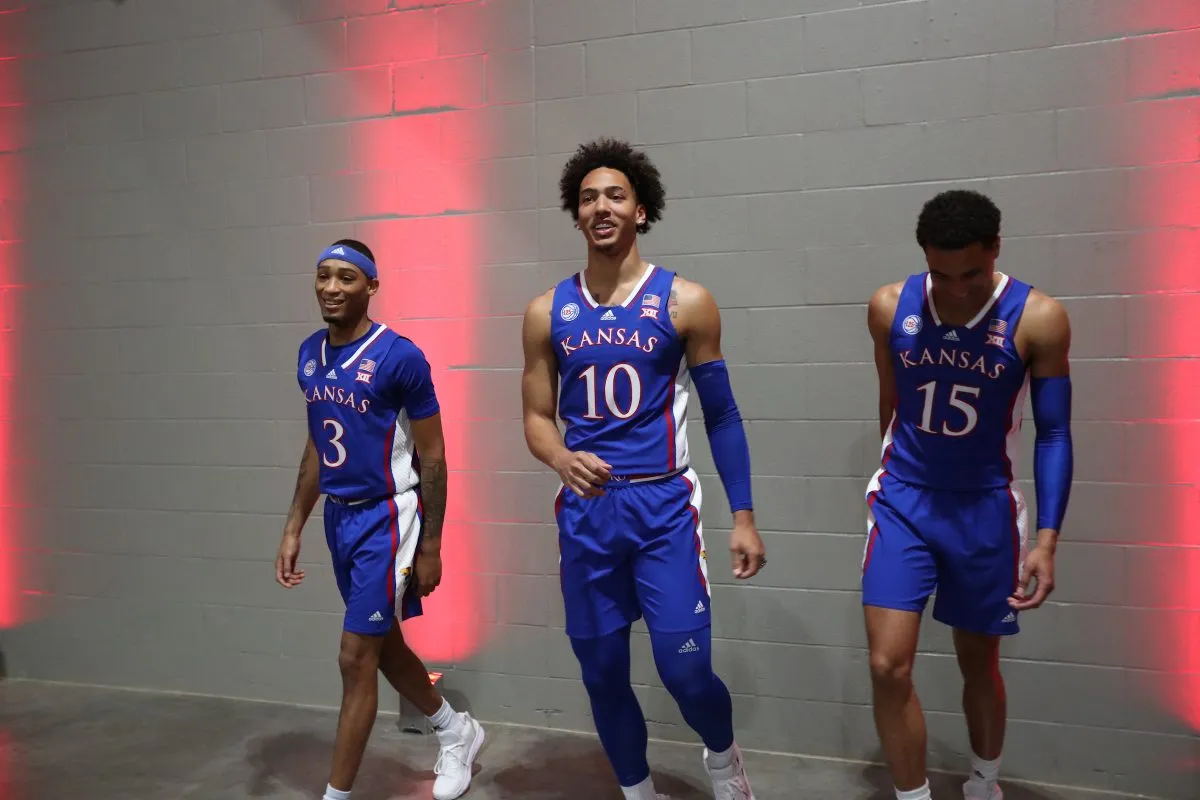 The Kansas Jayhawks remain No. 1 in the Heartland College Sports Big 12 men's basketball power rankings after the first full week of Big 12 Conference action. Our Power Rankings appear every Monday.
Check out Heartland College Sports for men's and women's basketball coverage every day, including our thoughts on big games, the previous week's action, our weekly schedules and daily fantasy lineups as we march toward, well, March.
1. KANSAS (14-1, 3-0: Last Week — 1)
Kansas could be the No. 1 team in the country this week, thanks to Purdue's first loss of the season (future Big 12 member Houston may have something to say about it). If you're talking about a team that is humming in March-like fashion, it's the Jayhawks. Aside from the fact that they're lacking a seven-footer, there's little not to like about this team if you're in Lawrence.
2. KANSAS STATE (14-1, 3-0: Last Week — 3)
The Wildcats had perhaps the two most incredible games of the week in college basketball this week, but certainly in the Big 12. K-State beat Texas, 116-103, and then defeated Baylor in overtime, 97-95 in Waco. Jerome Tang is in line for Big 12 Coach of the Year honors at this point. And, the first of two games with Kansas is just three games away. Now, rank them, AP.
3. IOWA STATE (12-2, 3-0: Last Week — 4)
The Cyclones won both games last week by a grand total of five points and did it their way — with incredible defense and clutch shooting (that shot by Gabe Kalscheur against TCU on Saturday is still resonating in Ames). It's not pretty, but it works. And if you're thinking to March, you want to a team that wins consistently THEIR way than one that rides peaks and valleys.
4. TEXAS (13-2, 2-1: Last Week — 2)
The bad news? Texas gave up 116 points to Kansas State and lost its first Big 12 game of the season. The good news? The Longhorns turned it around against Oklahoma State, giving up just 46 points in a 56-46 win over the Cowboys. That's a roller-coaster ride of a week for the Longhorns, but with Chris Beard out the door and Rodney Terry in charge now, we'll give the Longhorns a bit of slack for now.
5. TCU (13-2, 2-1: Last Week — 5)
So the Frogs hold steady after a rather incredible week. First, TCU rallied from 17 points down to beat Baylor on the road in the middle of the week, and then came a Kalscheur step-back 3-pointer away from a sweep for the week. The Horned Frogs need to work on how to start a game, but when it comes to finishing it they're going to be hard to beat down the stretch of any game.
6. BAYLOR (10-5, 0-3: Last Week — 7)
Yes, in the incongruity of the week, Baylor moves up a spot The honest truth is that the back half of the league is so messed up right now that I'm not sure where to slot Baylor after a week in which they lost to TCU at home and to Kansas State at home in overtime by a combined three points. But even in two defeats, I think the Bears are playing better than the teams below them … at least for right now.
7. OKLAHOMA (10-5, 1-2: Last Week — 9)
The Sooners pulled off a big win to end the week, defeating Texas Tech in overtime in Lubbock. That's probably the differentiator between the Sooners and the Cowboys at this point. One won on the road and one won at home in the past seven days. I'll give a bit more deference to the team that claimed the road win. But I don't think there's much difference between the two Oklahoma schools right now.
8. OKLAHOMA STATE (9-6, 1-2: Last Week — 10)
The Cowboys claimed a nice victory at home against West Virginia on Monday. The Cowboys needed it too. They didn't want to fall into that 0-2 category. Without Moussa Cisse, the Cowboys mounted a good challenge and couldn't beat Texas. But Kalib Boone reminded everyone that's he darn good at this big man thing, too. To be fair, they're better with Cisse in the rotation.
9. WEST VIRGINIA (10-5, 0-3: Last Week — 6)
The Mountaineers had a tumultuous week. First, the loss to Oklahoma State featured coach Bob Huggins giving guard Erik Stevenson an ultimatum about his future with the team after getting a technical foul in that game. Then, on Saturday, Kansas came to town and rolled them. The Mountaineers need a turnaround win and quick.
10. TEXAS TECH (10-5, 0-3: Last Week — 8)
Same holds for the Red Raiders, who have hit a wall in Big 12 action. The Kansas loss is going to dredge up bad memories for Red Raiders fans, who feel that game was stolen from them. Then, the overtime loss to the Sooners, which came without forward Daniel Batcho and guard Pop Isaacs. Plus, Fardaws Aimaq is still hurt. The Red Raiders are in trouble, but I don't think it will take that much to turn it around.
You can find Matthew Postins on Twitter @PostinsPostcard.