Baylor Bears
Big 12 Men's Basketball Week 10 Preview: Games to Watch, TV, Schedule Info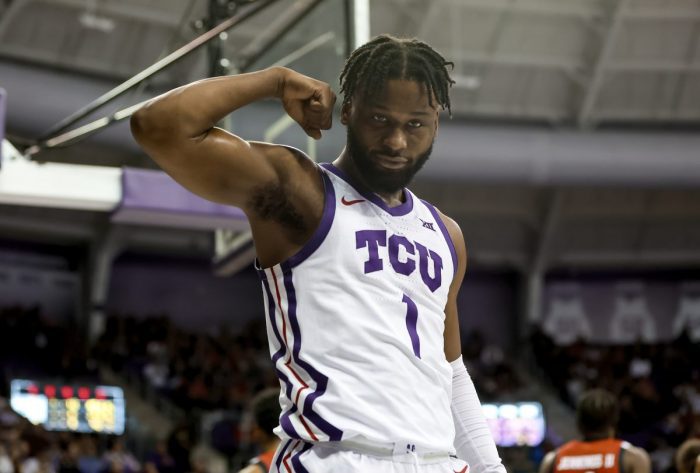 The 10th week of the 2022-23 Big 12 men's basketball season is here. Our Week 10 primer gets you ready for the week ahead in Big 12 basketball.
This is the second full week of Big 12 action, with games on Tuesday, Wednesday and Saturday. College basketball goes dark on Monday for the national championship game between TCU and Georgia.
Below you'll find our top three Big 12 games of the week, our sneaky good game of the week, notes to watch, the week's schedule with TV information and links to other useful college basketball information during the season. Plus, keep up with the site throughout the week for our Daily Fantasy Picks with Draft Kings on those nights when there's a Big 12 team — or teams — in the pool.
Top Three Games of the Week
Texas Tech at Iowa State, Tuesday. The two games the Red Raiders and the Cyclones played last year were absolute slugfests.
TCU at Texas, Wednesday. TCU put together a big road win at Baylor and nearly outlasted Iowa State at home. Texas moves on without Chris Beard.
Iowa State at Kansas, Saturday. Well, I mean, everyone knows what happened the last time the Cyclones visited the Jayhawks, right?
Sneaky Good Game of the Week
Oklahoma State at Baylor, Saturday. This may be turning into a 'blood-in-the-water' moment when it comes to Baylor. They look vulnerable and Oklahoma State loves mucking up the works on the road.
Five Players to Watch
G Adam Flagler, Baylor: It doesn't matter who the Bears are playing, this guy is going to get it done, both as a scorer and as a passer (23/7 against Kansas State).
G DaJuan Harris, Kansas: He's starting to pair his quality game-running and defense with scoring (14.5 points in his last two games).
F Jalen Hill, Oklahoma: He scored eight points in overtime and 18 overall against Texas Tech. He also had nine rebounds. The Sooners need that output every 40 minutes.
G Damion Baugh, TCU: If you're not paying attention to Baugh you're missing out. He's a well-rounded guard who has bought into being the backbone of TCU's success.
G De'Vion Harmon, Texas Tech: With all the Fardaws Aimaq talk and the injuries to Daniel Batcho and Pop Issacs, thank goodness for Harmon's experience and steady hand.
Team to Watch
Kansas State. The Wildcats are enjoying a lot of prosperity right now, having won three straight games against ranked teams to start Big 12 action. Now, things start to get REALLY interesting. Why? Oklahoma State will be a stiff test because, on paper, this is a game where the Wildcats should be favored. Then, on Saturday, it's a trip to TCU, which finally has its hands around its great expectations for the season. It's one thing to build momentum, which K-State has done. Now, they have to sustain it. And, Kansas is right around the corner.
This Week's Schedule (all times central)
Tuesday
Oklahoma State at Kansas State, 6 p.m., ESPNU
Texas Tech at Iowa State, 7 p.m., Big 12 Now/ESPN+
Oklahoma at Kansas, 8 p.m., ESPN2
Wednesday
Baylor at West Virginia, 6 p.m., Big 12 Now/ESPN+
TCU at Texas, 8 p.m., ESPN2
Saturday
West Virginia at Oklahoma, 11 a.m., ESPN2
Kansas State at TCU, 1 p.m., Big 12 Now/ESPN+
Iowa State at Kansas, 3 p.m., Big 12 Now/ESPN+
Oklahoma State at Baylor, 5 p.m., Big 12 Now/ESPN+
Texas Tech at Texas, 7 p.m., ESPN
Links to Use
Rankings
AP Top 25 | USA Today Top 25 | Ken Pomeroy
Team Schedules, Results
Baylor | Iowa State | Kansas | Kansas State | Oklahoma | Oklahoma State | TCU | Texas | Texas Tech | West Virginia
Signing Classes for 2023
Baylor | Iowa State | Kansas | Kansas State | Oklahoma | Oklahoma State | TCU | Texas | Texas Tech
Tournaments
Big 12 Men's Tournament | NCAA Tournament
Bracketology
You can find Matthew Postins on Twitter @PostinsPostcard