Baylor Bears
Big 12 Three Thoughts on AP Top 25 Women's Poll for Jan. 9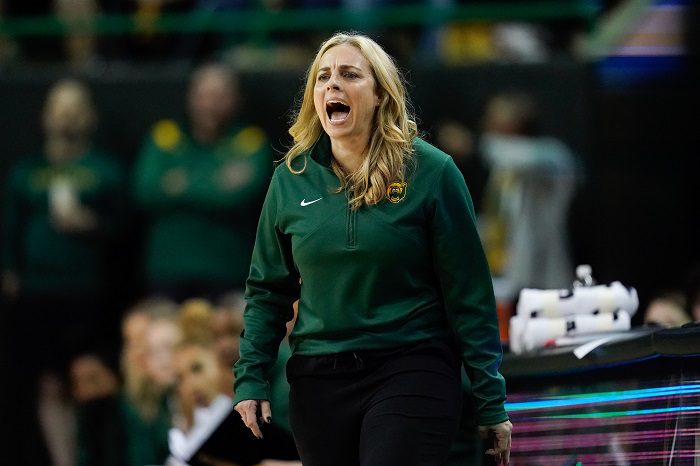 Four Big 12 teams are among the nation's best as the AP Top 25 Women's Basketball poll, released on Monday after Week 9 of the season.
Here are our three thoughts on the poll from a Big 12 perspective
The Baylor Surge
After winning road games against two ranked teams — Oklahoma and Kansas — the Bears were sure to move up in the Top 25. The Bears experienced the largest bump among the teams in the poll, going up five spots from No. 23 to No. 18. In fact, after Sunday the Bears are now the only undefeated team in Big 12 action.
Now, the question is how much farther can they climb? There was a lot of volatility in the poll this week, as four other teams slip up at least three spots and five programs slid down at least three spots. Baylor probably played one of the nation's more challenging schedules to this point. The Bears have now played six ranked teams and after last week they improved their record against Top 25 teams to 3-3.
The Bears are about to enter a stretch of four out of five games where they should be favored — home against Oklahoma State, at West Virginia, home against Kansas State and at Texas Tech. The other game is Texas, which is not ranked but certainly dangerous. There's a chance now for Baylor to burnish its credentials further in the poll.
Oklahoma and Kansas Hold Firm
Both the Sooners and the Jayhawks remained in the AP Top 25 this week despite 1-1 weeks. Oklahoma dropped two spots to No. 19 while Kansas dropped two spots to No. 23. Both lost to a ranked team last week (both fell to Baylor). But the Sooners beat Iowa State and Kansas handled Texas Tech, as well.
What that tells me is that both teams, especially Kansas, have enough credibility built up with voters to this point to survive a loss, especially to a ranked team, something that's helpful in the minds of voters. You want to keep that credibility.
Iowa State's Drop
The Cyclones fell to Oklahoma on Sunday in a close game they could have won and ended up falling four spots to No. 15. I felt that was a bit too far of a drop, considering the quality of the game against the Sooners and that OU was ranked, albeit a bit behind Iowa State. But I think the injury to Stephanie Soares, Iowa State's talented center, probably entered the minds of voters just a bit. The not knowing of her status may have caused a few voters to drop Iowa State an extra spot.
Iowa State has Kansas State at home at mid-week before traveling to Texas on Sunday for another nationally-televised game.
This Week's AP Top 25 Poll
No. 1 South Carolina, No. 2 Stanford, No. 3 Ohio State, No. 4 UConn, No 5 LSU, No. 6 Indiana, No. 7 Notre Dame, No. 8 UCLA, No. 9 Maryland, No. 10 Utah, No. 11 North Carolina State, No. 12 Iowa, No. 13 Virginia Tech, No. 14 Arizona, No. 15 Iowa State, No. 16 Duke, No. 17 Michigan No. 18 Baylor, No. 19 Oklahoma, No. 20 Gonzaga, No. 21 Oregon, No. 22 North Carolina, No. 23 Kansas, No. 24 Illinois, No. 15 Villanova.
You can find Matthew Postins on Twitter @PostinsPostcard.