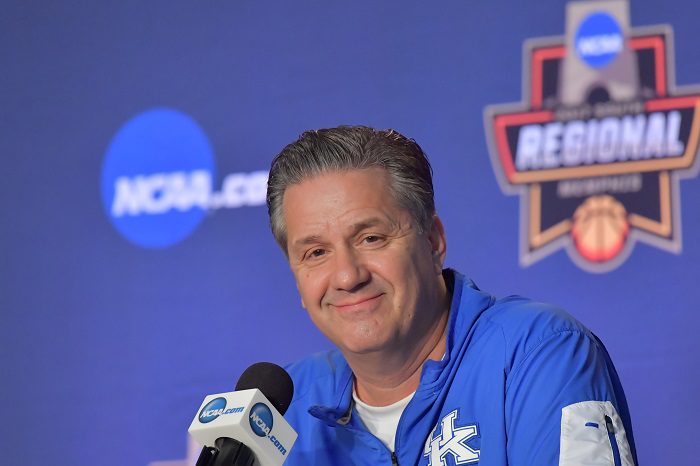 The Texas Longhorns have made contact with Kentucky coach John Calipari about their men's basketball coaching job, according to Travis Barhnam at 247Sports.com.
Other outlets reported the news shortly after Barnham broke the story.
The Longhorns fired Chris Beard last week after he was arrested on felony assault charges stemming from an altercation with his fiancée on Dec. 12. Since then, Beard has not been charged and his fiancée recanted part of her statement to Travis County police. But, Texas went ahead and fired Beard and made his top assistant, Rodney Terry, the interim head coach.
Calipari is perceived by many to be a potential target for the job. Now it turns out that perception may have some legs, as Texas is communicating with Calipari's representation through back channels, per the report.
Calipari coaches perhaps the game's most recognizable basketball program. He is already in the Naismith Basketball Hall of Fame and has won nearly 800 games. He claimed a national championship with Kentucky in 2012 and has made three other Final Four appearances.
But, since the COVID season in 2019-20, the Wildcats have had a losing season in 2020-21, followed by a first-round exit in the NCAA Tournament last March against No. 15 seed Saint Peter's, which reached the Elite Eight.
While it may sound far-fetched, the 247Sports.com report noted that if the money was right Calipari might jump at the chance.
Additionally, while Calipari has a lengthy contract with Kentucky that makes him the game's highest-paid coach, it doesn't include buyout language. In other words, he could take a job like Texas with no buyout.
Calipari would be attractive to Texas, not just because he is one of the game's most successful coaches. But, he can help the program's transition to the SEC, which will happen no later than the 2025-26 basketball season. But, the Big 12 is talking with both Texas and Oklahoma about an earlier departure.
You can find Matthew Postins on Twitter @PostinsPostcard