Baylor Bears
Three Biggest Takeaways From Big 12 Conference Men's Basketball Week 2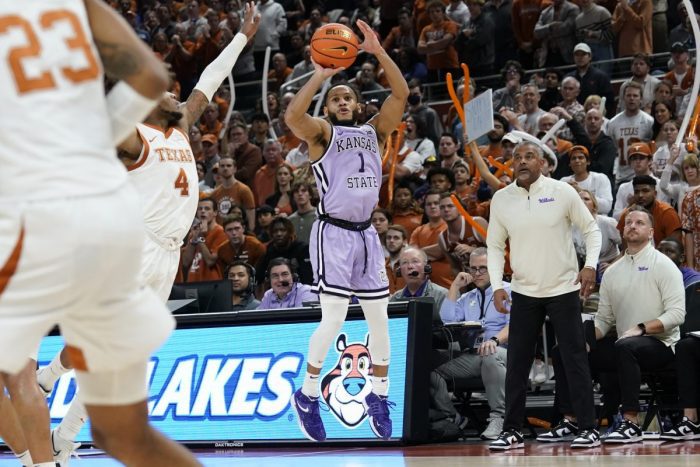 The second week of Big 12 men's basketball saw the league start to sort through the contenders and the pretenders. Here are three takeaways from the second week of the league slate.
Don't forget about our new feature for men's basketball — Daily Fantasy Lineups. Every night a Big 12 team is part of the Draft Kings pool, I'll provide my picks for the game, along with my complete lineup. The hope is that by Big 12 play I'm able to put together a full Big 12 lineup during conference games.
The road to Kansas City and the Big 12 Tournament is here. Follow Heartland College Sports all season.
Markquis Nowell, Superstar
Earlier this week Texas Tech coach Mark Adams was asked about his budding young freshman guard, Richard 'Pop' Isaacs. He has the potential to be a great player down the road in the Big 12 and he's off to a fine start. Someone asked Adams to compare Isaac's game to another Big 12 player.
He chose former Oklahoma star Trae Young. Now, Isaac's game nowhere near as polished as Young's was as a true freshman, which was the first year I started writing for this site. That wasn't the point of the comparison. Adams was comparing skill sets. And I can see it.
Meanwhile, Kansas State star Markquis Nowell is out there ACTUALLY doing things Young has done before.
He's also doing things that only Steph Curry has done in the last couple of decades, as we outlined earlier this week.
Nowell was not a five-star recruit out of high school. I checked. The 5-foot-8 guard was a three-star player per 247Sports.com. It's impossible to tell if he got any offers outside of Little Rock. It looks like he paid Seton Hall an unofficial visit in 2016.
When he transferred to K-State last season he played well, but was overshadowed by Nijel Pack, who was dropping 3-pointer after 3-pointer and earning All-Big 12 First Team honors. He did so, in part, because Nowell lightened Pack's load at point guard.
Pack hit the transfer portal and headed to Miami (FL). He's averaging 12 points and 2.6 assists per game. Solid. Nothing wrong with that.
Nowell chose to stay, one of two players that chose to stay from Bruce Weber's last team. As of Sunday he's averaging 17 points and 8.9 assists per game.
What happened? Well, Nowell has always been talented. He's always averaged better than 11 points and more than four assists per game each season of his college career. But new head coach Jerome Tang has helped Nowell unlock his full potential and take his game to another level. The pieces around Nowell complement him. But he also ensures those pieces get their due.
Tang deserves consideration for Big 12 Coach of the Year and National Coach of the Year honors for what he's done to this point. Nowell has taken to what Tang has brought to the table and is playing like someone who knows he has a chance to not only do something special at K-State but find his way to the NBA.
But it won't be the easy way. It'll be the hard way. Just like every step of Nowell's career since high school. He does not seem to have forgotten those roots, nor the people that helped him get there.
He passed to one of them Saturday night in Waco. You know that Ismael Massoud game-winning 3-pointer? Look who got him the ball.
Massoud was the only OTHER K-State player to return from last season.
Kansas State is a team in full, far faster than we expected.
Nowell is now a player in full, and his work, patience and decision to stay in Manhattan is being rewarded.
The 0-3 Derby
Three teams have an 0-3 problem going into this week — Baylor, Texas Tech and West Virginia. All three are 0-3 in Big 12 action.
Baylor is the surprise. Frankly, the Bears should be no worse than 1-2. The Bears started league action by falling to Iowa State in Ames by 15. But, after that, the Bears blew a 17-point lead to TCU at home and the fell to Kansas State in overtime. They're talented enough — and healthy enough — to turn it around.
Texas Tech has injury issues, and not just Fardaws Aimaq, who is still working back from his foot injury. Forward Daniel Batcho and guard Pop Issacs didn't play in the Red Raiders' overtime loss to Oklahoma. They'll be better when both are back.
West Virginia is the one that concerns me the most. The Mountaineers are healthy, but not quite playing to their full potential. There's the Erik Stevenson issue, which required Stevenson to apologize to Mountaineer Nation on Friday after coach Bob Huggins told him one more screw-up and that's it (here's our story on what led to that apology). But what the Mountaineers need is more offense out of its frontcourt.
Someone will get off this losing tip soon. Baylor plays West Virginia this week and Texas Tech the following week. Baylor has room to maneuver. Texas Tech is already in 'most to lose' territory as they're out of Bracketology and lost to another outside-looking-in team in Oklahoma. West Virginia is solidly in the field, for now, but that can change fast.
Already, the absolutely gauntlet that is the Big 12 is starting to eat its young, so to speak.
More Games Like Kansas State-Texas
I had to drive to Nacogdoches on Tuesday night so I could see my alma mater, Stephen F. Austin, take on New Mexico State. So I missed Kansas State going to Texas and winning, 116-103.
Yep, that was the final score. A Big 12 record for a regulation game.
Frankly, we need more of these games.
This wasn't just Nowell scoring 36 points and Texas guard Tyrese Hunter scoring 29 points. This was two teams that shot 50 percent or better from the floor, two teams that shot at least 40 percent from the 3-point line and two teams that shot better than 80 percent from the free-throw line.
The two teams combined for 21 turnovers. There were 41 combined assists.
This was a high-level offensive game that still featured 11 combined steals. Eight different players hit double figures in scoring.
Yes, we need more of these games, even in a Big 12 where defense always seems to rule. I re-watched the game after I got back from Nac.
So. Much. Fun.
Which leads me to this, which is totally accurate.
You can find Matthew Postins on Twitter @PostinsPostcard