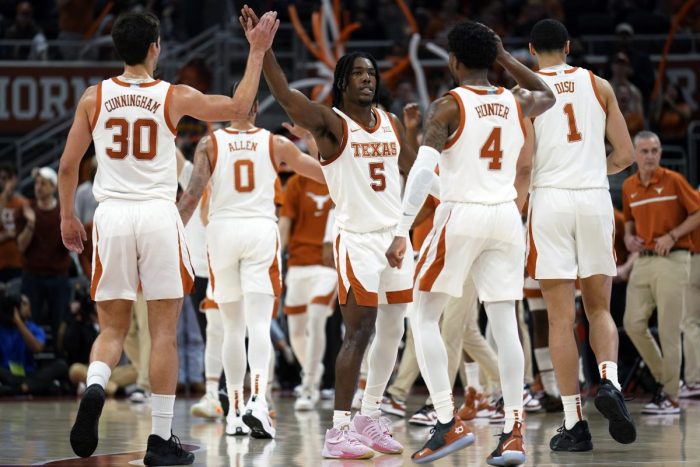 The TCU-Texas game is in the Draft Kings Daily Fantasy Sports pool for men's college basketball as Big 12 play continues on Wednesday.
This season, when Big 12 games are part of the pool at Draft Kings, I'll provide my recommendations based on the lineup I'm playing that day. In this case, the recommendations are for a Classic game, which features eight players — three guards, three forwards, and two guard/forwards (utility). The lineup must contain players from at least two different games. The salary cap is $50,000.
The goal is to fill out a complete Big 12 lineup. With just one Big 12 game in this particular queue, I'm going to take at two players from TCU and Texas, and then fill out the rest of the lineup with four players from other games.
Here is Wednesday's lineup/recommendations:
Guards
Marcus Carr, Texas ($7,900); Damion Baugh, TCU ($7,600)
Carr has been on an absolute tear lately. He only had 19 fantasy points against Oklahoma State on Saturday. But before that, he was hitting at least 25 points in his previous four games. TCU isn't as good defensively as Oklahoma State and TCU wants to run the floor, which should help Carr generate more offense.
Texas' defense is stellar. It allowed 46 points to Oklahoma State on Saturday. I need a player that can hit every main fantasy category and Baugh is that player for TCU. He hasn't been below 25 fantasy points in a game in more than a month. Between his shooting and his passing, he'll likely get you at least 25 points, even with Texas' stifling defense. He will benefit from the Longhorns' focus on Mike Miles.
Forwards
Eddie Lampkin Jr., TCU ($6,200); Dillon Mitchell, Texas ($5,000)
Texas doesn't really have a player that can match up with Lampkin inside. The Longhorns will run several players at him, but his size and agility make him hard to keep up with. Against Baylor, another matchup that benefited him, he had 32.5 fantasy points. I think he's going to have a really good night on the glass and that may allow him to hit double figures scoring.
As for Mitchell, TCU's tempo will push Texas to move the ball up and down the floor a bit more. That plays to Mitchell's advantage. He can be hit or miss, but when he hits he's worth the cheap price. He snagged nearly 25 fantasy points against Oklahoma State. That was his best fantasy performance in Big 12 play to this point. Texas used him seven minutes more than they did in the crazy Kansas State game. Perhaps there is something that new interim coach Rodney Terry likes about the freshman.
The Rest
With four more spots and $23,300 in cap space remaining, here are the players I chose to round out my lineup:
G Chase Hunter, Clemson
F Robbie Beran, Northwestern
G Damar Monsanto, Wake Forest
F Cameron Corhen, Florida State
–
Scoring system: Point: +1 Pt; Made 3pt Shot: +0.5 Pts; Rebound: +1.25 Pts; Assist: +1.5 Pts; Steal: +2 Pts; Block: +2 Pts; Turnover: -0.5 Pts; Double-Double (Max 1 Per Player: Points, Rebounds, Assists, Blocks, Steals) +1.5 Pts; Triple-Double: Max 1 Per Player (Points, Rebounds, Assists, Blocks, Steals): +3 Pts
You can find Matthew Postins on Twitter @PostinsPostcard