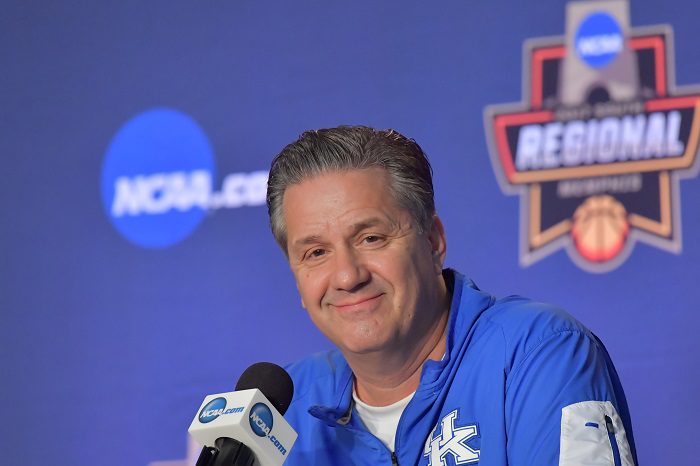 Part of my family lives in Kentucky, right on the Tennessee border. I can remember several visits around the holidays where I spent time at my uncle's house watching … Kentucky basketball.
That's what you do there in December.
This was a while back — I won't say exactly HOW far back — but not every Kentucky game was on ESPN back then. Games that weren't on ESPN were on something I think was called The Bluegrass Network, broadcast stations across the state that showed Kentucky's other games.
That's how basketball-crazy Kentucky is. The state had its own over-the-air network for the team's games against nobody opponents on random weeknights.
So why on earth would John Calipari want to leave that?
The news that Texas was contacting Calipari via back channels wasn't a surprise. I'm a little surprised at how quickly it happened — less than a week after firing Chris Beard. But not that it happened.
Texas is embarrassed by Beard. He was supposed to be the answer to getting back to the Rick Barnes days. But that's on Beard, not on Texas. But it doesn't lessen the embarrassment the athletic department feels right now.
How do you fix embarrassment at Texas? You make a splashy hire. Calipari would qualify.
But why would he leave Kentucky for Texas?
Well, Kentucky basketball is analogous to Texas football. It's a pressure cooker. Everything that happens in those programs matters. To EVERYONE.
Eventually, the pressure cooker needs a release. That release can sometimes come in the form of a national championship, something Calipari led the Wildcats to in 2012.
Kentucky needs a pressure release because, these days, Calipari is feeling the heat.
In 2020-21, Kentucky went 9-16 and missed the NCAA Tournament entirely. In 2021-22, the Wildcats won 26 games but lost in the first round of the NCAA Tournament to Cinderella Saint Peter's.
Now? The Wildcats have a winning record, but you see articles like "Kentucky's offense is archaic" and you wonder if these Wildcats might meet the same fate as past season's team.
Then, the Wildcats lost to South Carolina on Tuesday night, a team that qualifies as a Quad 4 team in NCAA NET. That means the Gamecocks are pretty bad. The loss was in Lexington, and at least one fan stuck around for a little posterboard therapy.
Every coach has a shelf life, no matter how good they are. It's possible Calipari, after more than a decade at Kentucky, has reached his expiration date.
That's where Texas comes in. The Longhorns have the money to match Calipari's current contract (he's reported to make $8.5 million this year). Calipari offers Texas a coach who understands the SEC, which is where Texas is heading. Calipari's name still means something on the recruiting trail. And boosters will love the hire after the Beard debacle.
One should never underestimate the ability to impress Texas boosters.
Finally, there is pressure at Texas basketball, but it's nowhere NEAR Kentucky pressure. The Longhorn faithful save that for the football team.
At 63, maybe Calipari is ready for a job with a little less pressure, but the same money. Because he's not leaving for less.
Maybe we're misreading all of this. But the fact that Texas is already reaching out to Calipari (or his people) lets you know that Texas knows they have to make a name-brand hire here.
For many reasons, it's not far-fetched to think that Calipari could jump from blue to orange sometime soon.
You can find Matthew Postins on Twitter @PostinsPostcard.