featured
Kansas Playing With Fire As Tough Stretch of Big 12 Schedule Arrives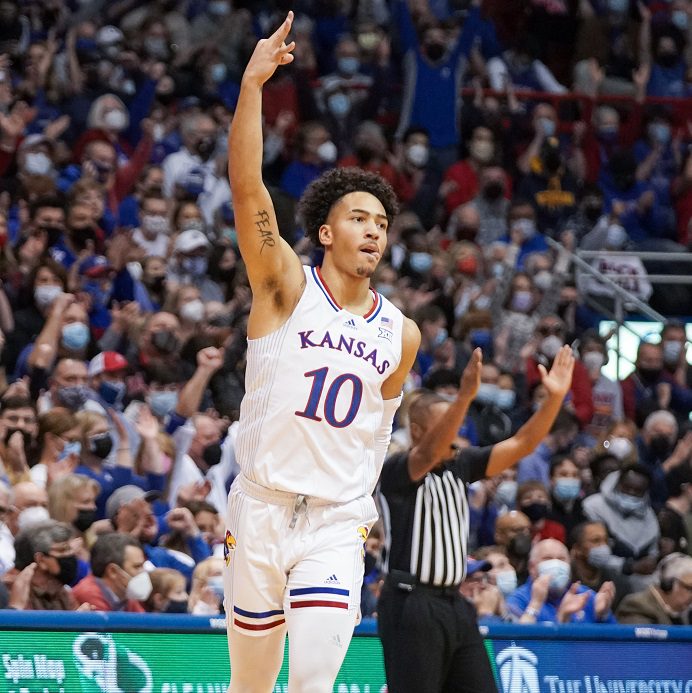 The Kansas Jayhawks continue to play with fire when it comes to conference play in the Big 12. The #2 ranked Jayhawks moved to 15-1 on the season (4-0 in Big 12 play) with a 79-75 win over Oklahoma on Tuesday night, but things haven't looked easy for Kansas.
Kansas led by two points at halftime, but couldn't buy a bucket in the second half. There was a period of over 12 minutes of game time that passed between Kansas making a field goal during the second half and free throws were the only lifeline for KU throughout that stretch of the game. Oklahoma actually took a 10-point lead over Kansas with 5:19 left in the game.
Everyone was waiting on that classic and almost expected Kansas run that the Jayhawks tend to make during home games at Phog Allen Fieldhouse. A monster dunk from KJ Adams, who led the team in scoring with a career-high 22 points, ended the drought with 5:07 left in the game. Then Jalen Wilson, who had been ice cold from the field all game, hit a big three-pointer to cut OU's lead to 71-66. After that, it was a Dejuan Harris Jr. layup that cut the OU lead to 71-68.
The big play down the stretch to punctuate the comeback was a drive to the hoop by Kevin McCullar Jr. that ended with an and-one and gave KU a 75-73 lead that the Jayhawks wouldn't relinquish the rest of the way.
Yet another hard-fought conference battle for Kansas and things aren't going to get easier over the next three games. Kansas will play three ranked Big 12 teams in a row. Next up: Iowa State. The Cyclones are 13-2 and, like the Jayhawks, are also undefeated in conference play. Kansas will be hosting Iowa State at Allen Fieldhouse at 3:00 on Saturday on ESPN+. The Cyclones are coming off a big 84-50 win over Texas Tech and are ranked #14 in the nation.
After hosting the Cyclones over the weekend, the Jayhawks will stay in the state of Kansas for the Sunflower Showdown next Tuesday, January 17th, as they visit Manhattan and face the #11 ranked Kansas State Wildcats. The Wildcats defeated three straight ranked conference opponents to start Big 12 play and continued their hot streak with a win over Oklahoma State on Tuesday night with a 65-57 win over the Cowboys. K-State had been dominant offensively in their previous two games, scoring 97 against Baylor and 116 against Texas. In fact, Kansas State and Texas combined for the most total points in a game in Big 12 history. The Jayhawks will look to slow things down and play lockdown defense if they want to beat their in-state rival. Kansas State is also undefeated in conference play. This game will be featured at 6:00 pm on ESPN.
Then the Jayhawks will get another test at home when they host #17 TCU on Saturday, January 21st, at Allen Fieldhouse in Lawrence, Kansas. This game will be a nationally featured CBS noon tipoff between the two Big 12 teams. TCU is currently 13-2, 2-1 in conference play, but their schedule during this next week and a half is just as tough as the Kansas schedule. They'll also play three ranked teams during that stretch.
Going into this season everyone knew the Big 12 was going to be a gauntlet to get through. There are no easy games in this conference. As more than half the conference continues to be ranked, each team's strength of schedule will only get better as the season rolls along.
For the Jayhawks, they squeaked by a good-but-not-great Oklahoma team after having one of their worst shooting games of the season. Kansas will need to be on top of their game if they are going to make it through this next stretch of games without a blemish on their perfect conference record.