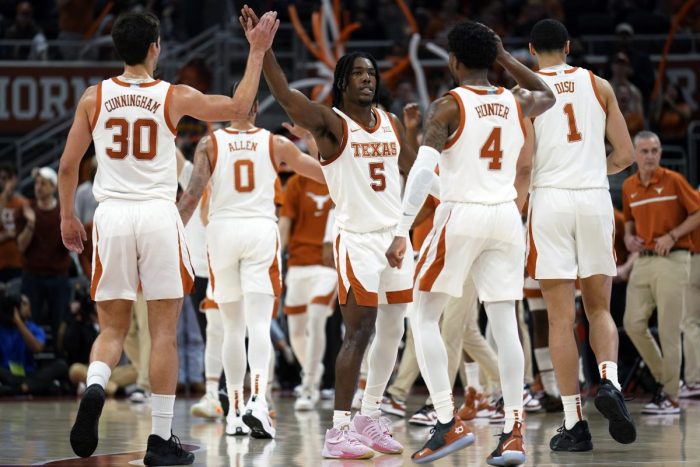 The No. 10 Texas Longhorns beat the No. 17 TCU Horned Frogs, 79-75, at the Moody Center in Austin, Texas., on Wednesday night. Here are three thoughts on this Big 12 Conference game.
Texas (14-2, 3-1 in Big 12) rallied from 18 points down at one point to make its biggest comeback for a win since beating Oklahoma from 18 points down in a game on Feb. 27, 2013.
TCU (13-3, 2-2) lost its second straight Big 12 game and failed in its attempt to win its first road game over a Top 10 team in program history.
How Texas Won
Sir'Jabari Rice deserves a bit of praise for this one, even if he wasn't the leading scorer. The backup guard grabbed an offensive rebound with six seconds left and Texas up one to draw a foul and go to the line, where he's an 88 percent free throw shooter. He made both, gave Texas a 3-point lead. Texas then fouled Mike Miles to send him to the line to protect that three-point lead. Miles missed the first, Rice grabbed the rebound and went to the free throw line. He made eight free throws on the night and ended up with 15 points.
The Texas interior was a big reason for the victory. Timmy Allen led with 17 points while Dylan Disu added 15 points on 7-for-7 shooting from the floor. Marcus Carr had an off night but still managed 11 points and his only 3-pointer, with a minute left, gave Texas the lead for good.
Texas had a lot to clean up after the first half, and it did, reducing turnovers and doing a much better job keeping TCU off the offensive glass, where the Horned Frogs are the best in the Big 12.
How TCU Lost
By squandering that 18-point lead. Now, it's the Big 12 and every team makes a run when they're down by that much. And, for much of the second half, TCU had an answer every time the Longhorns punched them in the mouth. At one point Texas cut it to two and TCU immediately turned around and created an 8-0 run.
Mike Miles had a great first half but Texas did a good job of quieting him down in the second and he finished with 16 points. Emanuel Miller led the Horned Frogs with 21 points on 10-of-12 shooting. But it was Miller's missed free throw off a made basket with 37 seconds that loomed large. That would have tied the game and, potentially, Texas' last sequence might have gone differently, especially intentionally fouling with Texas up three.
TCU shot well, nearly 50 percent from the floor and 81.3 percent from the 3-point line. But, areas where TCU typically has the edge didn't quite come to pass. Texas outrebounded them, 35-33, and 11-9 on the offensive glass.
The Big 12 Race
TCU is now two games behind the field in the Big 12 at 2-2. That almost feels insurmountable at this point, if you're talking about winning the regular-season title. Think about this. TCU has lost its last two games by a total of six points. Both games could have easily gone TCU's way. But, with 14 league games left, TCU may be playing for seeding in the Big 12 Tournament.
Meanwhile, Texas is 3-1 in the Big 12 and the win keeps them in striking distance of the three undefeated teams — Kansas, Iowa State and Kansas State. Kansas and Iowa State play each other on Saturday and Kansas faces Kansas State on Tuesday. By that point, there may only be one undefeated team in the league (or none) and Texas could be in a tie for second (or first), as long as the Longhorns can stay on course.
Positioning is everything, especially when you consider Texas hasn't played Kansas or Iowa State yet.
You can find Matthew Postins on Twitter @PostinsPostcard