Baylor Bears
Big 12 Men's Basketball Numbers and Notes for Jan. 12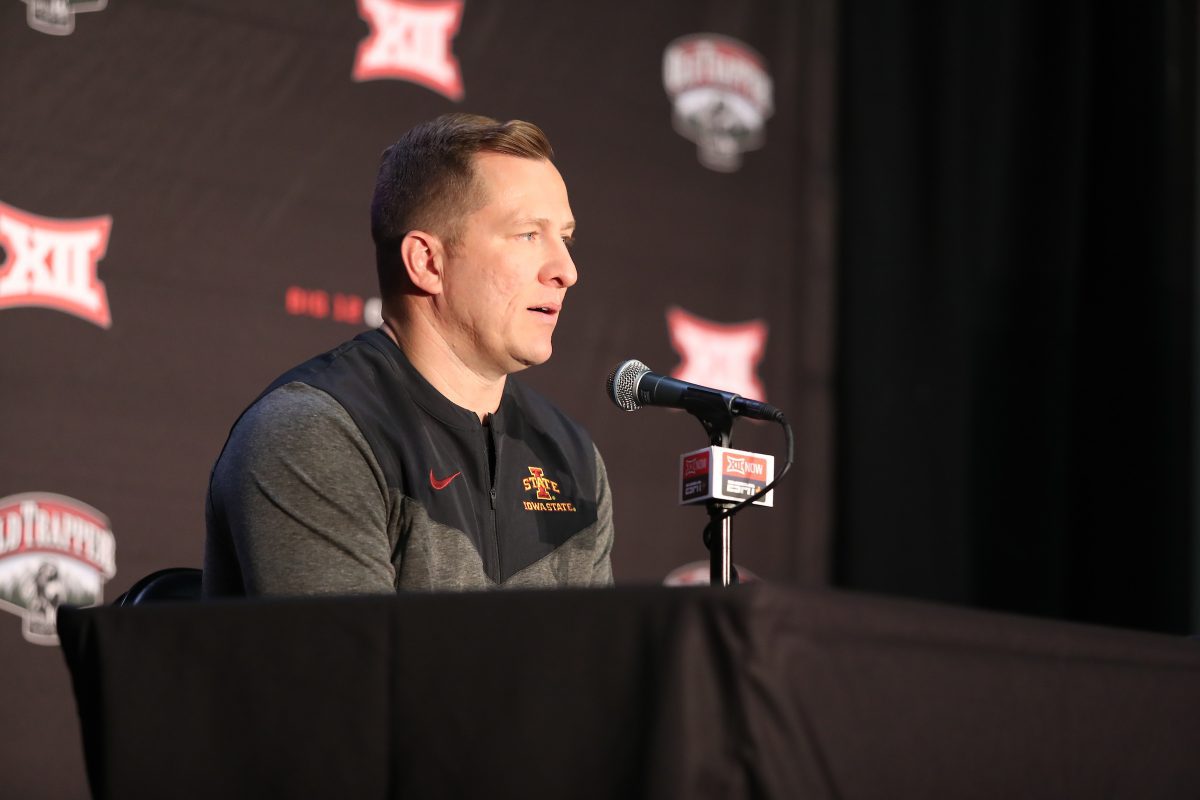 Big 12 men's basketball just wrapped up its fourth round of games on Wednesday. Here are some numbers and notes to know going into the weekend games.
Baylor
The Bears avoided an 0-4 start in Big 12 play for the first time since the 2005-06 season. That was coach Scott Drew's third season. Due to NCAA sanctions, Baylor was not able to participate in non-conference action and went 4-13 that season. Baylor made nine 3-pointers against West Virginia, extending one of the longest streaks in the nation. Baylor has made at least one 3-pointer in 1,012 games, the nation's ninth-longest active streak. The last time Baylor failed to make a 3-pointer was Feb. 21, 1990, vs. Texas Tech (0-for-8).
Iowa State
Iowa State guard Gabe Kalscheur is averaging 15.7 points in his last seven games, two of which have been performances of at least 20 points, including his 23 points against Texas Tech on Tuesday. Kalscheur made five 3-pointers against TTU, his second game with five 3-pointers (Baylor, Dec. 31). … guard Tamin Lipsey was averaging 6.7 points, 4.5 assists, 3.0 rebounds, 1.9 steals and 1.9 turnovers per game in his first 14 games entering the TTU game. He was the only player in the country averaging those numbers and just the 13th in the last 10 years to do so. Lipsey had nine points, four rebounds, eight assists, one steal and three turnovers in the 84-50 win over TTU.
Kansas
Kansas has the best 3-point shooting percentage in Big 12 play (45.1 percent), with Iowa State second (43.4 percent). … The win over Oklahoma on Tuesday made Kansas 4-0 in Big 12 play for the ninth time in the Bill Self era and the first time since the 2016-17 season. Kansas has now won nine straight games and has won 22 straight against Oklahoma at Allen Fieldhouse. … forward KJ Adams Jr. finished with a career-high 22 points (8-of-13), his first game with 20 or more points and his ninth straight game in double figures.
Kansas State
The Wildcats are off to their best start (15-1) in program history, they have already surpassed last season's win total (14-17) and head coach Jerome Tang is off to the best start of any first-year Kansas State coach. The Wildcats are 4-0 in Big 12 play for the first time since 2012-13 and on a nine-game winning streak, the program's longest since 2013-14.
Meanwhile … Markquis Nowell.
Oklahoma
The Sooners haven't beaten Kansas in Lawrence in 30 years, with their last win over the Jayhawks in Allen Fieldhouse coming on Feb. 17, 1993. … Entering the Kansas game, Grant Sherfield was 13th in Division I in 3-point percentage (46.4 percent) and 40th in free throw percentage (88 percent). He was the only player to shoot 40 percent or greater from the field, 45 percent or greater from three and 85 percent or greater from the free throw line. Sherfield scored 25 points on 9-of-15 shooting while going 6-of-6 from the free throw line on Tuesday.
Oklahoma State
Forward Kalib Boone was averaging 11 points per game against teams either ranked in the AP Top 25 or receiving votes in the AP Top 25 entering Tuesday's game against Oklahoma State. He had 23 points against the Wildcats. … Even after the Cowboys' loss to Kansas State, their adjusted defensive efficiency ranking in KenPom went up from No. 11 to No. 7. … OSU held Kansas State to 35.6 percent shooting, the 17th time in the last 18 games the Cowboys have held a team under 40 percent shooting.
TCU
Entering Wednesday's game, Mike Miles was the only player in a Power 5 conference that was averaging at least 19 points, 2.5 rebounds and 3.0 assists per game. Against Texas he had 16 points and three rebounds, but no assists. … Eddie Lampkin maintained his Big 12 leading offensive rebounding average of 3.8 per game. … Of TCU's 31 wins all-time over AP Top 25 teams, 15 of those have come in the last six seasons. TCU is now 2-2 against Top 25 teams this season.
Texas
The Longhorns continued their mastery of TCU when they beat the Horned Frogs, 79-75, on Wednesday night. Texas has now won eight of the last nine and 25 of the last 33 meetings with the Horned Frogs. Texas has also beaten TCU 19 of the last 21 times in Austin, but this was Texas' first victory over TCU at the Moody Center.
Texas Tech
The Red Raiders are 0-4 to start Big 12 play, which is their worst start to Big 12 action since 2014-15, when the Red Raiders started that season 0-6. That team finished 13-19 and 3-15 overall in the Big 12. … Texas Tech had not lost three straight games since the end of the 2020-21 season going into the Iowa State game. They've now lost four straight. Tech is also 0-4 against ranked opponents so far this season (Creighton, TCU, Kansas, Iowa State).
West Virginia
West Virginia started Wednesday's game with Baylor going 0-for-10 from the 3-point line but finished 8-of-24, which was 33 percent. But, entering the game, the Mountaineers were the worst 3-point shooting team in Big 12 games, firing 23.2 percent from distance (13-of-56). … The Mountaineers are off to an 0-4 start in Big 12 play. Last season the Mountaineers started 2-2. WVU last started 0-4 in Big 12 play in 2018-19. WVU snapped the streak after five straight losses.
You can find Matthew Postins on Twitter @PostinsPostcard.